Human Torch
Flame On

Marvel Legends 375 Action Figure
Item No.: Asst. F2648 No. F2655
Manufacturer: Hasbro
Includes: n/a
Action Feature: n/a
Retail: $9.99-$12.99
Availability: April 2021
Other: What If... Kenner Made the Fantastic Four?

PREVIOUS
RSS
NEXT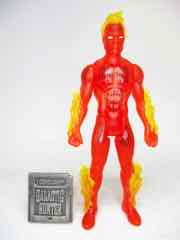 Part of the first retail wave of Hasbro's Kenner's Marvel Legends 375 Collection, I didn't get this Human Torch until a year and a half after its release - and what's funny was in a live stream, Hasbro's Marvel team said they designed this line with newcomers and availability of popular characters in mind. Well, shoot, good job you guys. In the course of a couple of months I had (or had orders for) almost the entire line when I switched from "meh" to "yeah", thanks in part to seeing all of the Fantastic Four team on shelves, owning Spider-Man, Iceman, and Firestar, and then seeing Ghost Rider. It was a small line, just the right size to not be overwhelmed. The 6-inch offerings are, to say the least, too much.
Click here to check availability at Entertainment Earth.
Surprisingly, the sculpt is similar but the only reused part here is the torso. The skinny (buff) male torso you saw on Spider-Man, Iceman, and others is shared by the Human Torch but he's otherwise all new. You can see the Hasbro design philosophy at work here - there is no cut at the forearm or below the knee. This figure was made with molded-on head, arm, and leg flames plus it's one of very few figures to have a fist for his hand. It's a striking design, but one that makes me think more of Kubrick or LEGO figures than old Kenner. Those black line marks on his chest look superb, but it's unusual for a 1980s figure to bring details from a drawing on the actual product. The molding of orange flames on a red body is almost unheard-of for that era, you'd usually just see painted parts to cut tooling costs. Hasbro did something to ensure the figure looked superior, and the results (complete with white eyes) is striking.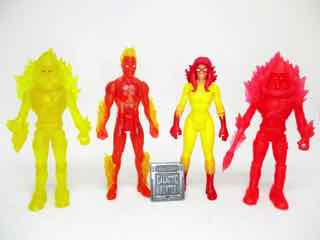 Of course, you only get five points of articulation unlike the usual seven. He has no problems standing or sitting, and even with his extra flame elements jutting out he'll still fit in a lot of my old Kenner vehicles.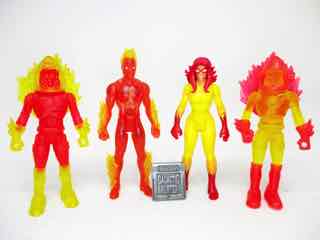 The figure isn't exactly lively, but he does have a dynamic appearance thanks to his fist, flames, and bright red color. It stands out, particularly compared with later releases like Iceman who just went with bare plastic except for the eyes. I have no idea if aesthetics or budgeting are the driving force of some of these figures, but Johnny Storm here has more than a little charm thanks to the fact that it's a figure that seems to leap off the comic page - or his cardback art.
The only design decision I'm not crazy about is the torso, and Iceman has the same problem. When backlit, you can see the three posts connecting the front and back halves of the body, plus the torso looks a lot less colorful than his limbs. On a cardback, you'd never notice - but if you want your colorful clear gem figures to be lit from behind, the returns on that investment are somewhat limited.
I'm kind of surprised we haven't yet received a "flame off" version of Mr. Storm to better match Mr. Fantastic, the Invisible Woman, and the Thing - but maybe that comes in year four or year five. The Human Torch is one of very few figures I've bought that I'd recommend to toy buyers just because it looks cool - I have fairly limited knowledge of the character and the comics, but it's hard to not be charmed by a figure that looks like a two-dimensional drawing brought to life and, somehow, is on fire. It's fun to fuss with and while the joints certainly feel like a Kenner figure, and the card art follows their templates to some extent, it doesn't look like a 40-year-old toy. But for $10-$12 or so, it's a charmer. Seeing him sitting on the pegs, collecting dust at Target for a few months only made me want to get him and collect the rest. That's not how toy buying and FOMO is supposed to work, but as a kid I was rarely able to pick up a toy the first time I saw it - because my birthday or some other gift occasion was always months and months away. I applaud Hasbro for making enough of these guys to be in circulation for a while, because it is really hard for me to be convinced to buy a new toy line because more often than not, they go off the rails and get too big and too expensive to maintain long-term interest. This line has somehow managed to get in that "just right" area so far, but I could probably have also just bought this figure in 2021 and said "Oh, I should be buying these."
--Adam Pawlus
Additional Images

Click here to see more Hasbro figures in Figure of the Day.
Click here to see more Marvel figures in Figure of the Day.
See more Spider-Man figures in Figure of the Day:
Day 39: Hasbro Spider-Man Super Poseable Spider-Man Action Figure
Day 40: Hasbro Spider-Man Stealth Ninja Spider-Man
Day 50: Hasbro Spider-Man Toxic Blast Venom
Day 65: Hasbro Spider-Man Dive Bomber Green Goblin
Day 91: Hasbro Spider-Man (Kid Series) Monster Claw Carnage Action Figure
Day 108: Hasbro Marvel Universe Spider-Man Action Figure
Day 137: Toy Biz Spider-Man Animated Super Articulated Spider-Man
Day 290: Hasbro Spider-Man Mighty Muggs J. Jonah Jameson
Day 300: Hasbro Spider-Man Mighty Muggs Venom
Day 311: Hasbro Spider-Man Mighty Muggs Spider-Man
Day 336: Hasbro Spider-Man Mighty Muggs Demogoblin
Day 427: Funko Marvel Universe Pop! Vinyl SDCC Exlusive Spider-Man Vinyl Figure Bobble Head
Day 605: Hasbro Ultimate Spider-Man Night Mission Spider-Man Action Figure
Day 717: Hasbro Ultimate Spider-Man Crime Fightin' Spider-Man Action Figure
Day 862: Hasbro Ultimate Spider-Man Web Strike Spider-Man Action Figure
Day 876: Hasbro Spider-Man Marvel Legends Infinite Series The Amazing Spider-Man 2
Day 877: Hasbro Ultimate Spider-Man Iron Spider Armor Spider-Man
Day 916: Hasbro The Amazing Spider-Man Movie Ultra-Poseable Spider-Man
Day 936: Hasbro The Amazing Spider-Man Night Mission Spider-Man
Day 1,484: Hasbro Captain America Civil War Spider-Man, Captain America, and Iron Man Action Figures
Day 1,501: Hasbro Marvel Legends Series Spider-Man
Day 2,109: Hasbro Playskool Heroes Series 2 Marvel Super Hero Adventures Clear Spider-Man
Day 2,201: Hasbro Spider-Man Bend and Flex Spider-Man Action Figure
Day 2,229: Hasbro Spider-Man Marvel Legends Retro Spider-Man Action Figure
Day 2,342: Hasbro Marvel Legends 375 Spider-Man Action Figure
Day 2,453: Hasbro Marvel Spider-Man Action Figure
Day 2,459: Hasbro Marvel Legends 375 Iceman Action Figure
Day 2,476: Hasbro Marvel Legends 375 Firestar Action Figure
Day 2,491: Hasbro Marvel Legends 375 Venom Action Figure
Day 2,544: Hasbro Marvel Spider-Man Epic Hero Series Spider-Man Action Figure
Day 2,548: Hasbro Marvel Legends 375 Symbiote Spider-Man Action Figure
Day 2,560: Hasbro Marvel Legends 375 Green Goblin Action Figure
Day 2,564: Hasbro Marvel Legends 375 Amazing Fantasy Spider-Man Action Figure
Day 2,572: Hasbro Marvel Spider-Man Epic Hero Series Venom Action Figure
Day 2,592: Hasbro Marvel Legends 375 Spider-Woman Action Figure