Sentinel
8-Inch Fan Channel Exclusive

Marvel Legends 375 Action Figure
Item No.: No. F3445
Manufacturer: Hasbro
Includes: n/a
Action Feature: n/a
Retail: $24.99
Availability: August 2022
Other: Kenner-ish

PREVIOUS
RSS
NEXT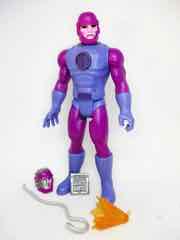 Seeing what Hasbro and Super7 and NECA and Bif Bang Pow! do to make new "retro" figures has been fascinating. Marvel's Sentinel took things in a weird direction - typically, Kenner would put a "big guy" in a box with a distinctive shape, usually in a closed box to set it apart from the smaller, cheaper figures. Hasbro decided to make the Sentinel a carded figure - which is very confusing visually, because on an online product page it looks like the same size as a typical 3 3/4-inch figure when it is in fact on an oversized novelty card and stands a pretty excellent 8-inches tall. (My comparison, the 3 3/4-inch scale Marvel Masterworks Sentinel was 17-inches tall, but also cost a lot more.)
What's funny about this particular figure is that I don't think Kenner would have kept the same form factor as the little guys - the Rancor monster and Hoth Wampa had unique shapes with cord-based arm articulation. The Sentinel we got here is sort of like a 400% Kubrick, in that it keeps the same form factor as the little guys, merely embiggened. I wouldn't mind seeing giant oversized, ridiculously big-carded Spider-Man or Iron Man figures in this style either.
As the first "accessory" or "vehicle" or "creature" for this line, it's pretty good - I just wish the packaging made it obvious you were getting something 2-inches taller than a typical 6-inch Legends figure without having to confirm in some dork's review.
Click here to check availability at Entertainment Earth.
The Sentinel looks a lot like the cartoon, but even more like the cover of X-Men #98 from 1976 which also has the same Storm costume that we got in this Kenner line. The colors are awesome, the construction feels like a big, oversized figure with huge boots and appropriately sized - maybe small - hands. One has outstretched fingers and a hole so you can plug in a laser blast or a whip/tendril thing to grab mutants, the other is just a normal action figure hand. Nearly every element is molded in color with minimal paint, and as far as I can tell only the chest "speaker," belt buckle, mouth, eye black, and the part of the onesie on the legs are painted. That means the face, feet, hands, arms, and chest are molded in color so paint scraping is going to be minimal. I love that.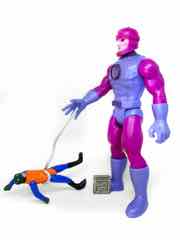 Super7 also did a "big figure" with its Planet of the Apes Lawgiver Statue [FOTD #2,470], a similarly priced and impressive "Kenner" fellow in a box. It's interesting to see how people are doing a big action figure, mostly because Kenner tended to come up with a new form factor once you broke the 4-inch size. Maybe we would've seen something closer to one of these had we ever got a line for The Ewok Adventure, specifically the big Gorax monster. But we didn't. Instead, we got this big guy with a well-hidden light-up eye port and an alternate battle-damaged head.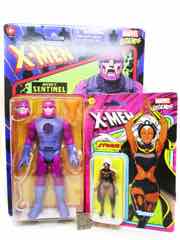 While these figures are far too refined to match any actual Kenner styling of the era, the alternate damaged Sentinel head absolutely ignores it. You can see the dots printed on the face, which is a technique Hasbro hasn't really done much with until the last decade or so. It's a striking look and one I hope they consider applying with intent - the tiny dots look more like classic comic book printing than toy deco, and seeing these little dots on an action figure with "comic edition" newsprint-inspired painting would be delightful.
Four accessories - three of which have to go in a drawer because he can't use them all at once - is a bit of overkill. I wouldn't have minded a lower price tag, mostly because this figure's construction is similar to the $10-$12 Titan Hero Series figures. If it were possible to have a bigger figure at a lower price (sans gear) I think I would've gone for that option.
There's a lot to like here - his outreached hand can hold up a figure without toppling over or sagging, and the plug-in tendril can grab flying figures nicely. But you have to balance them just-so. Anyone building out a diorama or getting a Sentinel army is in for a treat thanks to the Miriam display options afforded by this big fellow.
With Ghost Rider coming in 2023 with his bike, Marvel seems to be making good use of this higher price point - and I hope we see some more things. Specifically, Thanos' chopper, the Spider-Buggy, and maybe a not-quite-scale Galactus would be fun. Or a big Apocalypse? Who knows - the entire Marvel Legends 375 Collection has been so slow-drip it was possible for me to mostly catch up over a couple of months, and I really like this big guy.
--Adam Pawlus
Additional Images

Click here to see more Hasbro figures in Figure of the Day.
Click here to see more Marvel figures in Figure of the Day.