Mutant Tigatron
Based on a True Prototype

Transformers Generations War for Cybertron Kingdom Voyager
Item No.: No. F2817
Manufacturer: Hasbro
Includes: Gut gun, tail whip
Action Feature: Transforms from robot to tiger prototype
Retail: $31.49
Availability: January 2022
Other: He is the newer thing

PREVIOUS
RSS
NEXT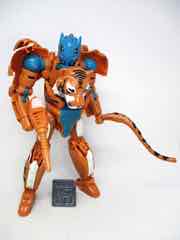 One of the best things about Hasbro these days is that they'll make weird exclusives that even BotCon wouldn't do. Mutant Tigatron takes its cues from an early Beast Wars Tigatron prototype, where he was an orange tiger, with the mutant head seen on the original toy (and packaging artwork.) It's good! I think the mutant-only-head may be a bit off-putting to a lot of buyers, but I absolutely love how he transforms, and the orange tiger alternate mode is very cute. I hope you can get this one.
The robot is the same as regular Tigatron [FOTD #2,395], with the same great articulation and much of the same great deco. This robot has hte same black stripes, but you'll notice other new highlights. There are white patches on the face and legs, for example Also the head is a teal monster mask, which is an element from Beast Wars that tends to get forgotten as most of these faces weren't featured prominently in the TV show or subsequent marketing artwork. He has big gold eyes and a teal head with what look like various creature fangs and teeth, It's also painted, so be careful with it. Orange looks much better than white when it comes to showing off sculpted detail, so it's a lot easier to see some of the fur and mechanical bits. There just isn't a whole heck of a lot to see here - they didn't go overboard with the redesign.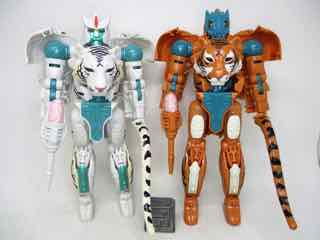 I could take or leave the tail whip, but the gut gun looks great. The barrel is removable too - you can put a tail whip in there or a C.O.M.B.A.T. blast effect if you really wanted, and I do. It gives you something to play around with, which is a big plus given the squirt gun gimmick of the original Cheetor/Tigatron mold was dropped for this toy. He's fun to pose and comes in at 6 1/2-inches tall, making him a big, weird robot. I'm assuming a lot of would-be buyers will skip this one, but they're wrong. It's gorgeous.
Transforming the toy is simple, which I love, especially since I have the other version too. I'd love to see a Cheetor XL made from this mold because it just seems to work without fear of breaking off a small tab. It's good, you'll like futzing with Mutant Tigatron.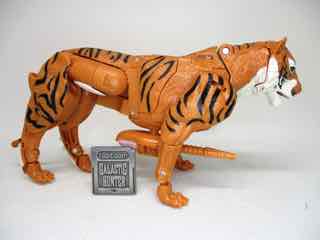 I wanted an orange tiger, and I got one! You can plug the tail in the tail hole, of course. The gut gun is a little weirder in that it plugs in a hole on his belly - it looks weird. On the bright side, at least there's somewhere to put it. The legs have multiple points of articulation, but the head can't really move. One really cool thing is that Hasbro painted the cat teeth white - so when you open his jaws, it looks pretty good.
If you like what you see, I can say that it's worth getting (as long as it doesn't have some weird breakage issue I haven't found yet. It's a good kitty. A nice kitty. A kitty with a flesh-eating robot face from beyond that will terrify his enemies. Why would you pass on that? As prices continue to inch up, a $30 (soon to be $35) Voyager can be tough to swallow, but at $31.49 I found this to be a perfectly reasonable Maximal-without-Maximal markings.
--Adam Pawlus
Additional Images

Click here to see more Hasbro figures in Figure of the Day.
Click here to see more Transformers figures in Figure of the Day.

Want to buy this figure? Check Transformers availability at our sponsors:
Entertainment Earth