Hasbro Battle Beasts Run Amuck Duck
Hasbro, 1987

Day #417: June 9, 2012
Run Amuck Duck
Japanese name "Smile Duck"

Battle Beasts Series 2
Item No.: #41
Manufacturer: Hasbro
Includes: Bronze weapon of some sort, second randomly-selected figure
Action Feature: n/a
Retail: approx. $3.99
Availability: ca. 1987
Other: This sample has a "Fire" rubsign

PREVIOUS
RSS
NEXT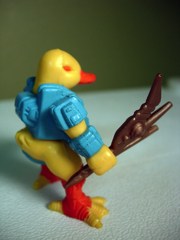 Series 2 of Battle Beasts was fun for a variety of reasons, not the least of which were an increasingly zany batch of critters like Run Amuck Duck which... I have to say the color choices are confusing. Yellow? With blue and red? If you were dragged in to furniture stores in the late 1980s, you no doubt remember a lot of brass, a lot of green felt, and a duckload of ducks. Mallards, I think. (The ones that you keep in your house, but not near the bathroom sink.) Anyway, ducks were everywhere, Disney launched DuckTales in 1987, so America was all about ducks in some capacity... so a Japanese duck toy didn't seem too wacky. I just don't get why it was yellow.
The oddly named Run Amuck Duck is not easily abbreviated (Run D.U.C.?) but it does have some particularly interesting sculpted details. One hand is a standard, weapon-gripping hand which holds the bronze... thing. Depending on the angle at which you hold it, it's vaguely birdlike. His left hand has been replaced by some sort of claw or blade, while his legs have robotic detail vaguely resembling a duck's webbed feet and actual webbed feet at the bottom. The armor itself has lots of sculpted robotic bits, and an unusually large codpiece. Is it an Argentine Blue-bill duck? It is entirely possible. He's clearly packing some heat down there.
Like most figures in the line, he's fairly cute and stands around 2-inches high. Given that the duck isn't exactly the kind of animal you think of when combat comes around, Takara's designers did a decent enough job creating a more warrior-like action figure, even though I can't honestly say that the sum of his parts make as much sense. If (big if) they ever decided to reuse these molds again I think this would be a prime candidate for a repaint, either in black (like Daffy) or in some other more colorful spin. The detail is still quite good, though, and I almost forgot to mention his armor wraps around his lower torso with a hole in the back, letting his little feathered tail poke out just a little bit. It's a nice detail, and series 2 of the beasts seemed to have more of this kind of thing in there-- Powerhouse Mouse's tail sculpting is also notable, but we'll get to him later.
--Adam Pawlus
Additional Images

Click here to see more Hasbro figures in Figure of the Day.

See more Battle Beasts figures in Figure of the Day:
Day 82: Diamond Select Battle Beasts Minimates SDCC Gold Alligator Action Figure
Day 373: Diamond Select Battle Beasts Minimates Case Red Alligator Action Figure
Day 374: Hasbro Battle Beasts Sawtooth Shark Action Figure
Day 375: Hasbro Battle Beasts Wolfgang Walrus Action Figure
Day 376: Hasbro Battle Beasts Diving Duckbill Action Figure
Day 377: Hasbro Battle Beasts Spark Shark Action Figure
Day 390: Diamond Select Battle Beasts Minimates C2E2 2012 Red Vorin
Day 391: Hasbro Battle Beasts Anarchy
Day 395: Diamond Select Battle Beasts Minimates C2E2 2012 Grey Vorin
Day 417: Hasbro Battle Beasts Run Amuck Duck
Day 436: Hasbro Battle Beasts Horny Toad
Day 450: Diamond Select Battle Beasts Minimates SDCC 2012 Vorin & Zik
Day 451: Hasbro Battle Beasts Sledgehammer Elephant
Day 460: Diamond Select Battle Beasts Minimates SDCC 2012 Gold Vorin
Day 463: Diamond Select Battle Beasts Minimates C2E2 Exclusive Black Alligator
Day 451: Hasbro Battle Beasts Pillaging Polar Bear
Day 577: Hasbro Battle Beasts Slasher Seahorse
Day 610: Diamond Select Battle Beasts Minimates Gruntos the Walrus & Tate Reynolds
Day 639: Hasbro Battle Beasts Triple Threat Snake
Day 674: Hasbro Battle Beasts Hare Razing Rabbit
Day 720: Diamond Select Battle Beasts Minimates Shadow Merk
Day 723: Hasbro Battle Beasts Pillager Pig
Day 914: Hasbro Battle Beasts Rainbow Sam
Day 972: Hasbro Battle Beasts Pixilated Pointer
Day 1,084: Hasbro Battle Beasts Sir Sire Horse
Day 1,278: Hasbro Battle Beasts Hardtop Tortoise
Day 1,291: Hasbro Battle Beasts Tanglin Pangolin
Day 1,306: Hasbro Battle Beasts Eager Beaver
Day 1,313: Hasbro Battle Beasts Bodacious Bovine
Day 1,756: Diamond Select Independent Comic Book Minimates Battle Beasts Ruminant and Spyrnus
Day 1,815: Diamond Select Battle Beasts Minimates Stealth Vorin
Day 1,827: Hasbro Battle Beasts Sabre Sword Tiger