Red Army 51st Corps
Green, Sold Out

Banimon Action Figures
Item No.: n/a
Manufacturer: Banimon
Includes: Alternate head, 2 guns, sword, backpack/head thing
Action Feature: 15 swappable parts
Retail: $7.00
Availability: September 27, 2012
Other: Allow 2 weeks for delivery

PREVIOUS
RSS
NEXT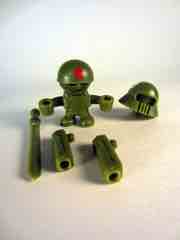 After its birthing from Onell Design, the Glyos System Series of toys has expanded rapidly with other companies building compatible lines like Banimon. The confusingly named Red Army 51st Corps is green, but the "red star" more or less confirms it may be allied to, you know, the reds. At about 1.3-inches tall, the figure is the smallest Glyos-compatible mass-produced PVC figure to date, while the Weaponeers of Monkaa seem to be the tallest. Based on the comics and artwork of one Boris Savic, these figures are adorably small with giant, swappable heads and a whole mess of weapons. In many respects, they're similar to Battle Beasts and include so many spare parts you can use these to augment your other Glyos figures. If you're a Glyos fan, you should get one or more of these.
Given the small size you might assume they aren't going to be useful with your other figures, but you'd be wrong. The heads are roughly the same size as the larger Glyos heads and even look good on the Weaponeers of Monkaa body. Two Banimon figures were made so far, and they're configured slightly differently in the baggies. This one has two guns, a sword, and an alternate head as well as a backpack with a new and different connection point for building stuff.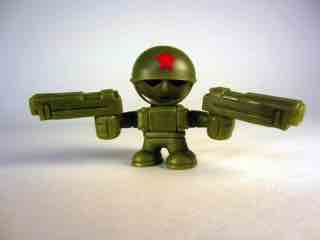 By default, you get a little green army man. It's cute, and he's holding two guns. The little army guy has an articulated head, shoulders, and waist, plus he has connection points in the fists, soles of the boots, and back. It's small, but the versatile figure looks sharp and sports a little bit of paint. There's a red tampo on the helmet, plus black painted eyes and a mouth. There's not a lot of range of movement, but there are enough removable parts and pieces so you can screw around with this figure at your desk. The sculpt is simple, the head is nicely done and the body is generic enough where you could probably paint it up to look like any of all sorts of things.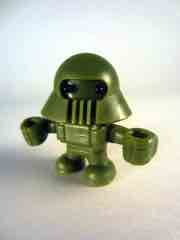 Each weapon is made of multiple parts. The sword, when not being held by a figure, is two parts. To get the figure to hold it, you'll need a double-peg piece, or a male/male piece, to connect the sword's blade to a fist. The pommel fits right into the bottom of the hand. Each gun is made of a main body part, plus has a spare male/male peg which is used to connect the figure to the hand. You can pop them apart and reconfigure them if you'd like, and they feature simple, good sculpting. The sword in particular looks like a 1980s or 1990s-era TMNT accessory, except it's made of higher quality materials here.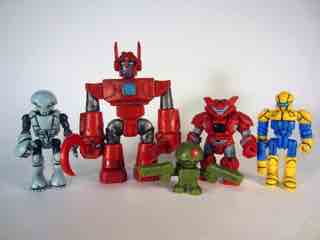 One of the figure's biggest surprises is its backpack, which sports multiple surprise pegs and has a robot face sculpted into it as well as a bonus rectangular fit. Basically, you'll see that the back of the backpack is recessed slightly. This is because you can plug a second backpack into it-- the sides fit perfectly. It's an interesting bonus and to be honest, I don't understand why it's here yet. I assume it'll be used on a future release. Each backpack has an affixed peg which looks like a clown nose in the middle of a robot's face but stays invisible while plugged in. You can attach guns to the sides of the backpack, but the sword really doesn't have anywhere to go if you're not using it.
As a figure with minimal movement and not a lot of detail, this simple and stylized release is oddly compelling and totally worth your time. The creator also publishes a comic book which shows other creatures in this style, all of which would make for awesome future figures. I'm also digging all the extra weapons, between this and Monkaa you've got a ton of arms for your other toys all of a sudden. I should also add the figure has an alternate "Banigoth" head, which looks more than a little like Darth Vader. It has a white tampo on the side that looks like a rocket, and would make an excellent t-shirt. Since the green guy sold out in a few days, you may not be able to get one cheaply. But if you can, do it. It's fun and worth the asking price, although for a figure of the size it does seem to be a little pricey. Of course, now that other Glyos figures are seeing steady (and harsh) price increases like Outer Space Men at $20+ each... $7 isn't so bad.
--Adam Pawlus
Additional Images

See more Banimon figures in Figure of the Day:
Day 521: Banimon Red Army 51st Corps Action Figure
Day 612: Banimon Fire Eaters (Red Army Men) Action Figure
Day 800: Banimon Custom Corps Series 1 #11 Action Figure
Day 814: Banimon Red Army Muscle Men Action Figure
Day 1,134: Banimon Red Army T-011 Bunkerbuster Tank Vehicle

Click here to see more Glyos Compatible figures in Figure of the Day.