Twinhorn
RMV-06

Zoids Original Japanese Release
Item No.: n/a
Manufacturer: Tomy
Includes: n/a
Action Feature: Walks with use of wind-up motor
Retail: approx. $5
Availability: 1986
Other: Old School

PREVIOUS
RSS
NEXT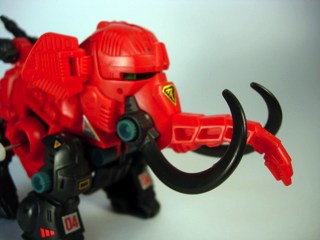 One of a few Zoids molds never released in the US market, Twinhorn was another swell gift from my dad when he went to Japan when I was a kid. Since dads don't typically bring home random toys, nor do kids get a lot of toys from Japan, this was a big deal and why it's in nearly perfect shape. I kept my Zoids out of the light and generally free of dust, so they look pretty good despite being around for about 26 years.
This little guy has a simple wind-up motor. The red mammoth has a head which goes up and down as he walks, and of course his four legs propel him forward. He's covered in foil stickers, plus has a vac-metal silver driver. The trunk is articulated, and the ears can be positioned as well. There are also a pair of movable guns on the tail, plus tons of sculpted details and bitlets all over his exterior. These toys are known for having a lot of junk sculpted on to them, but the volume of panels, vents, fans, and other chunks on this smaller toy is pretty staggering. As a kid, I assumed some of the elements had some other grand purpose. Zoids packaging often showed alternate builds and add-on parts as drawings, which-- unbeknownst to me as I can't read Japanese-- weren't actually ads for upgrade kits. (There were upgrade kits, but not some of the ones shown on the earlier toys' packaging.) The Twinhorn has a nifty tab on his trunk that looks like it should connect to a gun or some other piece, but none were included and as far as I know none were developed.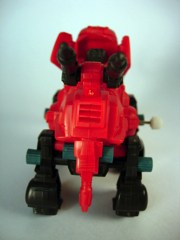 There are no shortage of cheap Zoids to be had from the many, many lines based on the toys over the last 30 years. I got a bunch for $2 or so during the last major US launch, and they're all pretty great. This guy was never sold here and as such, is a curiosity. The foil stickers and delightful Zenevas faction symbols look really cool, and the aesthetics of mid to late 1980s Japanese toys out of Tomy and Takara are all pretty amazing. The chrome, the colors, the styles... it's hard to beat. If you've got some money to blow, get the reissue of this guy since it's cheap and looks similar to the original. (Heck, let me know if it's any different.)
Other versions: This toy was rereleased in the "Zoids Graphics" line of reissues, and can be had on eBay at or under $25. (Worth it.) A limited edition black and green Guylos repaint called Dark Twinhorn is also available and gorgeous. I wish I had one, but it's closer to $100.
--Adam Pawlus
Additional Images

See more Tomy toys in Figure of the Day:
Day 170: Tomy Zoids Wardick
Day 263: Tomy Zoids Gorgodos Action Figure
Day 364: Tomy Robostrux Brutox Figure Kit
Day 382: Tomy Robostrux Slithor Figure Kit
Day 406: Tomy Zoids Twinhorn Action Figure
Day 484: Tomy Robostrux Brox Figure Kit
Day 486: Tomy Zoids 24 Scale Neptune Figure Kit
Day 1,352: Tomy Robostrux Batlar Figure Kit
Day 1,422: Tomy Zoids Gator Figure Kit

See more Zoids, Robostrux, and Techno-Zoids in Figure of the Day:
Day 170: Tomy Zoids Wardick
Day 263: Tomy Zoids Gorgodos Action Figure
Day 364: Tomy Robostrux Brutox Figure Kit
Day 382: Tomy Robostrux Slithor Figure Kit
Day 406: Tomy Zoids Twinhorn Action Figure
Day 484: Tomy Robostrux Brox Figure Kit
Day 486: Tomy Zoids 24 Scale Neptune Figure Kit
Day 1,352: Tomy Robostrux Batlar Figure Kit
Day 1,422: Tomy Zoids Gator Figure Kit
Day 1,471: Takara-Tomy Zoids Masterpiece Shield Liger
Day 2,000: Takara-Tomy Zoids Wild ZW-05 Gannontoise Figure Kit
Day 2,008: Takara-Tomy Zoids Wild ZW-01 Wild Liger Figure Kit
Day 2,013: Takara-Tomy Zoids Wild ZW-03 Kabtor Figure Kit
Day 2,017: Takara-Tomy Zoids Wild ZW-04 Scorpear Figure Kit
Day 2,039: Takara-Tomy Zoids Wild ZW-06 Gabrigator Figure Kit
Day 2,075: Takara-Tomy Zoids Wild ZW-07 Kuwaga Figure Kit