Onslaught
Series 01 #004

Transformers Generations Deluxe
Item No.: Asst. 37986 No. A0172
Manufacturer: Hasbro
Includes: Laser Cannon
Action Feature: Transforms from Cybertronian Missile Carrier to robot
Retail: $14.99
Availability: September 2012
Other: Forms the Torso of Bruticus

PREVIOUS
RSS
NEXT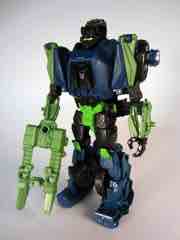 The Combaticons have had a fair amount of toys made of them in the last 10 years, with Onslaught getting some of the most love. He was made as a combiner torso in Energon and repainted in Universe (and rereleased for Revenge of the Fallen), there's a Legends-sized Universe toy bearing his name, and he got a jumbo $30ish Universe figure as well. It's only fitting that he got another Combiner release, this time based on the Fall of Cybertron video game. From the renderings I found online, it seems this individually-packaged Onslaught looks more like the game colors than the one in the SDCC-exclusive boxed set, which has been reported as a G1 deco and as a game-specific deco. As far as I can tell, it's neither, and this single release is as colorful as it is nifty.
Packaged in his robot form, the figure looks pretty good. The bluegreen body has numerous green highlights, and while it may not be the most fun stand-alone toy, it certainly looks good with bulky feet and fully-formed hands. The arm articulation is a little wonky, but sacrifices are often made for the good of the larger, combined mode. He's given a generous amount of joints, but quantity does not always equate to maximum fun. He's got a few issues rotating those shoulders, and there's some kibble in pretty much every mode. The elbows are a little odd, with tiny ball joints which pop out easily.
Deco isn't half bad, as the Decepticon symbol was clearly designed for this mode - it's almost invisible in the combined mode, sadly. The head has a yellow visor for eyes, which pops nicely and the overall toy looks pretty good except for the green paint and the green plastic don't quite mesh as well as I'd have preferred. The hands are painted a glossy black, which is unusual as there's not a lot of glossy paint on most Transformers and usually the interiors of fists aren't painted.
His gun is, well, a gun. It's pretty generously designed with 5mm peg holes, so you can attach the other Combaticon weapons to it to make a much larger, less sensical Garden Weasel with which to attack Autobots. He can also wear it on his back. I think it's a smidgen too big for him. However, if you have the 2008 Universe 2.0 Ultra-sized Onslaught, it's actually about the perfect size for him.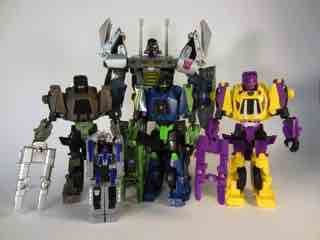 The vehicle mode, while not bad, isn't exactly a ton of fun. He has rolling wheels, but is missing the pink on the hubcaps seen in the game art and while the design itself is neat, the toy doesn't do a heck of a lot for me. You can roll it around, and put the gun on it. And that's about it. Since the combined mode is really the toy's main action feature, it's unsurprising, but the ability to stick Mini-Cons to it or a rocket launcher would probably have done wonders to give it more oomph.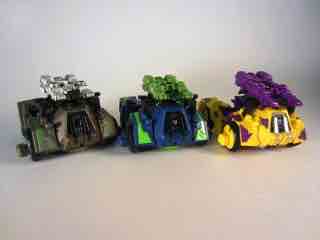 The transformation is decent, certainly not a pain in the neck. Things fit into place nicely in each mode, with some clever bits like shoulders holding on to pegs to make the Bruticus Chest piece. Heads flip, arms swivel, and a butt cover becomes a piece that was, in the 1980s Bruticus, a removable kibble element. Hasbro did a pretty fantastic job working all of these formerly removable parts into the individual toy modes, and unlike Jazz this one doesn't make me sad to play with it.
As a torso, he's good. I like the colors a lot, the yellow eyes pop in the mostly black head, and the green really does a nice job directing your eye around the body. The flip-up codpiece works nicely, and the arms and legs pop into place fairly easily while still allowing for the limbs to rotate. Even the waist can turn, which is a heck of a nice bonus. My only gripe is that it lacks a big Decepticon logo for the combined robot mode, I love faction symbols and not seeing one is a bit of a downer.
While not my favorite of these as a stand-alone toy, it's not bad, and it looks great on a shelf as a robot in the individual Onslaught mode or as Bruticus' torso. As a vehicle, it doesn't do much of anything for me, but I can't say no to a Cybertronian vehicle mode. It's worth a look, especialy if you can get it for a decent sale price.
--Adam Pawlus
Additional Images
Additional Combined and Team Fall of Cybertron Bruticus Images

Click here to see more Hasbro figures in Figure of the Day.

Click here to see more Transformers figures in Figure of the Day.

Want to buy this figure? Check Transformers availability at our sponsors:
Entertainment Earth