C2E2 2012 Grey Vorin
Grey Retailer Premium

Battle Beasts Minimates C2E2 2012 Exclusive
Item No.: n/a
Manufacturer: Diamond Select
Includes: Shield, sword, sheath
Action Feature: n/a
Retail: varies
Availability: April 2012
Other: Redeco 2 of 2 (so far)

PREVIOUS
RSS
NEXT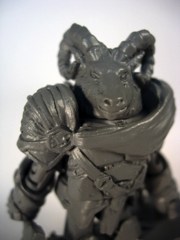 Last week we looked at the clear red release, but this week I'm looking at Grey Vorin. This figure was distributed to retailers at an event at C2E2 (or so I've heard) so it's possible your local comic shop might have one to sell you. It's pretty much the same as the red one in terms of functionality, but the plastic feels a little stiffer and it does something particularly amazing in that it proves how much better a figure which is painted a single color can look compared to one which is molded in that color. In my other hundreds of toy reviews, I've noticed that a painted face often looks better than a molded face, and Vorin is no exception. The way light bounces off paint, in this case, changes a figure from pretty dang good to borderline spectacular. The candylike red figure looks nice-- don't get me wrong-- but the grey figure looks like it was painted in primer to use as a pitch sample of some sort, which I suppose it kind of is. When I have this figure in my hands, I can pretty much tell without a doubt that this line is going to be beautiful. Even with just one color (the figure is partially white plastic painted grey), the detail pops in all sorts of places. The red one is fun to play with, sure, but the grey one helps you to see all the sculpted fur, the knife on the back, and every teeny little bit of work that went into this figure.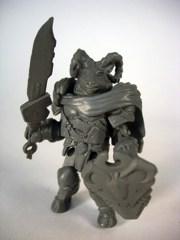 While either unpainted figure works well from a "let's put this nifty looking thing on my shelf" perspective, I found this one to be a smidgen better overall. Maybe it's the paint, or my imagination, but the sword seems a little bit stiffer and the figure holds together just a little bit better. The joints just feel better, too, so there's a really good chance that much of this is in my imagination. The sheath seems to stay in better, too, and it's just a stronger-feeling figure.
If you told me that a figure painted in grey with no additional details would look this good, I'd have called you a liar. (I'm harsh like that.) The shadows fall on the figure in a way that makes the detail really pop, where on the clear red, it wasn't as obvious when you were looking at a sculpted detail. Obviously they're both cut from the same mold, but man oh man, this one just looks so much better. If you have to choose one or the other, go grey. Or I guess you can wait for the fully painted release (or releases) later this year, as Diamond's action figures rarely look worse than "damn good" and given the kind of time that went into developing this property, I can't assume they'll skimp on the deco. Prices have come down significantly since the convention in April, but they're still sort of expensive-- if you're a fanatic for the little guys it might be worth a premium to have one in your hand early, even if the rational collector in me wants to say "just wait until the cheaper ones are ready." I don't think I could, but then again, as I've alluded to before, I've got issues.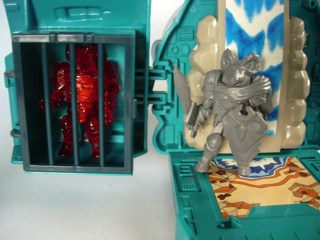 ...I'd also like to say, I think that the idea of a "primer" figure like this one is something other toy companies should consider. I mean, how many of us have heard of a new figure line and we got so excited we would buy a test shot or pay extra to get a figure a little early? This one-color sample lets you play with the figure while the vendor works the kinks out, and it really does feel that you're holding a work-in-progress in your sweaty hands. Don't get me wrong, the clear red one is nice, but the looks and feel of the painted grey feels less like an exclusive or a promotional item and more like some lost artifact... even if hundreds (or thousands) of them were made and distributed by a major toy manufacturer. If someone announced the revival of M.A.S.K. or Crystar or whatever and you had the chance to get a "primer" figure early... you'd do it, right? Right. From where I sit, that's why this figure is so much more fun.
--Adam Pawlus
Additional Images

See more Diamond Select Toys figures in Figure of the Day:
Day 76: Diamond Select Toys Black and White Wolfman
Day 82: Diamond Select Battle Beasts Minimates SDCC Gold Alligator Action Figure
Day 373: Diamond Select Battle Beasts Minimates Case Red Alligator Action Figure
Day 390: Diamond Select Battle Beasts Minimates C2E2 2012 Red Vorin
Day 395: Diamond Select Battle Beasts Minimates C2E2 2012 Grey Vorin
Day 450: Diamond Select Battle Beasts Minimates SDCC 2012 Vorin & Zik
Day 460: Diamond Select Battle Beasts Minimates SDCC 2012 Gold Vorin
Day 463: Diamond Select Battle Beasts Minimates C2E2 Exclusive Black Alligator
Day 610: Diamond Select Battle Beasts Minimates Gruntos the Walrus & Tate Reynolds
Day 720: Diamond Select Battle Beasts Minimates Shadow Merk
Day 1,324: Diamond Select Toys Aliens vs. Colonial Marines Figure Set
Day 1,756: Diamond Select Independent Comic Book Minimates Battle Beasts Ruminant and Spyrnus
Day 1,815: Diamond Select Battle Beasts Minimates Stealth Vorin
Day 1,905: Diamond Select Battle Beasts Minimates Antalor and Nychirix

See more Battle Beasts figures in Figure of the Day:
Day 82: Diamond Select Battle Beasts Minimates SDCC Gold Alligator Action Figure
Day 373: Diamond Select Battle Beasts Minimates Case Red Alligator Action Figure
Day 374: Hasbro Battle Beasts Sawtooth Shark Action Figure
Day 375: Hasbro Battle Beasts Wolfgang Walrus Action Figure
Day 376: Hasbro Battle Beasts Diving Duckbill Action Figure
Day 377: Hasbro Battle Beasts Spark Shark Action Figure
Day 390: Diamond Select Battle Beasts Minimates C2E2 2012 Red Vorin
Day 391: Hasbro Battle Beasts Anarchy
Day 395: Diamond Select Battle Beasts Minimates C2E2 2012 Grey Vorin
Day 417: Hasbro Battle Beasts Run Amuck Duck
Day 436: Hasbro Battle Beasts Horny Toad
Day 450: Diamond Select Battle Beasts Minimates SDCC 2012 Vorin & Zik
Day 451: Hasbro Battle Beasts Sledgehammer Elephant
Day 460: Diamond Select Battle Beasts Minimates SDCC 2012 Gold Vorin
Day 463: Diamond Select Battle Beasts Minimates C2E2 Exclusive Black Alligator
Day 451: Hasbro Battle Beasts Pillaging Polar Bear
Day 577: Hasbro Battle Beasts Slasher Seahorse
Day 610: Diamond Select Battle Beasts Minimates Gruntos the Walrus & Tate Reynolds
Day 639: Hasbro Battle Beasts Triple Threat Snake
Day 674: Hasbro Battle Beasts Hare Razing Rabbit
Day 720: Diamond Select Battle Beasts Minimates Shadow Merk
Day 723: Hasbro Battle Beasts Pillager Pig
Day 914: Hasbro Battle Beasts Rainbow Sam
Day 972: Hasbro Battle Beasts Pixilated Pointer
Day 1,084: Hasbro Battle Beasts Sir Sire Horse
Day 1,278: Hasbro Battle Beasts Hardtop Tortoise
Day 1,291: Hasbro Battle Beasts Tanglin Pangolin
Day 1,306: Hasbro Battle Beasts Eager Beaver
Day 1,313: Hasbro Battle Beasts Bodacious Bovine
Day 1,756: Diamond Select Independent Comic Book Minimates Battle Beasts Ruminant and Spyrnus
Day 1,815: Diamond Select Battle Beasts Minimates Stealth Vorin
Day 1,827: Hasbro Battle Beasts Sabre Sword Tiger
Day 1,890: Hasbro Battle Beasts Battling Deer Stalker Chariot
Day 1,905: Diamond Select Battle Beasts Minimates Antalor and Nychirix
Day 1,906: Hasbro Battle Beasts Killer Carp
Day 2,024: Fisher-Price Imaginext Series 11 Collectible Figures Triple Threat Snake
Day 2,074: Hasbro Battle Beasts Octillion Octopus

Want to buy this figure? Check Minimates availability at our sponsors:
Entertainment Earth