Kingdom of Gloria
Featuring Big Serow, Jidam, and Raioga

Beast Saga Action Figures
Item No.: BS-01
Manufacturer: Takara-Tomy
Includes: 3 shields, 3 spears, 3 shields, 7 dice, play mat, game instructions
Action Feature: Dice launch out of stomach
Retail: 1,575 yen (or about $21)
Availability: September 2012
Other: Your Second Best Purchase

PREVIOUS
RSS
NEXT

While the "Sea Death" set is the gem of the launch window, there's no denying that the Kingdom of Gloria action figure set is worth a look as well. Raioga the Lion has unique accessories in this set, and he's joined by Jidam the Hamster and Big Serow the Deer. As with the single figures, they have shields, melee weapons, dice, and trading cards.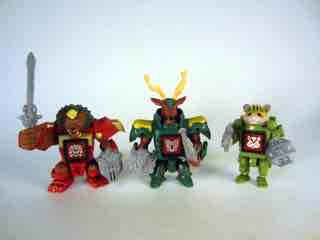 Each figure has 4 points of articulation and is made of a soft, rubbery plastic. Since the figures have closed fists, getting the weapons in there can be a tight fit. Each figure has a hard plastic die launcher in their chest which has a swell light-piping effect making use of clear plastic and a tiny prism.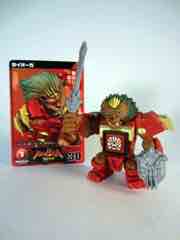 The leader of this good guys is Raioga, which is the same figure (but different accessories) as the individually packaged BS-04 Raioga figure. His armor is red, his shoulders are huge, his mane is green, but the sword and shield are quite different. The sword has beastly overtones, including a face below the blade, while the shield looks like it's almost a claw weapon. Since the single BS-04 Raioga's weapons come with the bat or with the clear "flaming" Raioga, there's no real reason to get the single one.
There's not much to say here we didn't say in the last review, so let's move on. Oh, and he's still got a toothy vagina thing on his armor.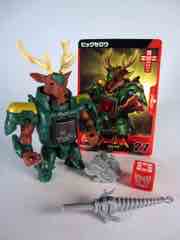 Next up is Big Serow, which is really odd because "Big Serow" was the Japanese name of "Deer Stalker" in the original Battle Beasts line. The original Deer Stalker figure had crazy glasses, a drill arm, and exposed hooves. Few of the new Beast Saga figures have visible feet or paws on the ground, and instead wear sandals or booties, which is, well, no odder than bipedal cybernetic dice-launching animal figures. Raigoa is the only fantastical looking head in the set, as Big Serow looks more realistic and almost like they stuck a taxidermy deer head on some Super Deformed Gundam body. Classic Battle Beasts had brightly-colored eyes which helped make the figures slightly less creepy by giving them an exaggerated robotic or cartoony feel. The fur sculpting is great, the antlers are a soft plastic (which I fear may break with time), and the armor is insanely bulky. He looks like he has two giant rockets on his shoulders, and these work as grips for your fingers when you use the die launcher in his chest. The figure's sculpt isn't too wacky, but his back does have Optimus Prime-esque smokestacks poking out the back. And that really is weird.
Armed with a lance made like a drill, it's obvious that the figure is meant as a tribute to the original Deer Stalker toy. He unfortunately lacks the sculpted glasses and drill arm, but hey, they tried. The shield is quite ornate and has a design that vaguely resembles antlers, giving the overall figure a pretty strong look.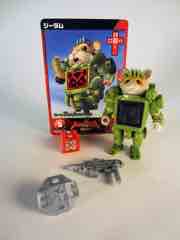 The odd man out in the set (and line) is Jidam the hamster. Like Big Serow, the tiny rodent has a fairly realistic head slapped on a tiny body, which lacks the large shoulders on other figures in the line. Actually, this is the smallest figure in the line so far and is only barely larger than the original Battle Beasts figures. The green armor looks great, but lacks any real paint detailing which I suppose makes sense given the quality of deco on the face with a little pink nose, black eyes, and brown highlights on grey fur. It's really adorable, but the armor would probably benefit from a tiny splash of color.
The only figure to include a gun, Jidam is a figure I could see people buying to steal his weapon as it looks awesome with Glyos figures or original Battle Beasts. His shield seems like it was meant to reference modern military superpower hardware, with the tank-like figure, with some grenades near the shoulders, having a shield with a big star on it. While it would be ridiculous to suggest this is what kind of pets the guys in G.I. Joe might have... well, look at him. It would make sense, wouldn't it?
Were this item more easy to get and cheaper, I'd say run out and buy it. For $15 this would be a fantastic buy. For $30 or so (after shipping) it's worth it if you're a crazed fan of the line, like I am. I mean, I wouldn't be able to sleep knowing this came out and I didn't have it, but I should also say I didn't play with it much since getting it. I opened it, enjoyed it, and then put it down for a bit. It's by no means bad, but I'm thinking Beast Saga (and most figure lines) are best enjoyed one or two figures at a time, getting 20 at once is overwhelming and sucks the fun out of collecting them. So if you can, get this set, and maybe the Sea Death set, and see what you think before buying more. I think you'll enjoy them but you don't want to OD on them.
--Adam Pawlus
Additional Images

See more Beast Saga figures in Figure of the Day:
Day 495: Takara-Tomy Beast Saga Raioga Action Figure
Day 529: Takara-Tomy Beast Saga Kingdom of Sea Death Action Figure Set
Day 534: Takara-Tomy Beast Saga Dolphin Burst Action Figure
Day 540: Takara-Tomy Beast Saga Kingdom of Gloria Action Figure Set
Day 544: Takara-Tomy Beast Saga Aldyle Action Figure
Day 549: Takara-Tomy Beast Saga Dorfan Action Figure
Day 551: Takara-Tomy Beast Saga Eledram Elephant Action Figure
Day 564: Takara-Tomy Beast Saga DX Starter Set Action Figure Set
Day 568: Takara-Tomy Beast Saga Tarlock Action Figure
Day 573: Takara-Tomy Beast Saga Long Giraf Action Figure
Day 579: Takara-Tomy Beast Saga Garrison G Action Figure
Day 580: Takara-Tomy Beast Saga GachaBooster General Hawk Knight Action Figure
Day 586: Takara-Tomy Beast Saga Killer Shark Burst Action Figure
Day 585: Takara-Tomy Beast Saga Beast Machines Sky Darling Vehicle
Day 593: Takara-Tomy Beast Saga Rynas Action Figure
Day 595: Takara-Tomy Beast Saga Seylas Action Figure
Day 601: Takara-Tomy Beast Saga Bamet Burst Action Figure
Day 616: Takara-Tomy Beast Saga Long Giraf Burst Action Figure
Day 622: Takara-Tomy Beast Saga Bamet Action Figure
Day 626: Takara-Tomy Beast Saga Killer Shark Action Figure
Day 637: Takara-Tomy Beast Saga Liorga Action Figure
Day 642: Takara-Tomy Beast Saga Aldyle Burst Action Figure
Day 663: Takara-Tomy Beast Saga Janjan Action Figure
Day 669: Takara-Tomy Beast Saga Ogre Burst Action Figure
Day 678: Takara-Tomy Beast Saga Swordbill Action Figure
Day 693: Takara-Tomy Beast Saga Guarl Burst Action Figure
Day 715: Takara-Tomy Beast Saga Guarl Action Figure
Day 824: Takara-Tomy Beast Saga Mantaray Action Figure
Day 828: Takara-Tomy Beast Saga Aljaylo Action Figure
Day 839: Takara-Tomy Beast Saga Ogre Action Figure
Day 846: Takara-Tomy Beast Saga Dakker Action Figure
Day 856: Takara-Tomy Beast Saga Moreek Action Figure
Day 873: Takara-Tomy Beast Saga Wonderriver Action Figure
Day 937: Takara-Tomy Beast Saga Rynas Burst Action Figure
Day 974: Takara-Tomy Beast Saga Super Win Deck Impact Set Action Figure Set
Day 993: Takara-Tomy Beast Saga Kannigal Burst Action Figure
Day 1,326: Takara-Tomy Beast Saga Buffam Action Figure
Day 1,332: Takara-Tomy Beast Saga Bunikis Action Figure
Day 1,339: Takara-Tomy Beast Saga Aljaylo Burst Action Figure
Day 1,381: Takara-Tomy Beast Saga Eledram Burst Action Figure
Day 1,496: Takara-Tomy Beast Saga Dacker Burst Action Figure
Day 1,814: Takara-Tomy Beast Saga Mantaray Burst Action Figure
Day 1,911: Takara-Tomy Beast Saga Wolfen Burst Action Figure
Day 1,964: Takara-Tomy Beast Saga Buffam Burst Action Figure
Day 2,006: Takara-Tomy Beast Saga Raioga Burst Action Figure
Day 2,213: Takara-Tomy Beast Saga Kannigal Action Figure
Day 2,463: Takara-Tomy Beast Saga Moreek Burst Action Figure

See more Takara-Tomy figures in Figure of the Day:
Day 180: Takara-Tomy Transformers Animated Ironhide (Bulkhead) Key Chain
Day 435: Takara-Tomy Transformers Prime Gacha Arms Micron Optimus Prime Blaster
Day 476: Takara-Tomy Transformers Prime Bumblebee Sword Action Figure
Day 495: Takara-Tomy Beast Saga Raioga Action Figure
Day 529: Takara-Tomy Beast Saga Kingdom of Sea Death Action Figure Set
Day 534: Takara-Tomy Beast Saga Dolphin Burst Action Figure
Day 540: Takara-Tomy Beast Saga Kingdom of Gloria Action Figure Set
Day 544: Takara-Tomy Beast Saga Aldyle Action Figure
Day 549: Takara-Tomy Beast Saga Dorfan Action Figure
Day 551: Takara-Tomy Beast Saga Eledram Elephant Action Figure
Day 564: Takara-Tomy Beast Saga DX Starter Set Action Figure Set
Day 568: Takara-Tomy Beast Saga Tarlock Action Figure
Day 573: Takara-Tomy Beast Saga Long Giraf Action Figure
Day 579: Takara-Tomy Beast Saga Garrison G Action Figure
Day 580: Takara-Tomy Beast Saga GachaBooster General Hawk Knight Action Figure
Day 585: Takara-Tomy Beast Saga Beast Machines Sky Darling Vehicle
Day 586: Takara-Tomy Beast Saga Killer Shark Burst Action Figure
Day 593: Takara-Tomy Beast Saga Rynas Action Figure
Day 595: Takara-Tomy Beast Saga Seylas Action Figure
Day 597: Takara-Tomy Transformers Prime Zad Action Figure
Day 601: Takara-Tomy Beast Saga Bamet Burst Action Figure
Day 616: Takara-Tomy Beast Saga Long Giraf Burst Action Figure
Day 622: Takara-Tomy Beast Saga Bamet Action Figure
Day 626: Takara-Tomy Beast Saga Killer Shark Action Figure
Day 637: Takara-Tomy Beast Saga Liorga Action Figure
Day 642: Takara-Tomy Beast Saga Aldyle Burst Action Figure
Day 663: Takara-Tomy Beast Saga Janjan Action Figure
Day 669: Takara-Tomy Beast Saga Ogre Burst Action Figure
Day 678: Takara-Tomy Beast Saga Swordbill Action Figure
Day 693: Takara-Tomy Beast Saga Guarl Burst Action Figure
Day 715: Takara-Tomy Beast Saga Guarl Action Figure
Day 824: Takara-Tomy Beast Saga Mantaray Action Figure
Day 828: Takara-Tomy Beast Saga Aljaylo Action Figure
Day 839: Takara-Tomy Beast Saga Ogre Action Figure
Day 846: Takara-Tomy Beast Saga Dakker Action Figure
Day 856: Takara-Tomy Beast Saga Moreek Action Figure
Day 873: Takara-Tomy Beast Saga Wonderriver Action Figure
Day 905: Takara-Tomy Transformers Masterpiece Edition Lambor G-2 Ver.
Day 937: Takara-Tomy Beast Saga Rynas Burst Action Figure
Day 974: Takara-Tomy Beast Saga Super Win Deck Impact Set Action Figure Set
Day 993: Takara-Tomy Beast Saga Kannigal Burst Action Figure
Day 1,127: Takara-Tomy Transformers Sega Genesis Megatron Action Figure
Day 1,207: Takara-Tomy Transformers United Rumble & Frenzy
Day 1,224: Takara-Tomy Transformers Adventure Roadblock
Day 1,242: Takara-Tomy Transformers Go! Go
Day 1,247: Takara-Tomy Transformers Go! Sen
Day 1,259: Takara-Tomy Transformers Go! Geki
Day 1,262: Takara-Tomy Transformers Masterpiece Bumble G-2 Ver.
Day 1,273: Takara-Tomy Transformers Go! Ex
Day 1,284: Takara-Tomy Transformers Go! Shou
Day 1,310: Takara-Tomy Transformers Legends Slipstream
Day 1,327: Takara-Tomy Transformers Unite Warriors Grand Scourge
Day 1,328: Takara-Tomy Transformers Unite Warriors Nightbird Shadow
Day 1,326: Takara-Tomy Beast Saga Buffam Action Figure
Day 1,328: Takara-Tomy Transformers Adventure Override
Day 1,332: Takara-Tomy Beast Saga Bunikis Action Figure
Day 1,339: Takara-Tomy Beast Saga Aljaylo Burst Action Figure
Day 1,357: Takara-Tomy Transformers United Stepper
Day 1,381: Takara-Tomy Beast Saga Eledram Burst Action Figure
Day 1,429: Takara-Tomy Transformers Legends Armada Starscream Super Mode
Day 1,468: Takara-Tomy Transformers Unite Warriors Grand Galvatron
Day 1,471: Takara-Tomy Zoids Masterpiece Shield Liger
Day 1,496: Takara-Tomy Beast Saga Dacker Burst Action Figure
Day 1,627: Takara-Tomy Transformers Legends Convobat
Day 1,670: Takara-Tomy Transformers Legends Leo Prime
Day 1,814: Takara-Tomy Beast Saga Mantaray Burst Action Figure
Day 1,842: Takara-Tomy Transformers Legends Blackarachnia
Day 1,911: Takara-Tomy Beast Saga Wolfen Burst Action Figure
Day 1,964: Takara-Tomy Beast Saga Buffam Burst Action Figure
Day 2,000: Takara-Tomy Zoids Wild ZW-05 Gannontoise Figure Kit
Day 2,006: Takara-Tomy Beast Saga Raioga Burst Action Figure
Day 2,008: Takara-Tomy Zoids Wild ZW-01 Wild Liger Figure Kit
Day 2,013: Takara-Tomy Zoids Wild ZW-03 Kabtor Figure Kit
Day 2,017: Takara-Tomy Zoids Wild ZW-04 Scorpear Figure Kit
Day 2,039: Takara-Tomy Zoids Wild ZW-06 Gabrigator Figure Kit
Day 2,075: Takara-Tomy Zoids Wild ZW-07 Kuwaga Figure Kit
Day 2,191: Takara-Tomy Transformers Generations Selects Deluxe Gulf (Skalor) Action Figure
Day 2,200: Takara-Tomy Transformers Generations Selects Deluxe Turtler (Snaptrap) Action Figure
Day 2,213: Takara-Tomy Beast Saga Kannigal Action Figure
Day 2,273: Takara-Tomy Transformers Generations Selects Voyager Super Megatron Action Figure
Day 2,463: Takara-Tomy Beast Saga Moreek Burst Action Figure