Convobat
e-Hobby Exclusive Mindwipe Remix

Transformers Legends LG EX
Item No.: No. ???
Manufacturer: Takara-Tomy
Includes: 2 swords, Megaligator Headmaster, Ape X Arms, Convobat Headmaster
Action Feature: Changes from Bat to Robot
Retail: 5,000 yen (or $65-$90 at importers)
Availability: December 2016
Other: Bat Optimus Primal

PREVIOUS
RSS
NEXT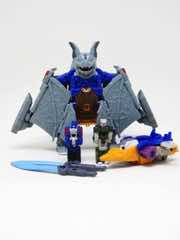 Sometimes a toy comes along to show you just how big of a sucker you are. The Takara-Tomy Convobat is one such toy - not because it's bad, but because it's a) gorgeous and b) overpriced. Rarely do I like using the term "gift set" because I don't feel like I'm getting a present - but here? I kind of do. The 5,000 yen set includes a redeco of deluxe Mindwipe, a redeco of Nucleon, two swords, and a redeco of the Apeface "drone/vehicle" element. As paper goods go, you also get a sticker sheet and a comic book. I paid about $65 at an importer, and I'd say - if we're being generous - there's about $30-$35 worth of plastic and paper in here if you compare these items to similar items in the USA.
So yes, it's expensive - but you get a cool homage to the first Beast Wars 2-pack from 21 years ago. You also get a nifty little ape that looks like Optimal Optimus. I'm hesitant to say "it's totally worth it," but it's certainly neat enough that you're going to want it.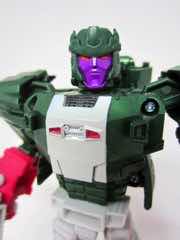 This toy is an example of how and why Titans Return action figure molds could be a gift that keeps on giving to exclusive development. The Mindwipe body has been given Sentinel Prime's head partner Infinitus, and they're all painted to match. The claw weapon and blaster are missing, but you get a pair of swords - which seems to be a fair trade-off, given what they were gunning for here. They fit in the bat wings in bat mode, they fit in the fists in robot mode, and everything is colored to look good together. You can use the included stickers to customize it, it has a pretty swell face plate, and other than the ankles being loose it's a pretty great robot mode.
Takara-Tomy did a good job evoking the original toy's colors, but I would've appreciated painted symbols somewhere. If this were a BotCon exclusive or a regular retail product, you'd be all over it. The red highlights, the orange ornamentation, and the dark grey wing lining all go above and beyond what this toy needed to deliver to be interesting. I'm impressed - the silver vents, the red trim, it's all here. Minus the gun and the claw, that is.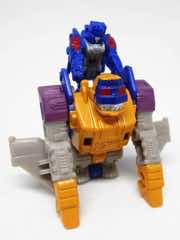 The big Convobat toy has 2 smaller companions. Megaligator is the Nucleon toy from Galvatron [FOTD #1,516], color-matched to fit your Skullsmasher [FOTD #1,495] toy - the greens are a nearly perfect match. The purple face looks nice, and the tiny little robot mode is about 1 1/2-inches tall with the usual articulation. The micro not-quite-Megatron has a green Megatron vibe, with a grey helmet, red eyes, and purple face. Like the similarly well-painted mini Convobat, there are more paint applications on this little robot than most - if not all - of the American Titan Master counterparts from Hasbro. You can plug Megaligator in to the Convobat body, but it's really suited to the croc body stylings of Skullsmasher/Skull/Skullcruncher/whatever.
Ape X Arms is Apeface [FOTD #1,500] in Optimal Optimus colors - but it's just the vehicle/drone, without the little robot. Tiny Convobat can plug in, though, allowing you to make the most of Ape X Arms' gorilla, jet, or weapon modes. The colors are strikingly similar to the largest toy from Beast Wars, with the vac-metal color being represented by a metallic equivalent. It's a good match. The small toy is easy to transform, ad has big red eyes, bright silver teeth, and just enough articulation to work. I think the design is fabulous for a $5 toy, but as part of a much larger set you're probably going to need to be a little stupid with your cash. It's awesome - it really, truly is a clever redeco - but it's up to you if this level of mark-up is worthwhile for a tiny gag like this.
I pre-ordered this knowing full well it was overpriced. It is. You can't deny it - you're paying too much if you bought this set. There aren't many 20th Anniversary Beast Wars items, and this one is kind of weirdly perfect - especially if you collect this stuff, you can get extra mileage out of the bonus Megatron head. If you've got some money to spend, this little set is lots of fun in that it demands you play with it - you have to interact with other toys and futz around with things to get the most out of it. Functionally it doesn't offer much special, but if you've got a few bucks to spend you certainly need more Convoy-ish Optimus-esque toys on your self.
--Adam Pawlus
Additional Images

See more Takara-Tomy figures in Figure of the Day:
Day 180: Takara-Tomy Transformers Animated Ironhide (Bulkhead) Key Chain
Day 435: Takara-Tomy Transformers Prime Gacha Arms Micron Optimus Prime Blaster
Day 476: Takara-Tomy Transformers Prime Bumblebee Sword Action Figure
Day 495: Takara-Tomy Beast Saga Raioga Action Figure
Day 529: Takara-Tomy Beast Saga Kingdom of Sea Death Action Figure Set
Day 534: Takara-Tomy Beast Saga Dolphin Burst Action Figure
Day 540: Takara-Tomy Beast Saga Kingdom of Gloria Action Figure Set
Day 544: Takara-Tomy Beast Saga Aldyle Action Figure
Day 549: Takara-Tomy Beast Saga Dorfan Action Figure
Day 551: Takara-Tomy Beast Saga Eledram Elephant Action Figure
Day 564: Takara-Tomy Beast Saga DX Starter Set Action Figure Set
Day 568: Takara-Tomy Beast Saga Tarlock Action Figure
Day 573: Takara-Tomy Beast Saga Long Giraf Action Figure
Day 579: Takara-Tomy Beast Saga Garrison G Action Figure
Day 580: Takara-Tomy Beast Saga GachaBooster General Hawk Knight Action Figure
Day 585: Takara-Tomy Beast Saga Beast Machines Sky Darling Vehicle
Day 586: Takara-Tomy Beast Saga Killer Shark Burst Action Figure
Day 593: Takara-Tomy Beast Saga Rynas Action Figure
Day 595: Takara-Tomy Beast Saga Seylas Action Figure
Day 597: Takara-Tomy Transformers Prime Zad Action Figure
Day 601: Takara-Tomy Beast Saga Bamet Burst Action Figure
Day 616: Takara-Tomy Beast Saga Long Giraf Burst Action Figure
Day 622: Takara-Tomy Beast Saga Bamet Action Figure
Day 626: Takara-Tomy Beast Saga Killer Shark Action Figure
Day 637: Takara-Tomy Beast Saga Liorga Action Figure
Day 642: Takara-Tomy Beast Saga Aldyle Burst Action Figure
Day 663: Takara-Tomy Beast Saga Janjan Action Figure
Day 669: Takara-Tomy Beast Saga Ogre Burst Action Figure
Day 678: Takara-Tomy Beast Saga Swordbill Action Figure
Day 693: Takara-Tomy Beast Saga Guarl Burst Action Figure
Day 715: Takara-Tomy Beast Saga Guarl Action Figure
Day 824: Takara-Tomy Beast Saga Mantaray Action Figure
Day 828: Takara-Tomy Beast Saga Aljaylo Action Figure
Day 839: Takara-Tomy Beast Saga Ogre Action Figure
Day 846: Takara-Tomy Beast Saga Dakker Action Figure
Day 856: Takara-Tomy Beast Saga Moreek Action Figure
Day 873: Takara-Tomy Beast Saga Wonderriver Action Figure
Day 905: Takara-Tomy Transformers Masterpiece Edition Lambor G-2 Ver.
Day 937: Takara-Tomy Beast Saga Rynas Burst Action Figure
Day 974: Takara-Tomy Beast Saga Super Win Deck Impact Set Action Figure Set
Day 993: Takara-Tomy Beast Saga Kannigal Burst Action Figure
Day 1,127: Takara-Tomy Transformers Sega Genesis Megatron Action Figure
Day 1,207: Takara-Tomy Transformers United Rumble & Frenzy
Day 1,224: Takara-Tomy Transformers Adventure Roadblock
Day 1,242: Takara-Tomy Transformers Go! Go
Day 1,247: Takara-Tomy Transformers Go! Sen
Day 1,259: Takara-Tomy Transformers Go! Geki
Day 1,262: Takara-Tomy Transformers Masterpiece Bumble G-2 Ver.
Day 1,273: Takara-Tomy Transformers Go! Ex
Day 1,284: Takara-Tomy Transformers Go! Shou
Day 1,310: Takara-Tomy Transformers Legends Slipstream
Day 1,327: Takara-Tomy Transformers Unite Warriors Grand Scourge
Day 1,328: Takara-Tomy Transformers Unite Warriors Nightbird Shadow
Day 1,326: Takara-Tomy Beast Saga Buffam Action Figure
Day 1,328: Takara-Tomy Transformers Adventure Override
Day 1,332: Takara-Tomy Beast Saga Bunikis Action Figure
Day 1,339: Takara-Tomy Beast Saga Aljaylo Burst Action Figure
Day 1,357: Takara-Tomy Transformers United Stepper
Day 1,381: Takara-Tomy Beast Saga Eledram Burst Action Figure
Day 1,429: Takara-Tomy Transformers Legends Armada Starscream Super Mode
Day 1,468: Takara-Tomy Transformers Unite Warriors Grand Galvatron
Day 1,471: Takara-Tomy Zoids Masterpiece Shield Liger
Day 1,496: Takara-Tomy Beast Saga Dacker Burst Action Figure
Day 1,627: Takara-Tomy Transformers Legends Convobat
Day 1,670: Takara-Tomy Transformers Legends Leo Prime
Day 1,814: Takara-Tomy Beast Saga Mantaray Burst Action Figure
Day 1,842: Takara-Tomy Transformers Legends Blackarachnia
Day 1,911: Takara-Tomy Beast Saga Wolfen Burst Action Figure
Day 1,964: Takara-Tomy Beast Saga Buffam Burst Action Figure
Day 2,000: Takara-Tomy Zoids Wild ZW-05 Gannontoise Figure Kit
Day 2,006: Takara-Tomy Beast Saga Raioga Burst Action Figure
Day 2,008: Takara-Tomy Zoids Wild ZW-01 Wild Liger Figure Kit
Day 2,013: Takara-Tomy Zoids Wild ZW-03 Kabtor Figure Kit
Day 2,017: Takara-Tomy Zoids Wild ZW-04 Scorpear Figure Kit
Day 2,039: Takara-Tomy Zoids Wild ZW-06 Gabrigator Figure Kit
Day 2,075: Takara-Tomy Zoids Wild ZW-07 Kuwaga Figure Kit
Day 2,191: Takara-Tomy Transformers Generations Selects Deluxe Gulf (Skalor) Action Figure
Day 2,200: Takara-Tomy Transformers Generations Selects Deluxe Turtler (Snaptrap) Action Figure
Day 2,213: Takara-Tomy Beast Saga Kannigal Action Figure
Day 2,273: Takara-Tomy Transformers Generations Selects Voyager Super Megatron Action Figure
Day 2,463: Takara-Tomy Beast Saga Moreek Burst Action Figure

Click here to see more Transformers figures in Figure of the Day.

Want to buy this figure? Check Transformers availability at our sponsors:
Entertainment Earth