Seaspray
Hey, an Update!

Transformers Generations Titans Return Legends
Item No.: Asst. B7771 No. C2399
Manufacturer: Hasbro
Includes: Card, Blaster
Action Feature: Transforms from robot to hovercraft
Retail: $9.99
Availability: May July 2017
Other: Wear a Life Jacket

PREVIOUS
RSS
NEXT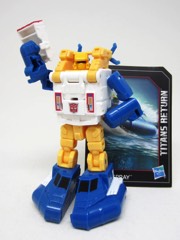 Freedom! No wait. Liberty! Seaspray was tops of my non-Dinobot wish list for 1980s Transformers remakes for quite some time, since I had it as a kid and I still do, too. I almost bought iGear's toy, and I think this is better. I'm glad I waited. This is probably Hasbro's meatiest "Legends"-class toy in years, certainly since the term was slapped to some toys during the "Thrilling 30" subline. This figure weighs more than Cosmos with Payload, with bulkier bits and more moving parts than the simpler toys of old. I thought Brawn was really something, because it was simple and perfect. Seaspray is complex and perfect-adjacent - my only complaint is its accessory.
The toy is packaged as a robot, complete with about 11 points of articulation. The legs are extremely flexible with tons of parts, which is why the third-party comparison came up - those tend to have more chunky parts and pieces. Seaspray's feet are ginormous, meaning that he's not only a hit with the ladies but also his legs have to be rotated 90 degrees just to fit in his packaging! This is good, because big feet means big stability - he's not going to fall over. You can throw small things at him, he'll stay standing. He has a jointed head and does a great job replicating the basic look and feel of the character's various 1980s incarnations.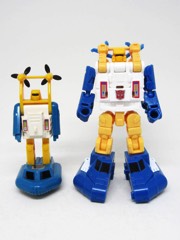 The figure has a lot of parts and pieces, giving it the feel of a decent Deluxe - certainly on par with the Warrior-class of Robots In Disguise - while being smaller. It doesn't feel fragile or brittle, and the detailing is great. Two Autobot symbols with silver outlines shine brightly, and two tampos on the chest look like the original G1 toy's metallic stickers. His head is pretty charming, with a faceplate complete with a couple of lines on the sides. It's sort of like robot freckles. It's cute. My initial reaction to the robot was "too chunky" and "too many visible parts," but in my hands it's a very satisfying figure with a lot of articulation. It's not spindly - it really feels like it's a bulky piece that's tons of fun, rather than a spindly little thing that's probably not worth the asking price. People will be spoiled by this toy.
His weapon sort of bores. The light thing snaps on to the top of the hovercraft mode via a tab, and that same tab plugs in to his forearm. It does not make use of his 5mm fist holes. I don't think it's a particularly convincing blaster, but maybe it's not supposed to be. I wouldn't know what it is, then. It fits perfectly fine in his arm, but I could see those tabs snap over time.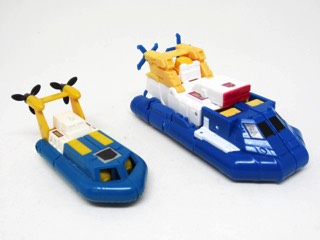 The hovercraft is pretty great. The colors match the original toy fairly closely, plus or minus some aging, but it lacks any extras like wheels. There are spinning fans on the back, and they do pop off if you pull on them. They spin fairly well. It looks like a decent update of the original toy, if slightly chunkier, with a very satisfying transformation that involves a lot of tucking and flipping. A lot of the bulk goes away nicely (like the recent Sergeant Kup [FOTD #1,695]), giving the figure a much more streamlined appearance without any unsightly kibble. Well, minus the fan assembly - but you want that out, anyway.
While the Animated take on Seaspray is considerably more charming, a good update of the G1 toy that's arguably better than anything else Hasbro has done at this price point in ages is nothing to sneeze at. There's invisible Titan Master interaction here - a compartment reveals itself during transformation - but it doesn't really add to the toy at all. It's also worth noting that unlike previous Legends, Cosmos and Seaspray are both packaged with artwork of their alt modes on the box rather than the robot modes. This carries over to the trading card, too. Seaspray may well be the best toy of the line in quite some time, simply because it feels like a lot of plastic and everything just plain works. Nothing needs to be a little bit better. Nothing is tricky. Nothing is difficult to get in place. It just all works, and that's exceedingly rare on any but the most simple of kid-driven toys. And even those aren't always that perfect. I'd love to know who engineers what in Transformers just so I can see what else this guy did - it's not a breakthrough, but it's certainly a strong enough design with some great ideas (also seen on a couple of other toys) that it feels like we're getting some positive advancements here.
--Adam Pawlus
Additional Images

Click here to see more Hasbro figures in Figure of the Day.
Click here to see more Transformers figures in Figure of the Day.

Want to buy this figure? Check Transformers availability at our sponsors:
Entertainment Earth