Optimus Prime and Orion Pax
Optimus Prime and Orion Pax

Transformers Tribute Amazon Exclusive 2-Pack
Item No.: No. C2027
Manufacturer: Hasbro
Includes: 3 blasters, 2 robots, nameless Titan Master
Action Feature: Transforms from plane to robot
Retail: $29.99
Availability: July 2017
Other: Sold out fast and came back

PREVIOUS
RSS
NEXT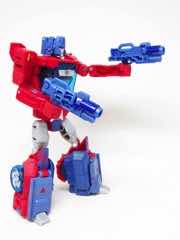 Selling out surprisingly fast, this nebulously branded Optimus Prime and Orion Pax is a The Last Knight set in Japan and the packaging loosely matches the line here. It's Tribute - not quite Generations and not quite movie. It has a lot of nice Optimus art on the sides, but shows a movie robot on the box. Why? No idea. He's not in the box - what you get here are two takes on the character before he came to Earth. Orion Pax is a redeco (with new head) of Kup [FOTD #1,695] and the War for Cybertron Optimus Prime is a redeco of War for Cybertron Optimus Prime from 2010. The funny thing is that WFC Optimus was an impressive and complex toy in its day, unusually so. It still is. The new mold for Orion Pax, the second Kup redeco to bear the name, is fun but not impressive.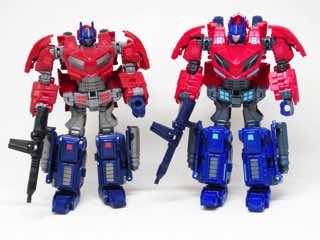 War for Cybertron Optimus Prime was quite possibly the fanciest deluxe toy of his time, selling well and basically turning from bulky robot to wheeled fist. Some of the highlights changed from pink to blue, and while the wheels lost their silver hubcaps they look a bit more striking with the blue outline. The blue bit on the back of the trick lacks some red paint on the original. Corners were cut, but very few considering the complexity of the toy and the surprisingly low price point.
Transformation is a pain - getting everything tabbed and flapped in place is a challenge, and I remember it being difficult back when the mold first hit. For this reason I prefer other takes on Cybertronian Optimus Prime, but dagnabbit there are a lot of moving parts and that's impressive. So many pins. So much plastic. You might want the instructions.
The robot mode is great for its time, and even for today. The ankles move, the wrists swivel, and some new deco really make it sing - the fists are two colors now! The blue highlights pop nicely! The red is brighter and really looks a lot more lively. Articulation is above par for today's standards, and rereleasing such a surprisingly complex toy seems like a strange idea. Why point out what has changed? It comes partially mistransformed, but the bulky red robot is probably going to delight and amuse. These were some fabulous toys but I have to admit, the simplicity of his companion means I won't be transforming this specific toy all that much.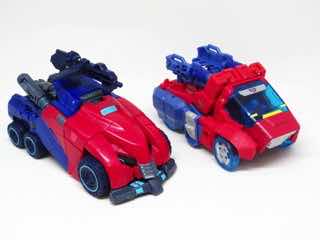 Orion Pax is Kup with a new head. It's a lot like the eHobby one, but with a new head. The 1.5-inch Titan Master has no name (as of now) has a painted head, unlike Kup's Flintlock. He fits in the driver's seat of the truck mode and works as a head. This is about as much as you can ask for, and you get it. I don't know if I like the robot head all that much, but it's new and different. I appreciate it, and it's different from his Sunbow look or the previous toys out of Hasbro. If anything, it looks a tiny bit like the head from the Powermaster Optimus Prime.
Deco is great. The red is bright, the blue window crisp and clear. An Autobot elite guard symbol of some sort sits on the windshield/chest as well as the arms/sides. His guns are painted in spots, and while the blue is the color of slightly-faded jeans it's entirely consistent with his motif. I love that the wheels are clear blue, and the hubcaps in silver look sharp.
In robot mode, he's got a surprisingly slender torso with similarly surprisingly bulky thighs. Pieces fold up in interesting and fun ways, a radical departure from many other transformations in the line. Articulation is solid, with a little extra give on the wrists. The proportions feel unusual for the line as a whole, but it works. I like it.
I bought this set specifically for Orion Pax, as I'm unreasonably infatuated with the whole concept of robots driving the alt modes and $29.99 isn't bad for an $18 toy and an older, more complex one. I'd rather it have been a single, but it's still a good pairing and a potentially unintentional criticism of where manufacturing costs and design have gone since 2010. For better or for worse, there's no denying that things have changed significantly since wages went up and material costs shot up too... but at least you get a decent glimpse into one of the neater toys of the past decade while getting something new, too. At $30 I love it - at mark-up prices, maybe you can skip this one.
--Adam Pawlus
Additional Images

Click here to see more Hasbro figures in Figure of the Day.
Click here to see more Transformers figures in Figure of the Day.

Want to buy this figure? Check Transformers availability at our sponsors:
Entertainment Earth