Glyninja Runmaru
Skeleden meets Skeletor

Glyos System Series
Item No.: No. n/a
Manufacturer: Onell Design
Includes: Sword, blaster, scarf, alternate head
Action Feature: Pops apart
Retail: $11.00
Availability: December 8, 2016
Other: "I will get my revenge!"

PREVIOUS
RSS
NEXT

Standing at about 3-inches tall, the Glyninja Runmaru is another nifty tribute to days gone by. And sometimes I'm worried I get it wrong, but the colors are just so gosh darned close to Tecmo's NES classic Ninja Gaiden's cut scenes. Instead of bare shoulders, he has short sleeves with some pretty decent exposed "flesh" and the newish head does a good job of giving you a new figure on an aging body.
In short, he's a Glyan with a new head, new deco, and some bonus gear. It's worth the $11.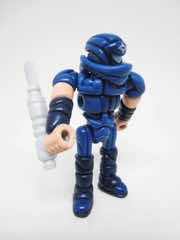 What tends to sell the homage on any Onell Design toy are the attention to color - with small runs often in the very low hundreds, you can't make new heads and bodies or parts all of the time. The pains the Onell Design crew take to deliver perfect (or near-perfect) color matches are often genuinely amazing. This one has a great flesh color painted on top of a dark blue, with even darker blue on the wrists and boots. The even, clean paint job never ceases to amaze me as mass-market figures rarely pull this off without some of the plastic peeking through. The blue visor is nice and bright, the wonderful Glyninja shuriken symbol is nice and clean, plus you get a decent smattering of articulation thanks to the construction. As always, the figure is made of over 20 parts that can pop apart or swap out with other Glyos-system releases.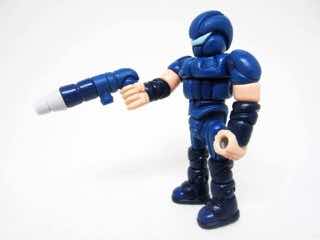 With all the parts and pieces, you've got swivel joints all over the place. Shoulders, hips, knees, ankles, wrists, waist, neck, and more. The sword can be held in the hand, and you'll no doubt recognize it as originating as part of the ToyFinity Maxx Zero kit. Parts and pieces can be used to make swords, clubs, guns, and more - and of course you'll see a piece used to cap off a blaster here. The pieces are a tight fit, but on the bright side there's no danger of the figure dropping its accessory. The Glyos peg form fit is sort of a perfect thing serving as a way to keep the figure and its accessories together without a hassle. You could probably drop a figure in a bin, and any parts in his hands will stay attached. The spare head and weapon, well, you're going to need to keep an eye on those or plug them to his back.
Most figures sell out quickly, particularly when they push the right buttons. This one sold. I'm really happy I have one, and I can't wait to see if they're ever going to do figures to pay tribute to games that are Metroid. I hope so. For now, this one's gonna be super cool - he's hanging out on my desk and he's quite happy here. Get one if you see one.
--Adam Pawlus
Additional Images


Click here to see more Onell Design figures in Figure of the Day.
Click here to see more Glyos Compatible figures in Figure of the Day.