Scorponok
Brown, Beautiful Brown

Transformers Robots in Disguise Mini-Cons Weaponizers Warrior Class
Item No.: Asst. B0070 No. B7041
Manufacturer: Hasbro
Includes: Sword, sheath, fan in hair
Action Feature: Transforms from Scorpion to Robot
Retail: $14.99
Availability: September 2016
Other: Redecorated as Paralon

PREVIOUS
RSS
NEXT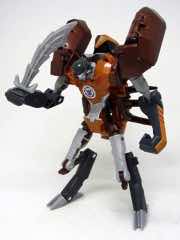 It's not the Scorponok fans have been clamoring for, but it's a good toy unto itself. Feeling like a distant cousin of his previous generations' counterparts, this one is brown with pincers for shoulders, claws for hands, and a nifty helmet.
Basically the same size as a deluxe, Scorponok stands about 4-inches tall at the head, with giant shoulders bringing him up to about 6-inches. 17 points of articulation await you, most of which are in the legs. Oh, and there's a jointed tail too - you can move that a bit too. It can be folded up, or used to prop him up if you're worried about him toppling over.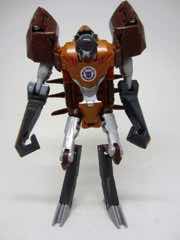 His legs are skinny, so I don't know if you'll be able to consistently get action poses out of this guy. As Decepticons go, he's pretty sharp - I could see him working in other continuities thanks to his more alien, creature-like design. He has no problems holding his nifty sword, or pretty much anything. I had him holding a BMOG Mantax, which is great.
Transformation is pretty nifty - a slab of scorpion meat folds down to make the body, the shoulders slide down to become claws, the legs fold out, the robot legs tuck in, and the tail is a tail. It's different, I'll give it that. It's also pretty simple, which I appreciate. The fans demanding increased complexity bug me, I don't want to not be able to massage panels in place. I want it to work, preferably in under a minute. This delivers.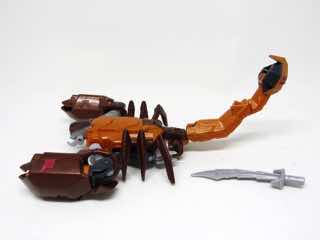 A robotic bug turned out nicely. It doesn't glow under black light like the real thing, but it looks cool - the tail moves, the claws move a bit, but they can't pinch anything. You can plug the sword in to the tail, which is a great idea. It's not as cool as the cobra-headed Quickstrike tail, but it's plenty neat with a good color scheme and a nasty looking head in both modes with lots of eyes to go around. I'm appreciative that the tail and limbs can move around, giving the toy more personality than a scorpion-shaped brick.
This one tended to sit around a bit, but it's a nifty little toy. It's not a major player, it's not a main character, and it's not a vehicle. It is fun, though, and it's not like you don't have a ton of vehicular alt modes in your collection already. Get it for a fir price, especially if you can get a good deal on it. You won't be sorry, it's weird and fun and there aren't enough Decepticon toys out there anyway.
--Adam Pawlus
Additional Images

Click here to see more Hasbro figures in Figure of the Day.
Click here to see more Transformers figures in Figure of the Day.

Want to buy this figure? Check Transformers availability at our sponsors:
Entertainment Earth