Roadburn
Or Autobot Chase on Some Sample Instructions

Transformers Generations Titans Return Legends
Item No.: Asst. B7771 No. C1102
Manufacturer: Hasbro
Includes: Card, spare tire panel
Action Feature: Transforms from robot to not-Cliffjumper
Retail: $9.99
Availability: April 2017
Other: Another transforming G1 remake

PREVIOUS
RSS
NEXT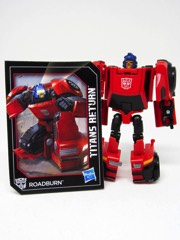 Normally when you get a Bumblebee, it's likely a red redeco - often with a new head - will come and be called Cliffjumper. For Titans Return Hasbro broke tradition, instead giving us Roadburn - who at one point was called Chase, after the original G1 Throttlebot (like Goldbug, but red.) The funny thing is that the new head sculpt isn't quite a perfect match, as it's modeled after the cartoon Chase head - which is Searchlight the toy. It's still neat, but my sample was a pain to get to the car mode.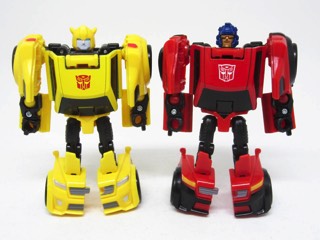 As always, the Legends-class Roadburn clocks in at about 4-inches tall - but the mouth doesn't look a lot like the original toy, and I couldn't find a clear shot of the animation model. Based on the helmet nubs, I really got a vibe that it might have been another character - but who knows? It's exactly the same as Bumblebee [FOTD #1,730] with a new head, and in red. It isn't as good as Brawn, but it's adequate - for some reason Hasbro seems to be struggling at this scale in places. Sometimes you get a near-perfect toy, and this toy looks about right but the upper arms are strange, the lower arms are small, and it's easily better than the original Chase toy. Articulation is improved and as with Bumblebee the chest panel pops off easily in transformation. It's a decent update, and I assume we can expect a few more similarly sized Throttlebots updates down the road.
Transformation is simple, but annoying - it took me a while to massage the feet in place despite knowing how to do it with Bumblebee. Could be spotty tolerance, but the goofy thing isn't exactly fun to transform. The hands don't seem to stay in place as a car without getting the pegs just-so and it's quite stubborn. The feet are even more stubborn. The friction on the top of the car is super loose, so it won't stay upright when you decide to put a Titan Master on the inside..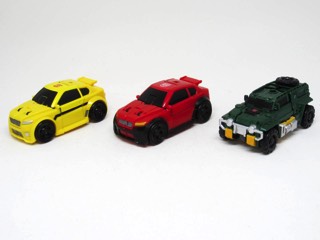 The vehicle mode is a red car. I like the yellow lights, black highlights, and grey grille - it looks a lot like Cliffjumper because it's a red Bumblebee, and that's what you see. The wheels are unpainted and it rolls about as well as any other toy these days. This is to say, it's unimpressive. Other than being able to store one Titan Master robot in the hollow chest, it doesn't do much else - there are no peg holes to plug in weapons or other gimmicks. It does the job adequately.
I'm hesitant to advise you to buy Roadburn even though he's really the only proper Chase update you can buy. I don't expect a better one later, so you might want it just because. Get Brawn first, and I have little doubt you'll admire the head and helmet design. The arms don't feel any better now that we're over six months out from Bumblebee having been new, but since you probably don't care about characters whose appearances on the G1 cartoon are shorter than the average sneeze I doubt you'll have a strong desire to buy this one. I'd say Roadburn has the same colors as Chase but given the head is different, it's not impossible to think Hasbro might actually do another Chase-y toy later.
--Adam Pawlus
Additional Images

Click here to see more Hasbro figures in Figure of the Day.
Click here to see more Transformers figures in Figure of the Day.

Want to buy this figure? Check Transformers availability at our sponsors:
Entertainment Earth