Quallerran Waimog
The New Batch

Glyos System Series
Item No.: No. n/a
Manufacturer: Onell Design
Includes: Alternate head, backpack
Action Feature: Pops apart
Retail: $10.00
Availability: December 8, 2016
Other: White plastic, brown and pink paint

PREVIOUS
RSS
NEXT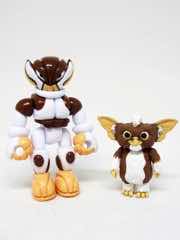 Another Gremlins-inspired figure! The Quallerran Waimog brings you a Mogwai-derived creation with appropriate deco. The white plastic has been painted up to resemble those Gizmo action figures you bought and cherished or passed on and kicked yourself over, whichever.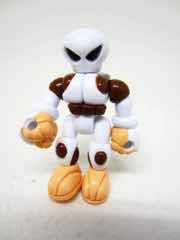 Due to the ear coloring, I don't think it's as awesome as the Lingrem [FOTD #1,640], mostly because the most distinctive feature about the Mogwai are probably the giant pink ears - but you get small pink ears, so it's pretty much close enough. A little pink face, big eyes, and brown patches of "fur" deliver the basic promise of the small creatures that you shouldn't feed after midnight, or get wet, or expose to sunlight.
You probably know the ins and outs of the Glyos system, which allows for nifty articulation and customization. Thanks to the generous slathering of paint, the backpack is tough to squeeze in the back peg - that's how you know it was painted well at the factory. I don't assume it'll scuff or peel without severe abuse or caustic chemicals and/or paint thinners.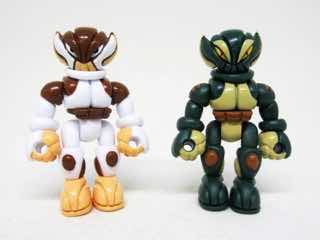 The hands work very well for the homage, specifically because Gizmo doesn't have all that many fingers. The pink shoes work too, and if you don't dig the homage there's an alternate white Noboto head with big black eyes. It's simple - and potentially good for repainting if you swing that way. (I don't.) I'm also fond of how Onell Design delivered limited painted panel lines on the head to really bring out the detail. Normally team Glyos goes full-bore on panel lines or skips them completely, but with this drop we saw quite a few figures that offered limited panel lines to great success.
One of the weird, nifty things about Glyos is that if you stick with it you can get tributes to countless other toys and movies. Old video games, comic books, and other toy lines serve as guest stars in this figure universe, making them the perfect fit to a fan that wants something unusual that their buddies probably won't have - although I'm not sure if a Gremlins completist would jump on this. It's a Glyos fan's Gizmo/Stripe/Mohawk, and it has the personality of a slightly more menacing Mogwai. It's not adorable, but it is decorated well with a distinctive color scheme. Very few of these have popped up on eBay, but they've gone cheap. If you want one (and I would argue if you're reading this review, it's likely that you do) you should keep an eye open for one. If it's near or under issue price, it's worth the ten bucks.
--Adam Pawlus
Additional Images


Click here to see more Onell Design figures in Figure of the Day.
Click here to see more Glyos Compatible figures in Figure of the Day.