Decepticon Rumble
RIRFIB

Transformers Generations Titans Return Legends
Item No.: Asst. B7771 No. B7023
Manufacturer: Hasbro
Includes: Card
Action Feature: Transforms from smart phone to robot to tank
Retail: $9.99
Availability: August 2016
Other: Half a Team

PREVIOUS
RSS
NEXT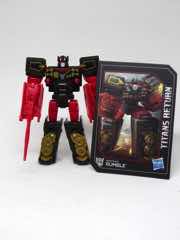 We don't even need to address the whole blur or red business, but it's worth noting that we've got Decepticon Rumble without any announcement of a companion Frenzy in blue. Rumble is a retool of Rewind sporting a new head, a new chest tampo, and different colors. Part of a repaint/retool wave, Ravage was previously Stripes and Laserbeak was previously Buzzsaw. Every figure was largely black, and nobody was genuinely new - but it still seems that it sold just fine, because I'm seeing scores of unsold Stripes and none of these Decepticons. People freaking love characters from 1984 and 1985.
Mode #1 is a robot - and a pretty good one. It's a hair under 4-inches tall and carries a long rifle in his hand, meaning the chrome blasters of the original G1 toy and the big pile drivers from the cartoon are completely absent. If you want those, you should've bought the Masterpiece Edition toy. Rumble's chest was decorated to look like the cassette alt mode of the original toy, but he's also got tank treads on his legs for the vehicle mode. It's a little overstuffed, but the $10 toy has three pretty good modes. Sure, one of them is just a box with stickers on it, but it's sincere. With 11 points of articulation it's a perfectly good robot, although I don't doubt the fact that it has none of its signature accessories may be troubling. It's a good toy, but perhaps not Rumble as you want him.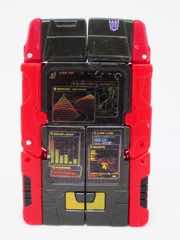 Next up, the smart phone. The screen design is kind of nifty in that retro-futuristic way, with graphics that look like they came out of a late 1980s word processor. You get a seismic monitor, various warnings, and other things you probably would see in a cheesy spy movie on some sort of computer hardware. The size is perfect for Fort Max to have a smart phone, although the colors are a little silly - the red border isn't the kind of thing you normally see without an external snap-on case of some sort. It's not as fun as the other modes, but you can store it inside Soundwave - and that's why you want this toy.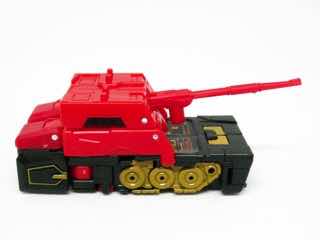 Rounding it out is a swell tank mode, which manages to work quite nicely. I'm genuinely impressed by how most (but not all) of these new "tapes" make decent triple-changers, particularly when the other mode is a smart phone. The hand blaster clips in place, and there are three wheels to scoot it along - but they're not the best wheels in the world. There are pegs on top for your Titan Masters to ride, resulting in a decent little vehicle - I'm still amazed we got fake treads and wheels on the sides. It's not as satisfying of a vehicle mode as, say, Wheelie or Bumblebee, but it's still a good and sturdy alt-mode.
Unless they announce a companion Frenzy figure, I assume this figure will go in the "spare bin" over time. It's likely we'll see another big Soundwave with tapes some day, although Hasbro has dragged their feet on that group given how popular it is. Sure, we've had Masterpieces and the game versions, but rarely do we get a deployer team that really nails all the modes on the first go. I suspect we'll see more versions of Rumble - after all, there was that unreleased tank Demolition Rumble a few years ago (at least in the USA) - so we'll probably see a new version early in the next decade if not sooner. This is still a nifty toy, but I'd say you're better off getting the Rewind version of the mold just because that character gets a lot less toy love. This is just as good, all the modes work, and it's not frustrating to futz with so even if you do need more Rumbles, know that this is a good one.
--Adam Pawlus
Additional Images

Click here to see more Hasbro figures in Figure of the Day.
Click here to see more Transformers figures in Figure of the Day.

Want to buy this figure? Check Transformers availability at our sponsors:
Entertainment Earth