Alpha Trion
Ancient, Original, Prime

Transformers Generations Titans Return Voyager
Item No.: Asst. B7769 No. B8352
Manufacturer: Hasbro
Includes: Autobot Sovereign, sword, claw, card
Action Feature: Transforms from head to robot, also robot to unicorn lion to space ship
Retail: $24.99
Availability: August 2016
Other: Lio Astro Bot

PREVIOUS
RSS
NEXT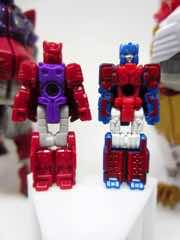 Usually my favorite new toys go up immediately. Ones I'm less excited about take a while. I kept forgetting that Alpha Trion was coming out... and that it came out, and that I had it and opened it. It's not terrible, it's just not very good. Were this released by another company in a competing toy robot line, you'd be impressed by it. It's just not terribly awesome by Hasbro Transformers standards. The character doesn't really look all that much like previous incarnations other than colors and parts of the face, and one of the alt modes is completely ridiculous. I'm not saying don't buy it, I'm just not saying to run out and buy it.
This 1.5-inch robot Titan Master Autobot Sovereign is basically a new version of Beta Maxx - that's a BotCon repaint of Vector Prime's Mini-Con buddy Safeguard. There are similarities in the design of the robot mode, but this one turns into a head and the other one was a robot/gun/Targetmaster toy. Sovereign has the same articulation as all of the other toys of his ilk, easily contorting himself into a head of an old man robot. He's got a mustache and a beard, with silver paint that actually makes the details pop quite nicely. I don't think it could look a lot better. It's good.
Alpha Trion is kind of weird - mostly because fan speculation and quotes from Hasbro are at odds. Some fans would tell you this mold was always meant to be Leo Prime, while Hasbro said that the design was inspired by Game of Thrones. I don't think I can honestly believe either. The robot head looks more or less like his previous incarnations, wth a beard and pointy crest on his head. The proportions don't look quite as aged/regal/Merlin-esque, and the body is as bulky as they get. The legs of the robot mode look vaguely like feet, but there are visible lion feet and space ship flight deck parts there too. The robot itself has a ton of visible kibble, incuding the lion's head. The body armor incorporates a lot of shapes you don't normally see on a Hasbro/Takara-Tomy robot, with curved lines and some markings that reek of being part of some ancient civilization.
The robot looks like a bit of a mess, but he stands just fine and can hold his accessories - a claw weapon and a pretty nice sword. The sword has a bright orange blade and a purple grip, plus a nifty pattern sculpted in it that probably doesn't do it any favors as a melee weapon. But who cares? It looks cool. The claw weapon has seating for 1 Titan Master figure, and can be mounted on top of the ship/lion through some very subtle holes that connect to tabs on the cockpit. If this were left out or lost, you wouldn't miss it too much. I like the design, but it's not integral to any of the modes - it's always an extra piece.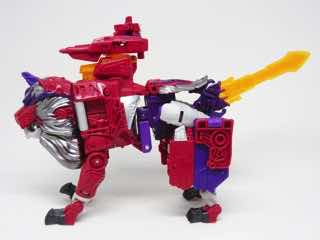 Transformation isn't terrible, but I'm not entirely sure where some of the parts are supposed to go without reference. When dealing with a car or most robots, you know where the arm belongs or where the tires go. With beasts, sometimes the animal limbs go somewhere because Hasbro says they do. You can put them any way you want. My sample had a tab that was messed up and required cutting to get it to transform to lion mode, and even then I had to deal with a gap. It doesn't look great when put in its beast mode.
The unikitty is certainly interesting, but it's wildly different to the point of being almost bizarre. Transformers is a line about changes on an individual and line-wide basis, but when you're dealing with classic characters a big departure can be jarring. This would've been an awesome concept in almost any line but this one, as it is a departure from classic Alpha Trion. Alpha Lion is loosely inspired by an unmade BotCon exclusive, and for that reason it's a clever nod to a toy you never got. The back legs are boxy and gappy, the lion's lower jaw is clearly hands, and let's be honest - it's a weird lion. It has a horn, a mask, and a sword for a tail. I'd say it makes sense if any one mode was clearly given priority over the others, but none of them looks particularly spectacular. They're all adequate. The cat itself doesn't do a heck of a lot other than look interesting, aside from being able to mount weapons on it or having a Titan Masters figure sit in the seating area. I like it enough to keep it since I have no other Alpha Trions, but I could see this one getting the boot to the back of the shelves if a better one came along later.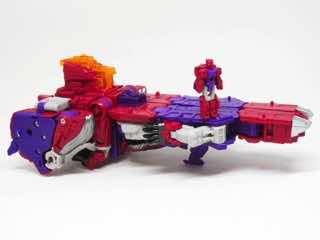 The space ship is neat, and is similar to the BotCon Alpha Trion which was based on Vector Prime. This time around it has a flat flight deck for your Titan Masters mini-vehicles, and foot pegs for the robots. Little cat paws hang out on the bottom, but it's otherwise stable and probably the most convincing of all three modes. There's a decent amount of sculpted detail, but once again it doesn't do anything. The action feature is the transformation, and Alpha Trion's head horns stick out the back of the ship. They don't lock in, or if they do I can't figure it out. It's a nifty mode, and fans quickly saw it as an aircraft carrier of sorts. Unsurprisingly, Hasbro and friends reused it to make Broadside this year.
As of my writing this about a month ago, I don't have Broadside and I just got Leo Prime. I like Leo Prime a little more, mostly because the purple kitty with the silver mane and purple mask just doesn't seem like it fits in with the line's usual aesthetic. Even Alpha Trion has a bit of a mask, which adds a sinister vibe to a hero character. Granted, it's not obvious - there's no Autobot symbol that I seem to see here. That's a little unusual for Team Cybertron, but this may be one of the strangest toys in the line from the last ten years. And yes, I remember the toaster. Get it on sale, or skip it - I wouldn't necessarily say to get one at full price. Unless you've got a fear of missing out on an Alpha Trion, in which case get it now because we'll either get one immediately next year, or not at all until you're 50.
--Adam Pawlus
Additional Images

Click here to see more Hasbro figures in Figure of the Day.
Click here to see more Transformers figures in Figure of the Day.

Want to buy this figure? Check Transformers availability at our sponsors:
Entertainment Earth