Bit Figs Matryx Pheyden
10th Anniversary Glyos Spectacular

Bit Figs x Onell Design Glyos-Compatible Action Figure
Item No.: No. n/a
Manufacturer: Bit Figs
Includes: n/a
Action Feature: Pops apart
Retail: $11.00
Availability: August 2017
Other: Bit Figs' first Crossover with Onell Design

PREVIOUS
RSS
NEXT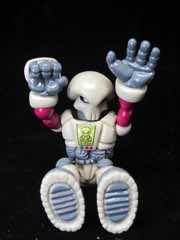 Boy howdy am I glad I got a Bit Figs Matryx Pheyden. This is the kind of thing you know and love if you're just the right age - the Onell Design stalwart has been made in the colors of the original 1989 GameBoy, which has been recolored many times, in many formats. It's a good fit - and it has an insane multi-color tampo on the chest that shows just how fancy these figures can be at a reasonable price. It's basically the same old Pheyden with new deco. This is good enough for me.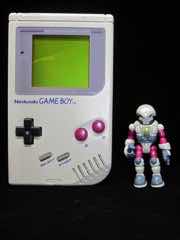 The 2 3/4-inch figure has the same parts you've come to expect from a Pheyden, with articulation at the neck, waist, shoulders, wrists, hips, knees, and ankles. Each joint is a point at which the figure may be taken apart and reconfigured to suit your needs, but given the unique coloring I doubt you'd want to swap parts with other colors.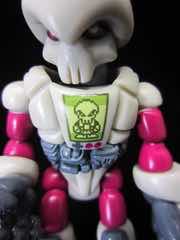 This time around, the figure is molded in a grey plastic that's pretty much exactly like my original GameBoy. The purplish red of the arms and legs matches the A and B buttons, with the green appearing very close to the original screen. What doesn't match is the dark grey - it's a bit different from the original screen's border, but you wouldn't know it unless you compared the two. Weirdly I was assuming the red was off, but it turns out to be a precise match. That's a challenge to get right.
If you get one, get in close and squint at the chest. The buttons match nicely, but the screen design is gorgeous, showing us what a Bit Figs Pheyden might look like on the old, green screens that were portals to alternate dimensions while we sat in the back seats of cars, or waiting at a restaurant, and that low-level contrast is exaggerated only just slightly on this figure. There wasn't a lot of difference between one shade of green and the next, but it was enough to bring us Mario, Link, Samus, Mega Man, and now Pheyden. In a perfect world we'd see some sort of companion cartridge game to join the figure, but that's unrealistic as budgets go. (But you have to admit, it'd be awesome.)
The figure sold out quickly - I reached out to see if they had any cancels, as I missed the drop by a few hours thanks to being on a plane - making this another hit release from Culture Pirates. It goes well with the other figures he puts out as Bit Figs, and I wish he also had the 8-bit pixel Pheyden in these colors. That would have been cool too. Pheyden may never star on a piece of Nintendo hardware, but at least he can look really cool standing next to my old video games.
--Adam Pawlus
Additional Images


See more Bit Figs figures in Figure of the Day:
Day 1,510: Bit Figs Ninja Series 1 Ku Mini Figure
Day 1,531: Bit Figs Mega Bit Pheyden Trophy Set
Day 1,551: Bit Figs Animal Series 1 Pup Mini Figure
Day 1,555: Bit Figs Mega Bit Pheyden Standard Set
Day 1,689: Bit Figs Mega Bit Pheyden Flesh Set
Day 1,779: Bit Figs Trophy Set
Day 1,800: Bit Figs Matryx Pheyden
Day 1,805: Bit Figs Mega Bit Spectre Pheyden

Click here to see more Glyos Compatible figures in Figure of the Day.