Fireyden
Firestar 1 Pilot Homage

Glyos System Series
Item No.: No. n/a
Manufacturer: Onell Design
Includes: n/a
Action Feature: Pops apart
Retail: $10.00
Availability: November 30, 2017
Other: A New Classic

PREVIOUS
RSS
NEXT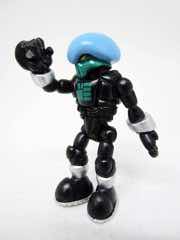 In a year of several tribites to the classic Adventure People action figures, Fireyden was a mystery figure this past November. Onell Design ramped up the paint, and generally speaking their experiments are worthwhile. I was wondering if it was going to be more than a Rayexx head on a Clawden body, and indeed it was.
The core figure is a black Pheyden mold, more or less the same thing you've seen for nearly 10 years - but it's been lovingly upgraded with numerous paint applications. Deep green boxes resemble the computery bits on the original Firestar 1 pilot's chest, with a blue dome matching the figure's hair and the green skin, well, it's green skin. You don't need to think to hard about that.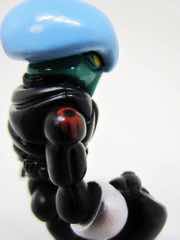 The silver elements like the cuffs on the suit or the silver soles match the figure, and the seemingly awkward yellow red dots on the eyes are clearly an intentional match of the original figure's peepers. The yellow circle doesn't fill the entire eye, plus there is a black line at the top like we saw on a lot of 1980s and 1970s action figures.
Articulation of this 2 3/4-inch action figure is typical Glyos fare with each joint being removable. 12 meaningful points of articulation await you, and the figure can stand or sit with the best of them thanks to clear joints and huge feet. The figure is also sized about right to play with Playmobil or Imaginext toys.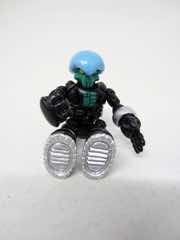 There's even a shoulder emblem on the side, although it seems like a mishmash of Pheyden's head with Cyclops', rather than an exact rip of the original design. This is for the best. The figure is shiny and charming, plus it has an odor that's a little different than some of the other figures I seem to remember opening. It's a minor difference, but it's certainly a lot nicer. Onell Design confirmed they bumped up some runs as of late, so this figure was available after drop night - it might even still be available in the store. I doubt anyone collecting Glyos wakes up needing another new take on Pheyden, but the Adventure People subset of mystery figures has been a consistent source of joy. Will it continue? I kind of hope so, but I'd also be super interested in seeing what else they've got up their sleeve.
--Adam Pawlus
Additional Images


Click here to see more Onell Design figures in Figure of the Day.
Click here to see more Glyos Compatible figures in Figure of the Day.