Vector Jump Outpost Odesskar
Knights of the Slice, Armored

Glyos System Series
Item No.: No. n/a
Manufacturer: Onell Design
Includes: Opening backpack
Action Feature: Pops apart
Retail: $20.00
Availability: January 11, 2017
Other: Upgraded Pizza Warrior

PREVIOUS
RSS
NEXT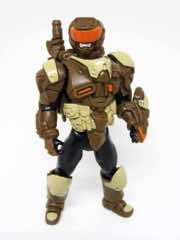 A 3 3/4-inch tall upgrade of the base Toy Pizza Knights of the Slice figure, the Vector Jump Outpost Odesskar is one of two (so far) armored-up takes on the figure. It costs a lot more, but you get a lot more plastic... and dang if the whole thing isn't weirdly awesome. It also looks a lot like the Esedeth Desert figures, like Esedeth Desert Assault Team Glyan Action Figure [FOTD #230] which are awesome. It looks like it fell out of the back pages of a late-1980s Japanese modeling magazine.
...he also looks like the 1996 Shadows of the Empire Swoop Trooper [SW FOTD #162].
While the Onell Design house style has a specific look, the pizza warriors were a bit different. It's like a Sentai hero with pizza motifs... and now some of that has been replaced by heavy trooper armor. The base body is the same, but the ABS bits are completely gone with new hands, new feet, clamshell armor, a neck brace piece, a new head, and oh yes - an opening backpack. Nothing is stored in the backpack, but it does have all sorts of great detail in there implying some functionality.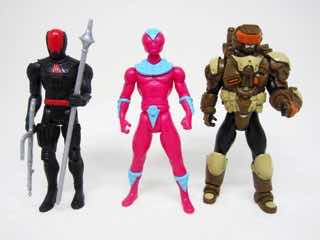 The base body is molded in unpainted black, with the new bits cast in brown. There's a good smattering of tan, orange, and black paint plus a swell Scar Pheyden tampo on the right shoulder. I love how it's peppered in pepperoni. You can miss some of them, but there are multiple slices of pizza sculpted in the armor in various places. There are also vents, antenna, pads, buttons, and switches so plentiful that I don't dare imagine what all of them do. I assume they're there just to look neat - and they do! The more I think about it, the less sense it makes. For example, there's a big bulky armor thing on the left wrist, just above its fist. I know not why. The right hand is open and could hold a weapon, but none were included.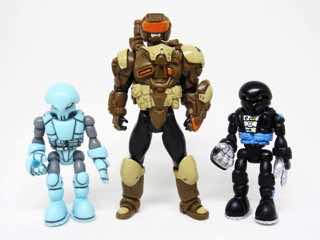 The Vector Jump figures are articulated just as well as the other Knights of the Slice, meaning you've got about 11 points of worthwhile articulation. Legs bend, shins swivel, and the left arm and fist can be raised menacingly to your other toys. That's pretty swell. He can stand and sit quite well, and everything holds together pretty well. I should note that the shoulder armor clips on, so it can fall off in light play - keep that in mind when trying to cram it in your various action figure-scaled vehicles.
I'm really happy I ordered this. The deco is gorgeous, and it looks like it fell out of some 1980s alternate childhood time warp. I bet some jerk would look at it and go "Oh, I had one of those as a kid." This is the same person who sees Masterpiece Edition Transformers at Toys R Us and says "This is the one I had as a kid!" What I'm getting at is people are dumb, but I digress - this is a worthwhile figure and it sold out quickly even at its fairly high price point. I assume there will be more from the Toy Pizza crew and/or Onell Design down the road, and while I'll lose my mind if it comes in NES or Power Glove colors, I'd say it's worth your while to get at least one regardless of the colors. $20 ain't cheap, but if you're a dabbler in action figures or in Glyos this is likely to inspire you to try to make new and exciting things... if you have the means to do so, that is.
--Adam Pawlus
Additional Images


Click here to see more Onell Design figures in Figure of the Day.
Click here to see more Glyos Compatible figures in Figure of the Day.