Autobot Topspin
Freezeout & Autobot Topspin

Transformers Generations Titans Return Deluxe
Item No.: Asst. B7762 No. C1093
Manufacturer: Hasbro
Includes: Tiny head robot, big robot/vehicle, two guns, card
Action Feature: Transforms from space forklift to robot, head to robot
Retail: $17.99
Availability: February 2017 (official street date April 2017)
Other: Better than you might have guessed

PREVIOUS
RSS
NEXT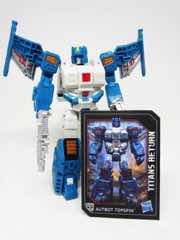 While some Autobot Topspin got out in February, Hasbro's official on-sale date was actually scheduled to be a couple of days ago - this is why you didn't see it in a lot of places online. That would mean the previous wave of deluxe toys hit in November and these were held back for late April, an agonizing five month wait between waves for fans and collectors while most big box stores had empty pegs of not only this assortment, but most others as well. Why? Probably pre-movie cleanout, but new toys from November and December (and January) just don't seem to be getting out in huge numbers. Now with The Last Knight, that's going to change with this (and many other) figures enjoying their new updates. This is the first actual update of the Jumpstarter toy (not counting Bot Shots Topspin [FOTD #440] or the Fall of Cybertron fellow), which is just plain amazing to behold. It's great! The character achieved limited fame as one of the Wreckers in the comics, while being infamous for being common and unloved at collectible shows and garage sales for years. This new one seems to be an apology for the original as it's loaded with articulation, has a super fun transformation, and stands taller than most other recent Deluxe toys. It's also bulkier. It's just fantastic. If you don't buy this one, I pity you.
This 1.5-inch Freezeout (new to Generations, previously a Kreo creature) robot serves as Topspin's head and pilot, and it's just the tops. Even though the tiny robot has no paint on it, the plastic colors show Hasbro seems to be trying harder to make the head look like a head - rather than a robot with a faceplate. The blue helmet of Topspin matches the blue on Topspin's arms and lower legs, grating a cohesive helmet look. Since Freezeout doesn't have a previous toy, it's not like anyone is going to scream about inauthenticity.
The head mode is fantastic - it looks like the original toy, which looks like the comic, which doesn't look like the cartoon because Topspin was left out of that whole fame and fortune racket. The silver face has blue glasses, with a yellow stripe for contrast. Could you ask for more? Maybe. You don't deserve it, though, so just enjoy this surplus-to-requirements update.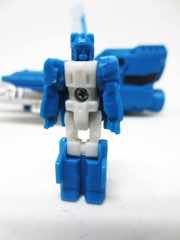 The vehicle mode looks like toys I had as a kid - the white and blue, the clear cockpit, and a place for figures to sit and pilot it. Transformers didn't enjoy this play pattern until a few years in, but many other 1980s toys had little drivers in their cosmic sci-fi vehicles. This one is a... er... jet? Plane? Starfighter? It has two metal forks and wings, so let's say it's an attack forklift. That would seem to be functional, at least - it's pretty meaty with plug-in guns under his wings and not much else. Everything massages in place nicely, and it's relatively easy to figure out without instructions. The vehicle basically only serves as a jet toy with limited interaction with his driver - he fits nicely in the driver's seat. TakaraTomyHasbro did a fantastic job here. Short of the original jump action figure or labels, there's really nothing more you could demand from an updated vehicle here. I think Hasbro nailed it on the first try.
Transformation is surprisingly more complicated than I would have guessed - the arms do some interesting things to collapse upon themselves to get into vehicle mode, and the legs have some nifty moving panels. The vents on the knees are jointed, and the legs are generously articulated to work out the whole "vehicle to robot" thing..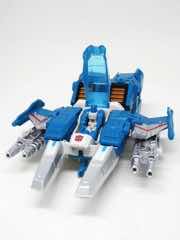 Depending on how you count, Topspin has a whopping 20 - or more - points of articulation. Double elbows aren't something you get every day, and the big, bulky chest looks like something out of the recent comics. I love the silver detailing, the various painted vents, and the wires on the wings. The colors are bright and cheery, with everything fitting together perfectly. His big feet make him incredibly stable, letting you pose him in all sorts of ways. It goes above and beyond what we normally see in this size, where I'm used to elbows that are mobile but occasionally restricted, or fists that sometimes are a smidgen too tight for the weapons. (Lookin' at you, Generations Wheeljack.) Sure, Topspin's off-white plastic is lacking in detail and comes off as plain - but it's true to the original.
Both blasters can join together to be a megablaster of some sort, with seating for one Titan Master figure. They're filled with more detail than the figure himself, almost looking out of place on this fantastic creation. They fit together pretty easily, plus they have a single peg on the bottom of the joined blaster for the figure to hold - which looks a lot better than some of the weird angles other figures had to hold their merged weapons.
If the world was a fair world - which it is not - we'd get the weird international recolors of Topspin and Twin Twist, complete with amazingly goofy names. Seriously, would you not run with your money in your fist to the store to buy "Salt-Man X"? I'm incredibly excited for the retool Twin Twist later this year, but I can't imagine many other Deluxe toys are going to be as fun as this one. It's a gem in a line filled with gems, so go get one when it inevitably sits on store shelves because nobody but you knows who he is. As deluxe prices creep up to $20 it's hard to say they always feel worth the money, but this one does. It's like a smaller, good Voyager-class toy. Buy two, you'll be glad you did.
--Adam Pawlus
Additional Images

Click here to see more Hasbro figures in Figure of the Day.
Click here to see more Transformers figures in Figure of the Day.

Want to buy this figure? Check Transformers availability at our sponsors:
Entertainment Earth