Sergeant Kup
Flintlock & Sergeant Kup

Transformers Generations Titans Return Deluxe
Item No.: Asst. B7762 No. C1091
Manufacturer: Hasbro
Includes: Tiny head robot, big robot/vehicle, two guns, card
Action Feature: Transforms from truck to robot, head to robot
Retail: $17.99
Availability: February 2017 (official street date April 2017)
Other: Try, try again

PREVIOUS
RSS
NEXT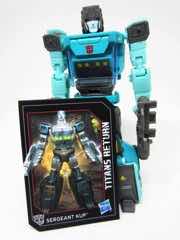 Back in the mid-2000s I was dying to see updates of the original Transformers: The Movie crew. This new Sergeant Kup is an update of one of those updates, and while the 2011 version had issues this 2017 version also has issues. The Titans Return take on Kup has a better truck mode, a low-on-kibble robot mode, and a transformation that will challenge you. But I'm not crazy about it - the colors are kind of strange, and the paint used for Kup's face doesn't do much to help its personality. Granted, I outright detest the Japanese version (save for its Targetmaster buddy), so this seems to be the best of the Kups so far. The box artwork shows a painting closer to the cartoon with a teal helmet, which notably the final toy does not have.
This 1.5-inch Flintlock is now Kup's head. He has the usual articulation and aversion to paint. When Kup had a Targetmaster the li'l guy's name was Recoil, and these two look only vaguely alike. The new robot is light on details but hits all the marks for a Titan Masters robot figure. It won't impress, but it won't disappoint either. It gets the job done.
The head mode is acceptable - it's even good if you like the general idea of what they're selling. The grey helmet may look "wrong" to some fans because that's not what was on the cartoon, with a decent face sculpt in there. The light, glossy paint doesn't do it favors but he's got this great old man sneer. I bet someone will customize it to look absolutely perfect, but Hasbro did do one thing I loved. The arms, feet, and helmet plate are all the same grey. This makes the head look like a head, not like a robot in a head shape. I appreciate it.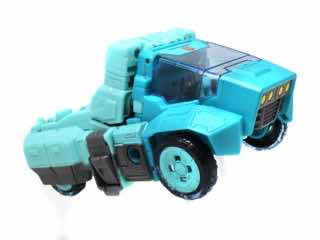 The truck is pretty fantastic - the last Kup looked like a real truck, this one looks kind of like the original toy and cartoon but boxier. There was something sleek about that original toy, whereas this one feels more like a 1980s toy in its boxy, cubey nature. It reminds me more of Legions of Power, as it's really not elegant at all. It's bumpy, it's got a big window, and it looks tough with its four lights under the driver's seat. The seating area seems huge, but only seats one figure.
Deco is pretty great - the Autobot symbol is nice, I dig the painted wheels, but the teal vs. teal seems weird. I'm just not feeling it as a cohesive unit - it's weird, but's chunky, and it's made of tons of cool elements. This is feeling rambly.
As transformations go, this one is a treat. The toy really unfolds from a truck with lots of pieces that re-wrap up together and tuck here and fold there to become the robot. I could see kids getting lost with all the bits you have to tuck and fold, but it's a gem to play around with the modes.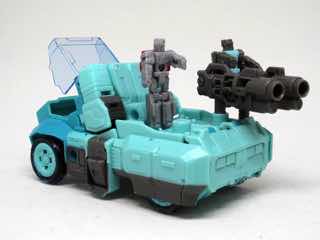 What really surprised me was how they managed to tuck away so much kibble. Sure, you can see wheels on his legs - but the front of the truck tucks into the body and the figure has no backpack. None. I'm astonished - there are two 5mm holes so you can mount his blasters on the back if you like. It almost looks like an incomplete robot just because of all the vehicle kibble you don't see. I'm always expecting an eyesore of a car hood or more wheels, but from the waist on up it's just a robot figure. I'm not thrilled about the color layout, but the articulation works nicely. 20 joints make him nicely posable, and the guns fit in the hands nicely. His body and legs are decorated with yellow and grey highlights, but oh those arms. Those boring, boring arms.
Both blasters can join together to be a big blaster, and you can mount them in notable ways. If you merge them together, they can be a backpack/rocketpack. If you mount them on the truck mode, you will want to do so separately. This is sort of the reverse of what I would expect.
With this new Kup, it feels like a robot that fell out of comic book artwork with deco to match. Problem is, I see Kup mostly as his cartoon form. This leaves the door open for a convention redeco in a boxed set someday, and it's a perfectly fun toy. It won't leave you fully satisfied. You'll probably still want a Masterpiece edition or a future Generations take in another six years, but it's fun enough for now and the transformation certainly feels like Hasbro and TakaraTomy are in the mood to keep trying new things. I appreciate this. I'm guessing history will ignore this Kup, but if you've got cash to blow right now it's a noble plaything.
--Adam Pawlus
Additional Images

Click here to see more Hasbro figures in Figure of the Day.
Click here to see more Transformers figures in Figure of the Day.

Want to buy this figure? Check Transformers availability at our sponsors:
Entertainment Earth