Skullsmasher
Grax & Skullsmasher

Transformers Generations Titans Return Deluxe
Item No.: Asst. B7762 No. B7027
Manufacturer: Hasbro
Includes: Tiny head robot Grax, big robot/croc, tail, head, gun
Action Feature: Transforms from head to robot
Retail: $14.99
Availability: July 2016
Other: Better than you might have guessed

PREVIOUS
RSS
NEXT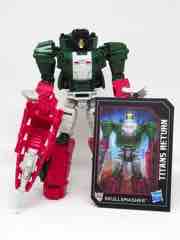 Given the many mutations of Transformers and the surprisingly dense quantity of characters of the original generation, it's kind of not surprising Titans Return manages to trot out never-before-remade characters like Skullsmasher. The first couple of years of the first generation of toys have been trotted out as toys repeatedly (give or take the Dinobots and a few Minibots), but the Headmasters-era has been largely ignored. Some have speculated this to be a result of an old edict of a former Hasbro team member who had a pretty good point - once a kid loses the head accessory, the toy is shot. Sure, Skullsmasher (an update of Skullcruncher) can secure Grax to his neck, or in a trap door in his back, but kids are monsters. They lose things. But they just as easily lose guns too, and if you've ever been to a thrift store you've no doubt seen a few Transformers missing ball-and-socket jointed limbs too. Indeed, they will likely lose their heads if they aren't attached.
...but I'm thinking about me here, and I had to have this one as early as possible. And let me tell you, I tried - Skullcruncher and Ironfist (in that order) remakes have been at the tops of my "Classics" wish list for a few years, and I'm a huge fan of robot animal toys. (See also: Zoids.) To get a toy robot alligator that's also a Decepticon, and can also have a little dude drive him around like a robot car? Good lord, this is a dream come true - especially since I never had the original, larger toy from roughly 1987.
This 1.5-inch head robot is named Grax, and in Japan the guys at Takara-Tomy have made him a completely different face which more closely resembles Skull from the Japanese Headmasters cartoon. It is an important distinction to make that this looks different from Skullcruncher in "The Rebirth", the final arc of the original The Transformers show in the USA. The original Grax had a black head, with a black body and green limbs. This one swaps colors, keeping the black head but the limbs are now black and the body is now green. His new tiny head has large eyes which match the bigger head mode, and is sculpted rather faithfully to that original toy.
The head mode is good, but weird. The original toy seems to have a rather lumpy face, and this one amps it up with really big eyes, chunky cheeks, and tiny little lips. Perhaps there's a joke in here, as Grax is a Nebulan businessman in the original comics. It looks a little strange, and I'd say the anime head from Japan may be nicer but this one is also available earlier and is much cheaper.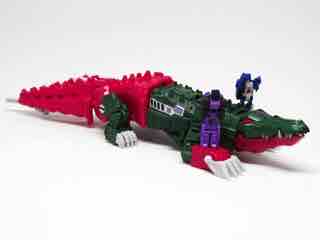 As a crocogator, Skullsmasher is about 10-inches long when fully assembled. Given how most vehicle alt modes are pretty static - maybe spinning wheels or landing gear - this is a nifty toy in that it actually can do stuff. The figure's pistol mounts inside the tail. The tail can move. The gator head opens and closes, and was mounted on a ball joint (user assembly oddly required) so he can snap at other figures. Each leg is articulated, with the front ones having a surprising range of movement. Heck, each front leg even has a peg on which to stand a small Titan Masters figure - with room to store a pilot in a trap door on the figure's back. It's worth noting that the hatch was rendered in a soft plastic, which is actually kind of annoying. On my sample, it was pushed down into the body cavity requiring that I fish it out. What I'm getting at is this: the alt mode is big and does stuff.
The overall look of it - which I haven't even touched on yet - is great. We have faux labels painted on his sides, they did a mostly great job disguising just how little paint has been used here. (Although, I should note, a chunk of the torso is pink plastic painted green. It matches nicely, and mine got scratched - so now I see it.) There's a grey stripe on his head with a Decepticon tampo, and the back claws are painted, plus there are red eyes, but not a heck of a lot else. It's mostly molded in color - even the grey teeth and mouth interior are molded that way. It's the sort of thing Playmobil has been doing for years - just injection-molding the colors you want cuts your paint costs. There are numerous spines and electronic grooves, making this feel a lot like the robocroc of your dreams. With the smaller and leaner head, he's less adorable than the original. This is OK. It's still fun.
Changing this creature into a robot is pretty easy. The tail pops off, the lower body folds down into robot legs - complete with toes that pop out. The forelimbs become arms, the croc head folds back, and of course the little pilot forms the head. It's easy! Fishing the gun out of the tail can be a struggle, but other than that this whole change is a smooth ride. I assume it's smoother than actually riding around in a robot lizard.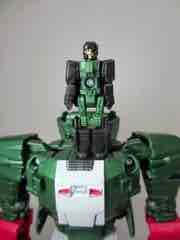 If you've bought a lot of deluxe-sized Transformers, the robot mode is pretty similar to many of them. The big difference in articulation is that instead of rotating wrists, his forearms swivel due to the transformation. With 18 points of articulation, this is a decent robot with only one real shortcoming - on my sample, the hips are a little loose. Getting him to stand due to him being a little top-heavy can be difficult, but it's doable. His open 5mm hands have no problems holding his blaster, his tail weapon, or any of the Titan Masters weapons I've thrown at him. With pink gloves and boots, it's a very late-1980s looking toy - and hopefully one fans will embrace due to the retro weirdness. There's not a lot of painted detail other than the beige/grey chest plate, which features some vents and arrows painted in nicely. Hasbro is doing a good job somehow simplifying deco while giving the figure a more interesting look with things like claws hanging off his arms and, uh, legs on his legs. I wish the hips were a little sturdier, but hey, them's the breaks. These things happen.
This figure is the very reason I was looking forward to the entire line, and he does not disappoint. While not perfect, it's a decent translation of the original idea and he covers most of the bases. The American head doesn't necessarily look the best, but it's still perfectly good - and it's not like you don't have other head options. Get it if you can, because it's neat.
--Adam Pawlus
Additional Images

Click here to see more Hasbro figures in Figure of the Day.
Click here to see more Transformers figures in Figure of the Day.

Want to buy this figure? Check Transformers availability at our sponsors:
Entertainment Earth