Weaponizers Mini-Con 4-Pack
Autobot Dragonus, Bashbreaker, Lord Doomitron, and Lancelon

Transformers Robots in Disguise Mini-Con 4-Packs
Item No.: No. B5844
Manufacturer: Hasbro
Includes: 4 toys, 2 sprues of armor
Action Feature: Transforms from robot to weapon
Retail: $18.99
Availability: May 2016
Other: Not bad at all

PREVIOUS
RSS
NEXT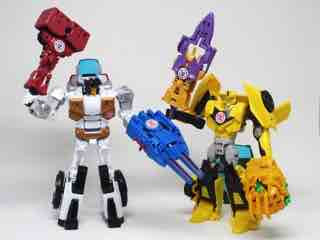 I'm only a dabbler in Robots in Disguise but when I saw the Weaponizers Mini-Con 4-Pack I jumped on it. I loved Targetmasters as an idea, so any time a tiny robot can become a weapon for a larger robot I have to get it. Even if it's a dumb alt mode, I can't help myself - Bashbreaker turns into a friggin' hammer. What kind of life form evolves with the sole function of being a hammer, one of the simplest tools, as its function in life? It's so dopey that it's sublime.
He's joined by Autobot Dragonus as a big blaster, Lanecelon the lance, and Lord Doomitron - some sort of clawed knuckle weapon. Also snap-on armor which, if we're being honest, I wish they would stop wasting my time by putting in these things.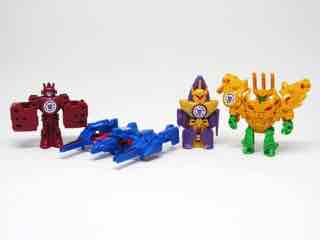 Let's start with the dopey Bashbreaker, which has a great name for his functionality. The robot is about the size of an average USB thumb drive and has no real articulation beyond its automorph functionality. The figure is largely unpainted except for the head, with a nifty silver face which smirks under a helmet with a purple crest. The box art makes him look like a baby Sideswipe, but the purple fauxhawk doesn't look much like hair unless you get in close. He has a nice personality. There are fists under the big brown boxes on his arms, but you'll never see them - they rotate above his head to become a hammer. A 5mm port can rotate from behind his legs to offer a grip for your other toys, providing million-year-old technologically advanced aliens the ability to smash one another in the face. Stay classy, Cybertron. You have no use for this toy, but when you get it in your hands it's ridiculously fun.
Next up is Autobot Dragonus, as the name hints this is the Autobot version of Dragonus - other toys are Decepticons named Mini-Con Dragonus. The one is a blue blaster that's quite large and sized for bigger toys, complete with red highlights. If you pry apart the forks in the front, a dragon's head pops out, with the 5mm grip on the gun becoming the dragon's tail. I don't much care for the robot mode - the dragon detail is kind of muddled in his face - but the gun? Magnifique. I'll buy the obligatory (and confirmed) black repaint. It's fun, but stiff - getting the geared wings in and out smoothly is difficult, and it could just be my sample. I don't think it's enough of a problem to prevent me from recommending the set.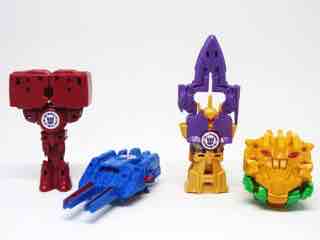 The other weaponizers sport snap-on armor, which is, honestly, pretty useless. "Here's a sprue of crap that you will put up your nose or lose, kids!" I'm sure it was some sort of value-add to make the single guys look "worth" $5, but really, who would miss it? It's just debris. Lancelon is, as his name suggests, a knight that turns into a lance. The yellow and purple robot mode has a knight's helmet, but also a shield and a weapon sculpted into his non-moving hands. The figure has a lever on his back that causes his purple parts to fly over his head. Another 5mm peg rotates down from his feet, letting a bigger figure use him as a weapon. It ain't bad. It's a lot of fun, actually - the deco is decent, the sticker annoys me, the face has lost all personality, but I could transform him back and forth all day long. Hasbro nailed this one - it's stupid great fun. If you don't enjoy playing with it, I pity you. I say you've got a problem.
Last and familiarly least, Lord Doomitron has the most pompous name given its small stature. The same transformation was used on Bludgeon (from the Mini-Con + Optimus pack) and the purple and black recolor of this very toy, coming soon. It's basically a big ball with a claw on it, which works nicely as a fist-based melee weapon. The weapon mode has a big face and looks pretty evil, despite being the same green and gold colors of my elementary school. The pointy thorny details are nice, as is a big yellow Vega claw on the back. He's got little red eyes, a jagged mouth, and some decent detail which shows up nicely in yellow plastic. It's also a toy named "Lord Doomitron" that's colored like a Crayola box. Be careful with his tiny hands - they pop out in my sample without too much provocation. These toys have clever transformations, but seemingly no metal pins. That's unusual.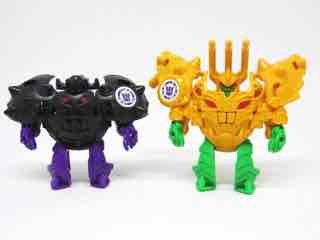 Lord Doomitron and Lancelon both haave armor designed specifically for their molds - they won't fit on other figures. You don't have to remove the armor to transform either toy, but it's pretty easy to knock off Lancelon's arm bits. I don't think it adds much to either figure, but it doesn't take anything away either. The sprue frame looks nice, but I wish they could do something with it rather than supply artful garbage. The sprue serves no purpose once it has been trimmed, so why not convert the border into a "lead pipe" or a lightsaber-style weapon? I hate throwing so much plastic away, especially since it has to be designed to be something. Why not make it something useful? At least the armor bits are well-crafted, fit perfectly, and look... let's go with acceptable. I personally think they just obfuscate the details on already good toys and are a waste of Hasbro's R&D dollars as their sole purpose is to be eaten by sofas and vacuums, but what do I know?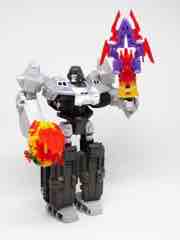 Is it worth it? Should you just get the singles? I'd say get the set - that way you can not pay for the armor, as individual Mini-Cons are $5 each. This saves you a buck or two, and you get some nifty unique colors. They're little dudes, but the moderately disgusting thing is that I have little doubt these will give you more fun than a Masterpiece toy. Don't get me wrong - those are pretty and all, but you're actually going to bring Lancelon to the couch with you and move him from mode to mode over and over, compulsively, until his little robot heart gives out. It's legitimately fun and simple and dumb, and it's the kind of thing you'll hate yourself for loving. It's real fun and it's cheap - so get yourself this bizarre batch of weapons.
--Adam Pawlus
Additional Images


Click here to see more Hasbro figures in Figure of the Day.
Click here to see more Transformers figures in Figure of the Day.

Want to buy this figure? Check Transformers availability at our sponsors:
Entertainment Earth