Scourge
Fracas & Scourge

Transformers Generations Titans Return Deluxe
Item No.: Asst. B7762 No. B7029
Manufacturer: Hasbro
Includes: Tiny head robot, big robot/vehicle, big gun, bigger gun with seat
Action Feature: Transforms from head to robot
Retail: $14.99
Availability: July 2016
Other: Better than you might have guessed

PREVIOUS
RSS
NEXT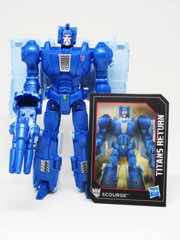 Like any long-running collector's line, Transformers is eating its own tail a bit with Titans Return. Scourge is a new take on a popular character (and stealth troop builder) first introduced in the original animated movie. I quite liked the 2011 Generations Scourge [FOTD #113]. It's a good figure - and this new one is good for different reasons. I'd have to begrudgingly say even if you have the original, the new one is pretty good.
This 1.5-inch head robot is certainly decent, and shares construction (but not the face plate) with Highbrow's partner Xort [FOTD #1,542]. Scourge also shares parts with Highbrow - Hasbro has really become some sort of crazy engineering geniuses, hiding internal parts from us and using them across multiple figures to save money. Most of us won't squint so closely that we'd recognize the tiny Titan Master figures as being the same on a couple of figures - especially when you include new colors and a new face plate backpack. The figure has the same articulation as his siblings, with a grand total of 5 joints to manipulate. The little robot can sit in the gun chair, in the vehicle's cockpit, or if you like he can stand on a peg on the exterior of the vehicle.
The head mode is as headdish as you could want. The facial hair has been constructed, and there's a telescoping hood ornament in the middle of the top of the head. Friction keeps it up, and the coloration is certainly appropriate for the Scourge full-size robot.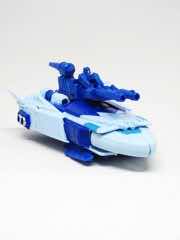 His vehicle is good - getting the front halves together is a trial and it may not be a perfect fit. I'm not getting it together perfectly all the time, but the overall vehicle gives you that space boat look you're after. You can plug the pistol in the boat as a sort of antenna or ornament, and the bigger gun can attach to the top. The colors are pretty good and it's a decent reimagining of the 1980s toy - with a pilot.
Transformation is a little more surprising than most, as you have to really pull it apart and extent the body out through a telescoping pole. Everything is pretty logical with the usual parts-explosion, complete with the robot head on top.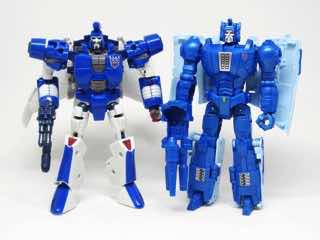 The robot mode is a little bland thanks to Hasbro's decision to devote its paint to recreating the original toy line as closely as possible. This is why there are fake stickers on him, and why Blurr is blue on blue with a side of blue. It's a little flat compared to the Japanese version, which I had on order but ultimately backed out of because Combiner Wars helped me get to a point where I could easily say I have no reason to buy the same character from the same mold many multiple times. Seriously, why do I have two Computrons? And he's a different mold! But I digress.
The figure is nice and sturdy, giving you a decent - if not best - take on the character. The 2011 USA release is more colorful, and the 2016 Japanese release of this mold is a real gem in terms of how it looks. But this one? It's cheap. It might even be $10 at Walmart or Target right now thanks to a ridiculous price war, the details of which I am only partly privy to but trust me when I say you'd be a fool to not take advantage. He has no problems holding his guns or standing, but he really does hug the original toy design a little too tightly. We lose out on such niceties as the pink claws on the 2011 toy's hands, but in exchange we get more things to fidget with as a little robot pilot can add to the fun a great deal.
While not disappointing in the slightest, Hasbro's take on Scourge is only a lesser toy because Japan sells one with more paint at twice the price. Is it worth it? That's up to you - my reality is I get toys, play with them, and sometimes they go on a shelf for a few years until similar or related characters make it out. Having two versions - one that I paid a premium for - even though one could be a Sweep - seemed like a bad idea given everything coming out. I'd rather buy all the American toys and save the cash for any Japanese exclusives, like the pricey Lioconvoy or Bat Convoy toys. If you see a $10 Scourge you could do a lot worse - it's fun and it's a character that midperiod-G1 fans of Transformers should delight in owning, or re-owning. I don't doubt we'll see a better one some day, but as we start staring down the barrel of 40 we're going to see collector attrition and it's possible Hasbro could stop catering to older fan interests. I hope not - but it happened with G.I. Joe and it's happening with Star Wars. Thankfully your average modern Transformers buyer doesn't know who any of these guys are and they can sell to the masses on the virtue of merely being a good fun plaything - I hope that's enough to wallow around in this era a little longer.
--Adam Pawlus
Additional Images

Click here to see more Hasbro figures in Figure of the Day.

Click here to see more Transformers figures in Figure of the Day.

Want to buy this figure? Check Transformers availability at our sponsors:
Entertainment Earth