Astrotrain
Space Choo Choo

Transformers Generations Titans Return Voyager
Item No.: Asst. B7769 No. B8353
Manufacturer: Hasbro
Includes: Darkmoon, cannon, card
Action Feature: Transforms from head to robot, also robot to train to space ship
Retail: $24.99
Availability: August 2016
Other: Midnight Tapshoes

PREVIOUS
RSS
NEXT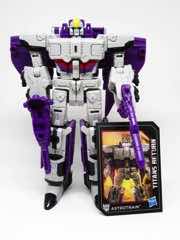 As one of the first "classics" guys from 2006, a remake (a bigger one) for Astrotrain is finally here. It took ten years! That one went from a space shuttle to a bullet train to a robot. This new one goes from a weird space plane to a weird fake train to a pretty good robot with tap shoes. The colors of the 2016 version are a little closer to the US toy, while the 2006 version was a bit closer to the original Japanese toy - more or less. I like this one better than Sentinel Prime [FOTD #1,480] in appearance, but there are some new (and recurring) tolerance issues. All of the leg panels are harder to massage in place, and the various weapons don't quite fit in to vehicle mode perfectly - a loose peg/hole situation.
This 1.5-inch robot Titan Master Darkmoon is the same as Autobot Infinitus with new colors and a new face mold on the back. The front of the robot is completely unpainted with purple arms, purple legs, and a purple head. As a robot, it looks like a tiny Astrotrain - with moving arms, knees, and hips. It ain't bad. Mine was ridiculously tight in the neck socket - like Sentinel Prime - and it needed to be shaved down a tiny bit to fit. Without paint, some of the finer details are decent but not exactly easy to see. I like it, but it's not amazing - it fits in the vehicle mode just fine, and the head looks pretty good. What else do you need to know? It's very acceptable.
Astrotrain has a decent robot mode with coloring that it looks like Hasbro took great pains to match the original toy. Minus the head stripe, that is - it was red, now it's yellow. (The original toy had a yellow visor with a red crest, this one swaps the colors.) The guns aren't very similar to the original, but the red and purple chest deco does mimic some labels and the legs have similar coloring - remixed, but decent. The head could be a smidgen larger, but hey - that's not going to hurt nobody. Notably absent is any sort of Decepticon sigil in robot mode - I would have liked to have seen one here.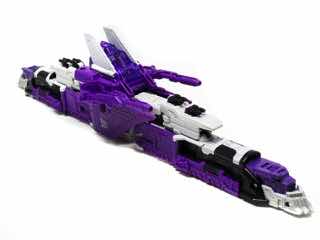 Transformation to jet or train is the same as Sentinel, although I'd say it seems to fit a little smoother as a train than as a space plane. You'll have no problems figuring this one out despite being a triple-changer, it's pretty simple overall. It took some doing to massage the arms into train or plane mode, but was done. The panels for plane mode were a bit trickier.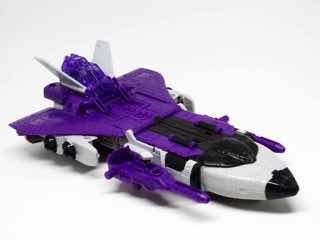 Both modes look OK, but not great. Hasbro nailed the robot but the alt modes are a bit of a snore - the train looks like Energon Omega Supreme, while the space shuttle looks vaguely like the Ark. I'd say the decoration is better here than on Sentinel Prime, as the dark colors work well and the train bits look quite excellent. If, that is, you can get past the weird kibble surrounding them.
I think I prefer the 2006 Classics one despite the small size - but this is a good upgrade if you want someone to pal around with Blitzwing. Speaking of, we're all banking that Blitzwing is en route from Hasbro yet again as a redecorated and/or retooled Titans Return Voyager Megatron figure. It's a safe bet - so I'd say just go ahead and pick up Darkmoon and Astrotrain now to ensure the future partnership goes smoothly. I'd prefer more levels of consistency myself, but eh. Whatever. If I wait another decade maybe we'll get a Leader-class Astrotrain with a steam engine train mode for like a hundred bucks. Inflation ain't great, kids. Get while the getting is good.
--Adam Pawlus
Additional Images

Click here to see more Hasbro figures in Figure of the Day.
Click here to see more Transformers figures in Figure of the Day.

Want to buy this figure? Check Transformers availability at our sponsors:
Entertainment Earth