Godzilla Rodan 2004 Action Figure
FOB Line - De Facto Toys R Us / Kmart / Kay-Bee Exclusive

Godzilla Vinyl Figures
Item No.: Asst. 91810 No. 92821
Manufacturer: BanDai
Includes: n/a
Action Feature: n/a
Retail: $12.99
Availability: ca. July 2008
Other: From Godzilla Final Wars

PREVIOUS
RSS
NEXT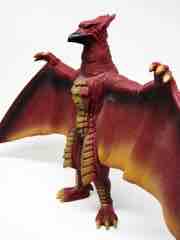 I got the US release of Rodan 2004 in - you guessed it - a sack of Goodwill toys. I had the Japanese original from the original release, so I can actually tell you what's different. The figure has articulated legs at the rotating knee, plus a heck of a lot more paint. Like, tons. I would argue the American one looks cooler, but the Japanese one is brighter - so which to get? No idea. They're both quite expensive today, despite being very cheap and easy to get for a couple of years. This, friends, is why you don't wait to buy toys. (Well, unless you find them for two bucks a sack, but do as I say not as I do.)
Rodan stands about 6-inches tall and as far as I can tell, is basically the same as the Japanese mold. The US one (possibly just my used sample) tends to fall over backward more, but aside from that the base toy seems to be the same.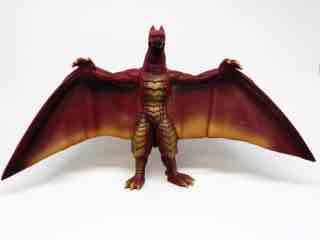 The US version is a brown rather than a red. The US version also lacks paint on the heel claws, but adds a black shadow to the top of the front wings as well as a black stripe to the figure's back. You'll notice more dusty, tan paint on the bottom of the wings on the front of the release too. You should also take note that the Japanese red version is largely unpainted on the back.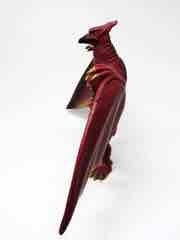 Of the various figures I've bought, Rodan has the least and most inconsequential articulation. Rotating knees are about as useless as a joint can be, and with his wings and thick neck he's not doing a lot of moving. It's a hollow figure - you can squeeze the air in the wings if you want - and they're scraped with tons of leathery detailing. The head is loaded up with wrinkles and a fine beak.
For a character originally starring in its own film, Rodan made a name for itself by crossing over into the pantheon of Godzillas. Since he doesn't have a huge tail, he compliments the dinosaur-like Godzilla on a shelf nicely - the wings can span over the other, longer creatures. There are plenty of Rodan toys and either the US or Japanese release is likely to set you back $30 or more - much more if it's still in the US tray packaging - so get it cheap if the opportunity permits. Mine cost less than lunch, so I'm pretty thrilled with it even though I definitely do not need another Rodan toy to play with. At all. (I like it.)
--Adam Pawlus
Additional Images

See more BanDai figures in Figure of the Day:
Day 22: Tamagoras Get Back To Job Lion
Day 150: BanDai Final Fantasy VII Extra Knights Red XIII Action Figure
Day 167: BanDai Final Fantasy VII Extra Knights Barett Wallace Action Figure
Day 185: BanDai Final Fantasy VII Extra Knights Tifa Lockheart Action Figure
Day 216: BanDai Tick Bounding Tick Action Figure
Day 236: BanDai Final Fantasy VII Extra Knights Sephiroth Action Figure
Day 268: BanDai Megaman Trading Figures Jumping Megaman Action Figure
Day 310: BanDai ThunderCats 4-Inch Lion-O Action Figure
Day 1,360: BanDai Godzilla Tokyo Vinyl Mechagodzilla Action Figure
Day 1,370: BanDai Godzilla Fusion Series 1968 Godzilla Action Figure
Day 1,377: BanDai Godzilla Fusion Series Gigan Action Figure
Day 1,386: BanDai Godzilla Anguirus 2004 Action Figure
Day 1,393: BanDai Godzilla SpaceGodzilla Action Figure
Day 1,408: BanDai Godzilla Rodan 2004 Action Figure
Day 1,458: BanDai Gamera Heisei Gamera Action Figure
Day 1,625: BanDai Shin Godzilla Third Form Vinyl Figure
Day 1,773: BanDai Xyber 9 New Dawn Ikira's Speeder
Day 1,980: BanDai Saban's BeetleBorgs Metallix Mega Spectra Titanium Silver Sector Cycle Vehicle with Action Figure
Day 2,021: BanDai Mystic Knights of Tir Na Nog The Drageen Action Figure
Day 2,135: BanDai Shin Godzilla Second Form Vinyl Figure

See more Godzilla figures in Figure of the Day:
Day 1,360: BanDai Godzilla Tokyo Vinyl Mechagodzilla Action Figure
Day 1,370: BanDai Godzilla Fusion Series 1968 Godzilla Action Figure
Day 1,377: BanDai Godzilla Fusion Series Gigan Action Figure
Day 1,386: BanDai Godzilla Anguirus 2004 Action Figure
Day 1,393: BanDai Godzilla SpaceGodzilla Action Figure
Day 1,408: BanDai Godzilla Rodan 2004 Action Figure
Day 1,469: X-Plus Godzilla Garage Toy Titanosaurus 1975 Version Vinyl Figure
Day 1,540: Funko Pop! Movies Atomic Breath Godzilla Pop! Vinyl Figure
Day 1,625: BanDai Shin Godzilla Third Form Vinyl Figure
Day 2,135: BanDai Shin Godzilla Second Form Vinyl Figure