Loudmouth
Get a Head and Be Wealthy

Transformers Generations Titans Return Titan Masters
Item No.: Asst. B4697 No. B4701
Manufacturer: Hasbro
Includes: Tiny head robot, small vehicle
Action Feature: Transforms from head to robot
Retail: $4.99
Availability: June 2016
Other: Siren, but Not Siren

PREVIOUS
RSS
NEXT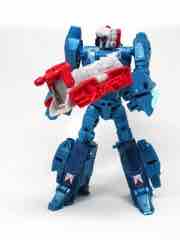 While brand new, the play pattern of Titans Return is known to us. The central gimmick is you can pop off a head and turn it into a driver for the vehicle (or beast) mode, and the "Titan Masters" price point - new to Generations - gives you a head and a weapon for bigger robots. Patterned after Siren (aka Nightbeat's comic book model) Loudmouth gives you a head for a custom, or possibly a future deluxe toy (so says the rumors I don't believe).
This 1.5-inch robot is one of the smallest (if not the smallest) robot I've gotten out of this line since... possibly ever. (I didn't have any of the original Headmasters.) It's nifty and small, easy to transform from robot to head. The tiny robot's head has a tiny red painted visor, but no other visible deco. The head turns, and the arms are on little ball joints. The figure has jointed hips and knees, which is more than a little amazing when you're a Star Wars collector and they phased such things out.
His head mode looks a lot like the original Siren, complete with red visor and blue highlights on the sides of the helmet. The face is no longer blue, and the guns on the side of the head are no longer actual guns - they're just his mini robo arms. If you had a body for him, this would be a largely very good noggin on his shoulders. My only gripe is that the grey plastic is the kind that sort of absorbs detail - the light goes in and muddies an exquisite sculpt, through no fault of Hasbro or Takara-Tomy or whoever. It's just not the best grey. It's a nice enough head, and smaller than Voyager-class Brainstorm [FOTD #1086] from 2014. As such, the Headmaster elements are not cross-compatible.
Oh - and the giant visor? It means this head fits under the helmet of the new Titans Return Powermaster Optimus Prime and can give him red eyes, just like the original toy. That's a big selling point and customization tweak.
For those of you long-time fans who no doubt got the "preview" figure of Buzzsaw [FOTD #1,338] last year, you may be surprised that the pegs on the vehicle mode are too small to use with Loudmouth's foot holes. I don't know if there's a retooling that happened or a variation, so let me know what you find here. I don't yet know if this will be a problem for other "tapes" in this line as we go forward. Loudmouth fits fine on Powermaster Optimus Prime's pegs, but seems a little tight on some of Blaster's.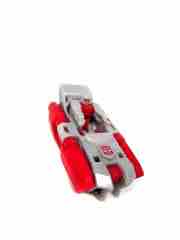 Since they made this figure at a small size, his vehicle is a little landspeeder hovercraft which becomes a gun for a larger figure, or if you squint, a nifty mini-jet. Or a tank thing. Really, for such a simple toy, this thing has just enough moving parts to be great for kids in that it's designed for fan modes. I like the hovercraft a lot, because the figure has foot pegs that fit right in and it stays in place.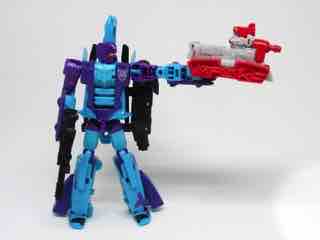 The gun mode... it's not bad. Loudmouth plugs in as a head, just rotate him around and it's a decent fit. It's a perfectly nice/weird gun for Voyagers and larger toys, but it's not exactly sized right for my Deluxe toys. I wouldn't suggest buying this one on the strength of the weapon mode - but everything else is pretty excellent.
I should also touch on the packaging, which is pretty nifty in that it's small, and it serves as an upsell for the biggest toy in the line (smart) - the front of every one has Fortress Maximus art on it. I don't know if this is enough to click with people since it's not labeled, but it's a reminder to those of us who follow this stuff that we still need a Fort Max. The front artwork is the same on all of the figures, with minor changes for the SKU and UPC on the back. There is no bio, nor is there any indication of co-sells which I find kind of upsetting. I want to know what I should buy next. Each is so similar you will actually need to touch every figure on the pegs to know if the new guys are there, which could be a problem - it looks like a solid row of the same thing, and that might hurt sales at retail. (But not for you, because you order online. Right?)
It would be disingenuous to say I don't get $5-$6 out of this toy. It would also be disingenuous to say that this would be a good toy at $7 or $8 - I'd say it's about half as interesting as a Legends-class toy, but at $4 or even $3 it would be superb. I'm not necessarily expecting a full-body for Loudmouth/Siren any time soon, so I really have to just say this is a decent little toy on its own merits. If collectors will give them a fair shake remains to be seen, but I personally can't keep away from head-swapping gags like these. It's fun.
--Adam Pawlus
Additional Images

Click here to see more Hasbro figures in Figure of the Day.

Click here to see more Transformers figures in Figure of the Day.

Want to buy this figure? Check Transformers availability at our sponsors:
Entertainment Earth