Autobot Hound
Sky Reign #2 of 5

Transformers Generations Combiner Wars Deluxe
Item No.: Asst. B0974 No. B5606
Manufacturer: Hasbro
Includes: Comic book, gun, hand/foot/weapon
Action Feature: Transforms from Robot to Off-Road Vehicle to Hand to Foot
Retail: $15.99
Availability: January 2016
Other: Rook/Swindle Retool

PREVIOUS
RSS
NEXT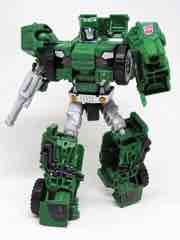 If you got Swindle [FOTD #1,387] you know what to expect from Autobot Hound. There are a couple of tooling changes, a lot of color changes, but aside from that? You've seen this one. Hound has a strong following among the 1984 fans, and he's had a few decent new toys made of him. Not only was the 2008 and 2009 Universe ones pretty good, but so was the Alternators toy - for whatever reason, Hound toys are pretty great. This one went in another direction, opting instead to do something new rather than retread familiar ground.
There are some notable difference in deco between robot modes, notably Hound adds a fake Jeep grille and headlights as a belt instead of chest deco, and a heavy slathering of silver paint made his gun look pretty. Little "lights" are painted near his shoulders, but on the whole he's just very green. Very green. I don't know if the head is a real improvement, but as a combined toy you won't see it anyway. Articulation is good, roughly the same as his peers with about 15 points. You can't really mount Hound's gun on his shoulder, but it was retooled slightly so that it can be mounted on the car kibble on his back. It's pretty neat. Swindle was similarly retooled during his run, but my sample - and a lot of the early ones - don't have the tabs for mounting.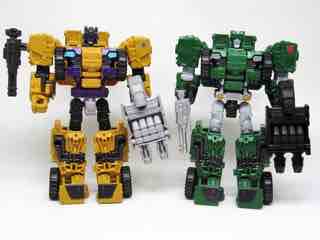 Changing modes is the same as Swindle and similar to Rook. I won't even walk you through it at this point - it's pretty simple and it is easy to do. Minus cramming that gun in his back kibble.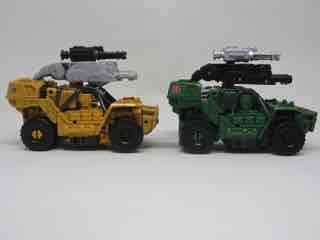 The hand/foot/gun is the same as Swindle's, and it mounts just as nicely. The dune buggy-esque mode is similar to Swindle's as well, but now in a nice rich green color. He has a nice big star on his hood, a tiny little Autobot symbol, and not a lot else.
As a Sky Reign limb, it's perfectly good. By the packaging, it's an arm, and it's a fine arm. Swindle is largely a leg, but they work fine in either configuration. When you get right down to it most of the combined robots are actually quite ugly with mismatched colors and less-than-unified teams. I think this is part of their charm, and as an arm (or leg) the various pieces peg and slot in place nicely. It's nicely designed, and it's a charming new way to present a character who has been represented in toys previously.
The push-and-pull on a nostalgia property for old farts like Transformers Generations results in some interesting ideas. Sometimes, you get a line that does its darnedest to satisfy the old guard with minimal changes. Sometimes they just use old names and ideas to come up with something new. Hound takes something old fans know and love to deliver something new for kids and adults, although I assume it's very largely older fans given the ages 8 and up rating on the box. Innovation is necessary - and exceedingly rare - in most properties in order to continue. You can't live in the 1980s forever, even if you have bold new ideas like "popular guy combines now." I'm hoping to see Hasbro do what it did with Beast Wars - develop a new property trading on previous generations as its history - to give us a line of mostly new characters with mostly new features. Until then, the gimmick-bending Titans Return and of course Combiner Wars will do nicely, as will some of the nifty new Decepticons in Robots in Diguise. I can't wait to see Hasbro do a post-G1, post-Beast Wars line - I hope to be around to see it.
--Adam Pawlus
Additional Images
Additional Transformers Combiner Wars Sky Reign Images

Click here to see more Hasbro figures in Figure of the Day.
Click here to see more Transformers figures in Figure of the Day.

Want to buy this figure? Check Transformers availability at our sponsors:
Entertainment Earth