Titanosaurus 1975 Version
Massive Vinyl Figure

Godzilla Previews Exclusive (in the USA, at least)
Item No.: No. n/a
Manufacturer: X-Plus
Includes: Tail
Action Feature: Some assembly required
Retail: $159.99
Availability: May 2016
Other: Comes in "Garage Kit" Box

PREVIOUS
RSS
NEXT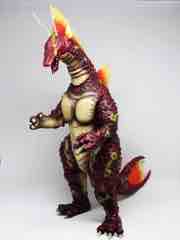 The good thing about the toy collectors' market is that the more obscure the character, the more insane the figure or collectible is. In the case of Titanosaurus 1975 Version, there are precious few toys based on this monster. He was in Terror of Mechagodzilla in 1975, and I don't believe has been in another film since. In addition to this figure, there's a Minimates figure, a BanDai figure and a couple of other smaller releases. There are even some nifty vinyl toys, but I don't think there's anything quite as big as this 14 1/2-inch figure. Some sellers have it at 12-inches, but it's actually taller thanks to his fins and little antenna.
The main reason to buy this figure is because it's a really big version of a creature that typically doesn't get a collectible. I am trying to avoid using the word "toy," despite it being a big hollow vinyl figure. The deco and sculpting is gorgeous, with a little forked tongue and two little antenna on his head. I was looking at photos of the movie costume to compare to the toy I had in person - and it was incredibly close. This is clearly a labor of love, merging the whole hollow vinyl figure thing with the kind of attention to detail that you would normally give to a statue or bust. It's stunning - but it doesn't do much.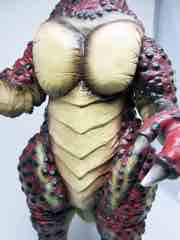 Once you crack open the box - and we'll get to the box in a minute - you pop the toy out of his clear insert and have to install the tail. It's a separate piece, and you can't get it in there without employing the Boiling Water Trick which is actually codified on an instruction sheet in the box. Boiling water is great for re-shaping some plastics, and it's basically required just to get the dumb thing in place here. You could probably also use a hair dryer, but I wouldn't. Thanks to it being a separate piece, the tail swivels and is one of three points of articulation along with the arms. The arms are separate pieces, but don't move a lot - the skin is folded around them in a way that you can nudge them a bit, but it's sort of more like a statue. To call this vinyl figure a toy would probably be a lie, mostly because you wouldn't give it to a child to play with and I suspect the child would not enjoy it beyond being a big, cool, and fun-looking monster creature. He can stomp on cars! He can't, however, be posed.
The coloring is amazing - black warts cover the figure, the eyes have a gorgeous metallic sheen to them, there's a neon orange fire-like shade on his fins, and there are all sorts of markings and shading throughout the figure. Even his claws have little black marks to help hide the seams on the actual costume, and if you squint you can see a lot of places on the toy that probably represent where the real-life costume fits together. Someone did their homework here. The coloring on BanDai's older, smaller effort is nothing to sneeze at but this big giant thing is a work of art. It costs a lot, and it feels like it should.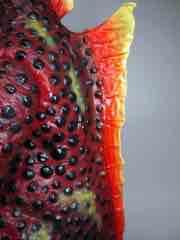 It would be criminal to ignore the packaging, which is a big, brown cardboard box with a 4-color paper poster on the front. The series is called "Garage Toy" for a reason - the box recalls garage kits, the dubiously-licensed Japanese low-run item made by fans for sale at conventions, typically out of their garages. These still exist, and sometimes they are in a legal grey area where a fan gets a 1-day license to sell an item at a convention - and that's it. It's sort of like how the Borat DVD looks like a bootleg - the box and line name are something of a joke, and if you get it you'll find it amusing. If not, it's just a big dumb box with nothing on it. Considering they probably cut costs just to use bare cardboard, I commend them for being creative. After all, it would seem unrealistic to ever expect a sizable Titanosaurus figure without it being some low-run fan-initiated boondoggle. I don't know how many were produced, but if this is a limited run item and sells out quickly I assume it'll get expensive. So get yours early.
If this figure had an electronic roar from the movie, I'd say it's a hit at $160. It doesn't - it's a pimped-out expensive vinyl figure and priced accordingly. Similar resin or other pieces of this size, with this quality of paint job, would probably set you back a similar or higher price. I hesitate to say it was a good deal, but is it even possible to improve upon this figure? Perhaps a little more shading on the belly and limbs, and maybe add some metallic sheen to the fins. But other than that, it is probably as good as we'll ever see again, and by picking up this particular Titanosaurus you're probably guaranteeing yourself at least a decade (if not an eternity) as the owner of the crown jewel of Titanosaurus collectibles. You probably won't see a more authentic one in your lifetime.
--Adam Pawlus
Additional Images

See more X-Plus figures in Figure of the Day:
Day 1,469: X-Plus Godzilla Garage Toy Titanosaurus 1975 Version Vinyl Figure

See more Godzilla figures in Figure of the Day:
Day 1,360: BanDai Godzilla Tokyo Vinyl Mechagodzilla Action Figure
Day 1,370: BanDai Godzilla Fusion Series 1968 Godzilla Action Figure
Day 1,377: BanDai Godzilla Fusion Series Gigan Action Figure
Day 1,386: BanDai Godzilla Anguirus 2004 Action Figure
Day 1,393: BanDai Godzilla SpaceGodzilla Action Figure
Day 1,408: BanDai Godzilla Rodan 2004 Action Figure
Day 1,469: X-Plus Godzilla Garage Toy Titanosaurus 1975 Version Vinyl Figure
Day 1,540: Funko Pop! Movies Atomic Breath Godzilla Pop! Vinyl Figure
Day 1,625: BanDai Shin Godzilla Third Form Vinyl Figure
Day 2,135: BanDai Shin Godzilla Second Form Vinyl Figure