Decepticon Viper
Galvatronus Weapon

Transformers Generations Combiner Wars Legends
Item No.: Asst. B0971 No. B1799
Manufacturer: Hasbro
Includes: Trading Card
Action Feature: Transforms from Plane to Robot
Retail: $9.99
Availability: May 2015
Other: New Character, Wild Weasel-esque

PREVIOUS
RSS
NEXT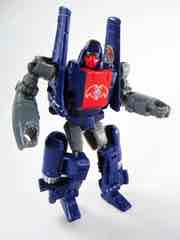 One of the more commonly whispered about dreams for fans of both Transformers and G.I. Joe is a full-blown crossover line - typically, this fantasy incorporates Autobots and Decepticons changing forms in to 3 3/4-inch Joe and Cobra vehicles. Hasbro dabbled with a few Joe vehicles as Autobots and Decepticons, but precious few actually have ever transformed - but the Decepticon Viper toy from 2015? That one does. Sure it's a Powerglide [FOTD #1,153] in blue wth a new head, but it has a Cobra/Decepticon sigil on the chest. As a non-exclusive action figure, this probably received the widest distribution of any Joe or Cobra toy in 2015, which tells you something about the state of that line. Viper was so popular - and distributed in smaller numbers when compared to the Legends in the other waves - that he's slowly getting more and more expensive. I hope you got yours - could you imagine how much this would set you back had Hasbro made a transforming HISS Tank rather than an homage to the classic Rattler?
At about 3 1/2-inches tall, this fellow has massive shoulder blades - wings, really - and a decent smattering of articulation. He's small, so you'll have to be OK with hinge elbows, ball jointed shoulders and hips, knees, a neck, and sorta-hingey ankles. I totally dug Powerglide and this one is just as much fun - and it brings a real rarity to Generations in that he's a new character. Hasbro usually sticks mostly to the 1984 and 1985 seasons of the original cartoon for inspiration, so seeing Viper alongside newcomers like Alpha Bravo, Rook, and Offroad means we have more actual new blood beyond just Windblade and the forthcoming (like REALLY forthcoming) Victorion.
Despite the Viper name, his helmet looks a bit like the Wild Weasel - Cobra's Rattler pilot. The bio identifies this one as a "quick-strike attack drone" meaning that it's one of very few proper army builders in this toy range. I really should have bought more. Each hand is 5mm-compatible for all your wacky weapon wants, and he's got no problems standing around. For months. So this toy works well as a not-toy too.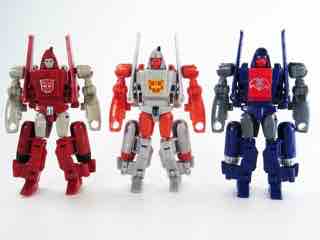 Transformation is a snap - there's a weapon mode and a plane mode. Everything folds up pretty well and I'd say my sample works better than Powerglide. You can figure it out, you're smart. (Well maybe not you, perhaps everybody else.)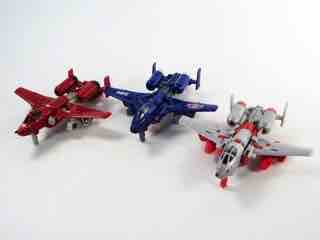 Since Hasbro gave us a Shockwave-as-a-HISS, Skystriker-as-Jetfire-and-also-Starscream, and Vamp-as-Hound, the reverse is rare. Now we've got Powerglide-as-a-Rattler, and he's small and great. The Decepticobra symbol carries over to his wings with a silver outline, shining nicely in most light conditions. The retractable landing gear is nice, and it holds together a bit better than my Powerglide. The aforementioned gun mode ain't bad, but I'd be lying if I said I loved it. His other two modes are just too nice, and small triple-changers can be tough to pull off anyway.
A good pal of mine, during an exchange of wackiness, decided to complete this toy by making and sending me a 3D printed wiper. Or viper - you know, to vipe the vindows. That just makes it a million times better. Even if you don't have a good pal who will send you a wiper, this is one of the better redeco ideas out of Hasbro mostly because it's so gosh darned refreshing. Normally remolds and premolds are toys we already expect - and don't get me wrong, I like Thundercracker and Acid Storm as much as the next guy. Seeing something totally new - a trooper/drone, no less - is a welcome surprise. I hope to see Hasbro do more of this sort of thing, especially in a larger scale.
--Adam Pawlus
Additional Images

Click here to see more Hasbro figures in Figure of the Day.

Click here to see more Transformers figures in Figure of the Day.

Want to buy this figure? Check Transformers availability at our sponsors:
Entertainment Earth