Pheyden Frontier MKII
A classic, revisited

Glyos Onell Design
Item No.: No. n/a
Manufacturer: Onell Design
Includes: n/a
Action Feature: Pops apart
Retail: $10.00
Availability: September 7, 2016
Other: No panel lines this time

PREVIOUS
RSS
NEXT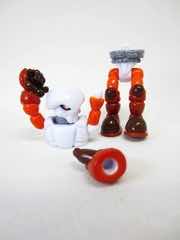 The hero with many faces gets another face with Pheyden Frontier MKII. It's a pretty simple figure with extra deco - it's a Pheyden molded in white with thick paint on the legs, hands, and arms to replicate the molded plastic of the original figure that sold out ages ago. He doesn't have spare heads or anything, but it's a nice one nonetheless. It looks cool, which is a reason to buy it - the Onell Design crew came up with tons of great colorways back when they started, so it's nice to see them brought back for the newcomers or those who lacked the foresight to pick it up 8 years ago.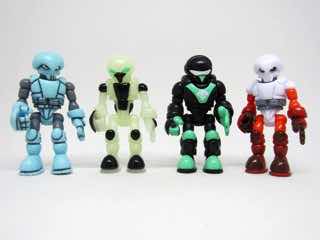 As usual, Pheyden has 13 pieces and 12 joints, with orangey arms and legs fading into reddish brown feet. Some key differences - the new one has a grey belt, dark knees, dark toes, and dark fingers. Oh, and painted dark boot soles - a nice touch! One you'll never notice, sure, but it's nice. The original one doesn't have those extra colors, but does sport nice panel lines. We've been told those can be quite costly, so with inflation and everything else it makes sense that they have to go. It's sad, but it makes sense.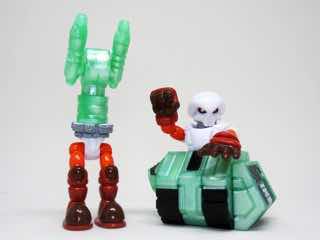 The 3-inch figure should stand eye-to-eye with the likes of Playmobil and Stikfas, as the Onell Design character crew occupies a scale that's not really the norm for modern action figures. It's a nifty design and a wonderful tribute to a classic. Which, sadly, did not sell out - nor did the similarly returned Eclipse MK II. Both are wonderful designs, so here's hoping they have a nice home once they disappear from the store. I really - really - don't need to own more Pheydens, but I couldn't say no to this strange, candylike design. Plus I was buying some other figures anyway. I dig weird Pheydens, and we don't get a lot of unadorned, unarmored, plain ol' Pheydens these days.
--Adam Pawlus
Additional Images


Click here to see more Onell Design figures in Figure of the Day.
Click here to see more Glyos Compatible figures in Figure of the Day.