Wolverine
Another One

Marvel Legends X-Men Action Figures
Item No.: Asst. B8343 No. B8343
Manufacturer: Hasbro
Includes: Juggernaut head, alternate hands
Action Feature: n/a
Retail: $19.99
Availability: July 2016
Other: You've seen others, but see this one

PREVIOUS
RSS
NEXT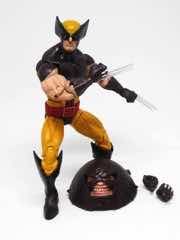 Since the very first series of Marvel Legends, Wolverine has been a regular. Blue ones, unmasked ones, pantsless ones, even brown and yellow ones like this - and what's more, this new one? He's short! I love when that happens. Wolverine comes with swappable clawless hands, although my hands' claws actually could pop out if you're not careful. So be careful.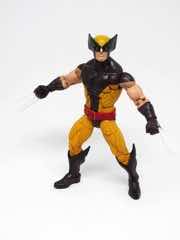 The 6-inch scale action figure is nicely jointed - about as well as a good Spider-Man these days. Unless I'm mistaken, Wolvie has 34 joints - there's a lot of movement here, and you can get some awesome action poses. Do you know what would have been more awesome? A stand and an alternate screaming head. Instead, you'll just have to settle for sturdy, tight joints and buy some sort of import figure stand so you can have him jumping, kicking, tornado claw-ing, or whatever it is you want to do. Somehow I've gone a decade and this is my first Marvel Legends Wolverine, so I can't say how it compares to the rest but in and of itself? I quite like it.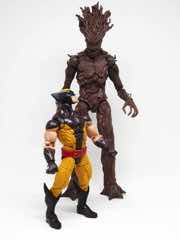 Deco is good, with the requisite occasional ding near a joint. Paint is applied clear and evenly, with the plastic having a matte finish without a lot of shine - I like that. The yellow has a little bit of shading to it, so the shadows really make the insane muscles pop in his legs. The flesh on the arms is perfect, and the hands are great - both sets are closed fists. The blades, as I've mentioned, can pop out if you're not careful - and mine are a little bent. I'm not loving that. But otherwise, it's pretty good - for a Hasbro mass-produced action figure at this price, in this day and age, it's good. Also, Juggernaut's head.
Because of the head, you kind of neat to get yet another spandex-clad Canadian to keep your stash complete, but I will say it's more than a little decent. My Marvel collection is relatively small, but this is a good one. It's certainly the best Wolverine I've had the good fortune to play with, although I am worried about the longevity of the claws. The figure looks great, I love the articulation, and I have little doubt Hasbro will have another Wolverine to try to sell me before the 2020 presidential election. It's kind of a shame that retractable claws go away with added articulation, but at least you've got one heck of a fantastic posable hero figure. If you're interested in these toys and like me don't have many? Get this one. It may not have scruff or a cigar, but other than that it's a lot of fun.
--Adam Pawlus
Additional Images

Click here to see more Hasbro figures in Figure of the Day.
Click here to see more Marvel figures in Figure of the Day.