Rhamnusia's Revenge Action Playset with Draco Knuckleduster and Phantom Starkiller
More Kennery Than Kenner?

Killer Bootlegs Boodega Exclusive
Item No.: No. F1201
Manufacturer: Super7
Includes: Backdrop, supports, 2 figures with lightsabers and vinyl capes
Action Feature: Figures glow in the dark, playset glows blue in the dark, backdrop is black light reactive
Retail: $75.00
Availability: October 2021
Other: Arguably a good deal

PREVIOUS
RSS
NEXT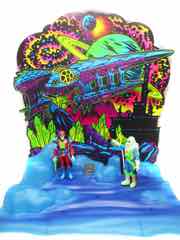 In a year with a lot of neat things, the glow-in-the-dark/black light Rhamnusia's Revenge Action Playset with Draco Knuckleduster and Phantom Starkiller is one of many really good things I picked up. At $75 it seems expensive, but if you buy Super7 ReAction figures you know they start at $18 and Kenner-style playsets are usually $75 or more with no figures in them. The whole deal gives you quite a bit of stuff for the price, and fans of glowing things or black light things will find a lot to like for the asking price. You'll also find things to complain about, because complaining makes life fun.
The figures are new colorways of existing Killer Bootlegs items which get pretty limited distribution as it is. The playset appears to be a new backdrop with a new base, a departure from previous sets like Alien and Planet of the Apes. According to the box, it's an aquatic moon base - which is silly as this may imply your figures can walk on water.
The set sold quickly and was commanding a premium on eBay surprisingly fast - so if you want one, start asking for a reissue or variant.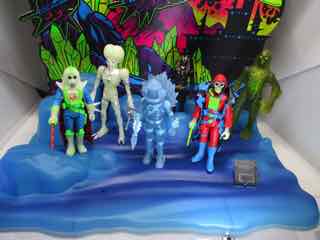 I bought this set primarily because I wanted to get my hands on the Aquatic Moon Base playset. It looks like a mix of old Kenner playsets from the 1970s and sci-fi black light poster ads I saw in kid's magazines in the 1980s. The backdrop itself is a gorgeous piece of artwork with a giant ringed planet against a comic art-inspired background, but there's an extra level to it - a space ship piece has fold-out tabs to add some dimension to it. It's great artwork and would make a cool poster, and if you have a black light it's going to dazzle the eye. If you don't, it still looks plenty cool.
The plastic base itself is less reactive, and is molded glow-in-the-dark blue plastic with dark blue painted highlights. It's nice! I didn't even realize it was meant to glow until I took it in a dark room. Sadly the paint prevents the entire thing from glowing, but the blue space texture looks superb and it has foot pegs sized for Super7's ReAction figures. (This means Glyos and modern Hasbro 3 3/4-inch figures won't use the pegs well.) It looks gorgeous, and is a great display piece - but as you'll no doubt notice, offers neither action nor play. Its inspirations, like the Kenner Creature Cantina or Land of the Jawas or Ice Planet Hot playsets, all feature moving elements like elevators, caves, or levers to move figures or cause them to look like they've been shot. Here, it's just foot pegs and light effects - it's still excellent, but something like a cave for the figures would add more of an air of interaction. (Of course, all anybody wants is something that looks awesome, and this looks awesome.)
It's worth noting the glow blue plastic used for the base is really, really good. If you collect Glyos-compatible figures, you may have noticed they can glow - albeit dimly - several hours after you charge them. The Super7 playset is the same way, and seems to glow just as well as the blue glow The Outer Space Men action figures. It's impressive, and due to its limited nature (and the weirdness of it) I assume not a lot of people are going to want it. This means that a lot of people are missing out.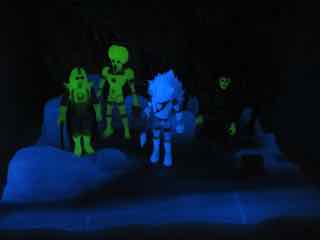 Phantom Starkiller (the skull-face red-robed figure) seems like a riff on 1970s and 1980s toys - you can see elements of Charon, Darth Vader, and others. The figure is cast in great glow plastic, but largely covered up by non-reactive paint. This means that the reds and blues of this figure won't light up under black light, which is a pity - they look as if they should. The face and hands glow in the dark, and only the green elements - the teeth, chest, belt buckles - will react to black light. The lightsaber-like weapon slides in and out of the arm like the 1978 Kenner Star Wars figures, but it's a tight fit - partially because the slot was painted, giving the piece less clearance. It's a wonderful design and a great paint job, I love the black trim around the eyes and under the hood, and the red, green, and blue look amazing together. I'm also amazed by the figure's cape, which has black and blue thick vinyl giving it a better-than-retro look. There are some pretty amazing tiny details, like yellow and blue lights on the yellow/orange screen on the figure's chest. It's also worth noting all the joints turn and swing freely with zero problems, minus the vinyl cape arguably being in the way of any vehicle piloting. I assume fans would happily pay $25 for it on his own, and my only complaint is they covered up all that wonderful glow plastic with paint that doesn't sing under black light.
Joining him is Draco Knuckleduster, another pastiche of figures that seems to draw inspiration from the Stormtrooper (Hoth Battle Gear), Darth Vader, various (possibly Remco) Mummy figures, the TIE Fighter Pilot and/or AT-AT Driver, and other toys of that era. There's a lot more wonderfully green glowing plastic here, and the green paint reacts well to black light. The twisty red sword is awesome, but neither this nor its companion retract in the arm fully. (Of note, neither do the non-extendable tip Kenner ones, plus these are longer and less fragile than the revised weapons from Kenner. But I digress.) I love the layout, I love the detail, and I love the fact that all of these guys seem to glow just as well as the stuff out of the Glyos factory. He has a red and black cape around his waist, plus a sculpted rocket pack. While his head can't turn - much like old Kenner troopers - the arms and legs swing forward with no problems. Of the two, I think this one will delight fans of toys that glow a lot more - I love the sculpted detail on the arms and the helmet just looks awesome. The sprinkle-colored chest is a delight, and the three mouth vents remind any toy fan of countless space villains. It's a shame these guys aren't easier to get - there are tons of colorways out there, too. They're just scarce.
"Event" exclusives without the event are an odd beast, but Super7 and Hasbro and the rest are coming up with some pretty good stuff. I usually have complaints about the pricing, but Super7's tend to be pretty fairly priced - often the same (or close to the same) as what you would pay for a non-exclusive item. Super7's playsets tend to be closer to this price or more expensive without two included action figures, so I see this one as something of a weird bargain gift set and one of the best surprises I picked up this year. (And this is a year with four HasLab items, a giant Playmobil Enterprise, and one of the weirdest exclusive deco Blackarachnia figures we'd ever hope to get.) I love this gift set - great colors, great art, great design, and awesome materials that I hope hold up forever. I've noticed the backdrop is curving a bit - which is odd - but that can hopefully be flattened out before anything weird happens. Get this set if you have the inclination, you won't be sorry.
--Adam Pawlus
Additional Images

See more Super 7 and Funko x Super 7 figures in Figure of the Day:
Day 792: Super 7 ALIEN SDCC Exclusive Sales Samples
Day 821: Super7 x Funko Alien ReAction Ripley
Day 844: Super7 x Funko Alien ReAction Dallas
Day 852: Super7 x Funko Alien ReAction Alien
Day 857: Super7 x Funko Alien ReAction Kane in Space Suit
Day 861: Super7 x Funko Alien ReAction Ash
Day 945: Super7 x Funko The Rocketeer ReAction Rocketeer Action Figure
Day 945: Super7 x Funko Predator (Invisible, Bloody) Action Figure
Day 985: Funko Back to the Future Marty McFly ReAction Figure
Day 1001: Funko Nightmare Before Christmas Jack Skellington (Early Bird Figure) ReAction Figure
Day 1,005: Funko Universal Monsters The Mummy ReAction Figure
Day 1,008: Funko Back to the Future George McFly ReAction Figure
Day 1,008: Funko Back to the Future Doc Brown ReAction Figure
Day 1,029: Super7 x Funko Predator (Attack Mode) ReAction Figure
Day 1,037: Funko Nightmare Before Christmas Saly ReAction Figure
Day 1,038: Funko Universal Monsters Creature from the Black Lagoon ReAction Figure
Day 1,039: Funko Universal Monsters The Invisible Man ReAction Figure
Day 1,040: Funko Universal Monsters The Phantom of the Opera ReAction Figure
Day 1,041: Funko Universal Monsters The Wolf Man ReAction Figure
Day 1,042: Funko Universal Monsters The Bride of Frankenstein ReAction Figure
Day 1,059: Funko Predator (Masked) ReAction Figure
Day 1,068: Funko Universal Monsters Frankenstein's Monster ReAction Figure
Day 1,078: Funko Back to the Future Biff Tannen ReAction Figure
Day 1,082: Funko T800 Endoskeleton (Chrome) ReAction Figure
Day 1,094: Funko Universal Monsters Dracula ReAction Figure
Day 1,059: Funko Predator (Masked) ReAction Figure
Day 1,102: Funko Predator (Unmasked) ReAction Figure
Day 1,108: Funko Universal Monsters The Invisible Man
Day 1,108: Funko Universal Monsters The Invisible Man Clear Entertainment Earth Exclusive
Day 1,111: Funko Predator (Glow Version) ReAction Figure
Day 1,117: Funko The Terminator Sarah Connor ReAction Figure
Day 1,133: Funko The Terminator (Tech Noir Jacket) ReAction Figure
Day 1,138: Funko Pulp Fiction Mia Wallace ReAction Figure
Day 1,149: Super7 x Funko Alien Egg Chamber Action Playset
Day 1,183: Super7 x Funko Alien ReAction Alien (with Metallic Flesh)
Day 1,187: Funko Predator (Invisible) ReAction Figure
Day 1,199: Super7 x Funko Alien ReAction Ripley (Spacesuit)
Day 1,208: Funko Predator (Thermal Vision) ReAction Figure
Day 1,211: Funko The Fifth Element Leeloo ReAction Figure
Day 1,217: Funko The Fifth Element Diva Plavalaguna ReAction Figure
Day 1,222: Funko The Fifth Element Korben Dallas ReAction Figure
Day 1,227: Funko The Fifth Element Mangalore ReAction Figure
Day 1,236: Funko Gremlins Mogwai Stripe ReAction Figure
Day 1,244: Funko The Fifth Element Ruby Rhod ReAction Figure
Day 1,250: Super7 M.O.T.U.S.C.L.E. Set B
Day 1,252: Funko The Fifth Element Zorg ReAction Figure
Day 1,263: Super7 M.O.T.U.S.C.L.E. Set A
Day 1,267: Funko The Fifth Element Leeloo (Straps Costume) ReAction Figure
Day 1,272: Super7 x Funko Alien ReAction Kane (Chestburster)
Day 1,275: Funko Gremlins Billy Peltzer ReAction Figure
Day 1,277: Super7 x Funko Alien ReAction Kane (Facehugger)
Day 1,286: Funko Nightmare Before Christmas Behemoth
Day 1,288: Super7 M.O.T.U.S.C.L.E. Set C
Day 1,295: Funko Nightmare Before Christmas Mayor
Day 1,302: Super7 M.O.T.U.S.C.L.E. SDCC Promo Skeletor
Day 1,327: Super7 x Funko Alien ReAction Nostromo Crew (Dallas, Kane, Lambert)
Day 1,333: Funko Gremlins Cinema Gremlin ReAction Figure
Day 1,342: Funko Gremlins Gremlin Stripe ReAction Figure
Day 1,358: Funko Gremlins Bandit Gremlin ReAction Figure
Day 1,628: Super7 Masters of the Universe M.U.S.C.L.E. Series 2 Set C
Day 1,633: Super7 Masters of the Universe M.U.S.C.L.E. Series 2 Set B
Day 1,637: Funko E.T. The Extra-Terrestrial Elliot, E.T., and Gertie ReAction Figures
Day 1,639: Super7 Masters of the Universe M.U.S.C.L.E. Series 2 Set D
Day 1,639: Super7 Masters of the Universe M.U.S.C.L.E. Series 2 Set A
Day 1,656: Super7 Alien M.U.S.C.L.E. Set A
Day 1,676: Super7 Alien M.U.S.C.L.E. Set C
Day 1,686: Super7 Alien M.U.S.C.L.E. Set B
Day 1,693: Super7 Alien M.U.S.C.L.E. Set D
Day 1,801: Super7 Street Fighter II M.U.S.C.L.E. Set A
Day 1,817: Super7 Street Fighter II M.U.S.C.L.E. Set B
Day 1,834: Super7 Street Fighter II M.U.S.C.L.E. Set D
Day 1,840: Super7 Masters of the Universe M.U.S.C.L.E. Series 3 Set D
Day 1,846: Super7 Aliens M.U.S.C.L.E. Set E
Day 1,843: Super7 Masters of the Universe M.U.S.C.L.E. Series 3 Set E
Day 1,857: Super7 Street Fighter II M.U.S.C.L.E. Set C
Day 1,862: Super7 Masters of the Universe M.U.S.C.L.E. Series 3 Set C
Day 1,864: Super7 Aliens M.U.S.C.L.E. Set A
Day 1,877: Super7 Masters of the Universe M.U.S.C.L.E. Series 3 Set F
Day 1,881: Super7 Mega Man M.U.S.C.L.E. Series 1 Set B
Day 1,884: Super7 Aliens M.U.S.C.L.E. Set D
Day 1,894: Super7 Mega Man M.U.S.C.L.E. Series 1 Set D
Day 1,904: Super7 Mega Man M.U.S.C.L.E. Series 1 Set A
Day 1,914: Super7 Mega Man M.U.S.C.L.E. Series 1 Set C
Day 1,920: Super7 Halloween Series Nosferatu Glow in the Dark
Day 1,922: Super7 Masters of the Universe M.U.S.C.L.E. Series 3 Set B
Day 1,937: Super7 Masters of the Universe M.U.S.C.L.E. Series 3 Set A
Day 2,161: Super7 Masters of the Universe Transforming He-Man Action Figure
Day 2,211: Super7 Toxic Crusaders Glow in the Dark Toxie Action Figure
Day 2,235: Super7 Ultimates Voltron Action Figure
Day 2,237: Super7 Teenage Mutant Ninja Turtles Ultimates Raphael Action Figure
Day 2,253: Super7 Teenage Mutant Ninja Turtles Ultimates Foot Soldier Action Figure
Day 2,358: Super7 Killer Bootlegs Rhamnusia's Revenge Action Playset with Draco Knuckleduster and Phantom Starkiller Action Figures
Day 2,388: Super7 Teenage Mutant Ninja Turtles Ultimates Glow-in-the-Dark Mutagen Man Action Figure

See more otherwise uncategorized figures in Figure of the Day:
Day 22: Tamagoras Get Back To Job Lion
Day 35: Mattel Xtractaurs Comic Series Battlespike Styracosaurus
Day 133: Kenner Q*Bert Wind-Up Q*Bert Action Figure
Day 200: Hasbro Cloverfield Electronic Action Figure
Day 216: BanDai Tick Bounding Tick Action Figure
Day 286: Mugo Kung Fu Panda 2 Po Designer MP3 Player
Day 325: Spy Monkey Creations Doppelganger Armory Series 1 Accessory Pack
Day 352: Mezco The Goon Action Figure
Day 357: McFarlane Toys The Maxx Action Figure
Day 384: Beeline Creative Parks and Recreation Ron Swanson Bobble Head
Day 392: Blizzard Starcraft Zerg Hydralisk Action Figure
Day 399: Tyco Looney Tunes Marvin the Martian
Day 483: Pineapple Ltd. Glow Ghosts Baggs Collectible Figure
Day 485: Remco Mel Appel Extraterrestrials Captain Evets Collectible Figure
Day 494: October Toys Zillions of Mutated Bodies Infecting Everyone (ZOMBIE) Series 1 Neon Orange Minifigures
Day 524: NiStuff Terrestrial and Outer Anomalies Metallic PVC Figures
Day 526: Jazwares Mortal Kombat 20th Anniversary Shao Kahn Action Figure
Day 541: NECA Terminator Kyle Reese Action Figure Day 615: Deep Fried Figures Mechawhales Action Figure
Day 645: Tim Mee Toys Battle Mountain Playset
Day 700: Elly Font Art Elephant Magnets Overview
Day 748: Funko Land of the Lost SDCC Exclusive Glow in the Dark Sleestak
Day 751: October Toys Zillions of Mutated Bodies Infecting Everyone (ZOMBIE) Series 1 Blue Glow in the Dark Minifigures
Day 785: Topps MiniKins 4-Pack Mini-Figures
Day 874: Yujin Shooting Game Historica Metarion Capsule Toy
Day 1,049: Tim Mee Toys Galaxy Laser Team Blue and Green Figure Set
Day 1,065: Tim Mee Toys Green Galaxy Laser Team Star Patrol Jumbo Figure Set
Day 1,087: Tim Mee Toys Green and Grey Legendary Battle Figure Set
Day 1,092: Tim Mee Toys Brown Backwoods Battle Frontiersmen Figure Set
Day 1,146: Wendy's Night at the Museum 3 Jedediah in the Wild West
Day 1,189: Remco Mel Appel Extraterrestrials Trebor
Day 1,215: Tim Mee Toys People at Play Atomic Family Putty and Green Figure Set
Day 1,232: Tim Mee Toys Green vs. Green Soldiers Figure Set
Day 1,237: Tim Mee Toys Tank Command Desert Command Vehicle Set
Day 1,241: Funko Hikari Vinyl Gigantor Power Vision Gigantor
Day 1,276: Tim Mee Toys Combat Patrol Army Vehicles and Artillery Vehicle Set
Day 1,330: Tim Mee Toys Shadow Ops Black Helicopter Strikeforce Figure and Vehicle Set
Day 1,372: Tim Mee Toys Tan vs. Green Soldiers Bucket Figure Set
Day 1,396: Funko Pop! Television Last Week Tonight with John Oliver Vinyl Figure
Day 1,406: McDonald's Changeables Egg McMuffin Robot
Day 1,418: Jesse Narens Stegoforest Brown Stegoforest with Acorn Warrior
Day 1,423: McDonald's Changeables French Fries Robot
Day 1,458: BanDai Gamera Heisei Gamera Action Figure
Day 1,474: Remco Mel Appel Extraterrestrials Egroeg
Day 1,539: Pineapple Ltd. Glow Ghosts Catcherpillar Collectible Figure
Day 1,563: A&A Global Industries Dogs in Disguise Nanner Action Figure
Day 1,620: Funko Son of Zorn Zorn Action Figure
Day 1,637: Funko E.T. The Extra-Terrestrial Elliot, E.T., and Gertie ReAction Figures
Day 1,746: Hasbro Littlest Pet Shop Pets in the City Puttin' on the Glitz #24 Pony
Day 1,773: BanDai Xyber 9 New Dawn Ikira's Speeder
Day 1,777: Funko Pop! Television Ash vs. Evil Dead Entertainment Earth Exclusive Bloody Ash Pop! Vinyl Figure
Day 1,841: Funko Pop! Animation Glow in the Dark Reptar Pop! Vinyl Figure
Day 1,852: Funko Son of Zorn Office Zorn
Day 1,891: Parker Bros. Q*Bert Flying Disc Action Figure
Day 1,957: Funko VYNL The Life Aquatic Steve and Ned Vinyl Figures
Day 1,976: Burger King Smurfs: The Lost Village Brainy Smurf Action Figure
Day 1,980: BanDai Saban's BeetleBorgs Metallix Mega Spectra Titanium Silver Sector Cycle Vehicle with Action Figure
Day 1,982: Titan Merchandise Cartoon Network Collection Samurai Jack
Day 2,021: BanDai Mystic Knights of Tir Na Nog The Drageen Action Figure
Day 2,026: Unknown Diplodocus Figure
Day 2,045: Funko GLOW Debbie Eagan vs. Ruth Wilder Action Figures
Day 2,054: Max Toy Co. Designer Con 2018 Exclusive Glow in the Dark Otta Otter Sofubi Vinyl Figure
Day 2,061: Just Toys Intl. Fallout Mega Merge Nuka T-51 Power Armor
Day 2,070: Mechazone Mechanauts Epsilon Buggy NP-03 Action Vehicle
Day 2,077: ThreeZero PopFuzz Glow in the Dark The Robot Vinyl Figure
Day 2,132: Pineapple Ltd. Glow Ghosts Boohoo Collectible Figure
Day 2,203: Sonic Kidrobot Dunny Strawberry, Lime, and Red Button Action Figure
Day 2,211: Super7 Toxic Crusaders Glow in the Dark Toxie Action Figure
Day 2,235: Super7 Ultimates Voltron Action Figure
Day 2,244: Funko Pop! Television Schitt's Creek David Rose Action Figure
Day 2,315: Funko Soda Devo Satisfaction Vinyl Figure
Day 2,344: Orbitdyne Gee Two HEAP Vinyl Figure
Day 2,358: Super7 Killer Bootlegs Rhamnusia's Revenge Action Playset with Draco Knuckleduster and Phantom Starkiller Action Figures