Soundwave
Made in China

Transformers Authentics Alpha-Class Figure
Item No.: Asst. E0694 No. E7318
Manufacturer: Hasbro
Includes: Battery blaster, radar dish
Action Feature: Transforms from Robot to SUV
Retail: $9.99
Availability: Spring 2020 (I think)
Other: Same Size as Siege Voyager

PREVIOUS
RSS
NEXT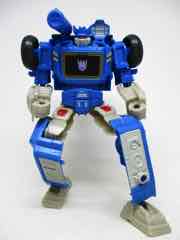 It's the end of another year! We looked at a lot of toys. As of my writing this, we don't even know who's president next year yet. It'll be a fun surprise. What isn't a surprise is that this Soundwave is very big for $9.99. It's a Voyager-sized toy at a Micromasters 2-pack price, which is incredibly impressive - it might not be the very best toy you'll buy all year, but it shows Hasbro can make a good, big toy at a low price when they set their minds to it. It's not perfect - but it's also $10.
This Soundwave makes all 11 joints work nicely, with other moving parts thanks to his transformation. The ankles, shoulders, elbows, and hips are ball joints while the neck and knees swivel without a fight. It's not as amazing as a War for Cybertron toy, but it has a greater range of movement than the 1984 original at a fraction of the price. And no tapes. And no opening door. And no blaster. But it's still a pretty good Soundwave! He's taller than Megatron, standing a solid 7 1/2-inches tall. The lower legs really do seem unnecessarily long, but other than that the proportions are just fine. There are sculpted elements that should remind you of the original toys, but there are also a lot of speakers sculpted in the car and robot modes to drive home the point.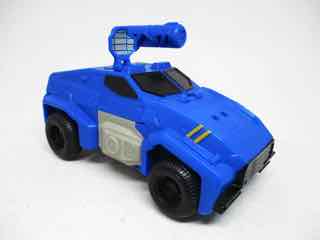 The Soundwave vehicle reminds me a lot of Robots in Disguise Steeljaw, with a long front end, a lot of blue, and pretty big wheels. Transforming him is super easy, too - the arms fold in, the hood folds over, and the feet tuck in the shins which engulf the thighs. It takes seconds - a bit more complex than a one-step toy, but bigger and only a tiny bit slower to change. I wish they'd make other toys this easy to change from one mode to the other.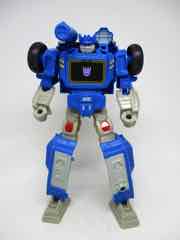 The figure has two accessories - one is sensible and one is not. The battery blaster on the shoulder is a weird, rubbery plastic and requires a little futzing to plug it in - it looks good, though, so it's a keeper. The radar dish doesn't make a lot of sense. Why is it here? What is it referencing? They could have put in a blaster or maybe another nickel's worth of bot paint, but instead we got a dish. It's not bad - but if you lost it, you wouldn't miss it.
I found this the day after the election at a Family Dollar for ten bucks - it was worth it, and the first time I saw it. The assortment is also carried by the likes of Five Below and Dollar General, but I haven't seen these around as of yet despite having shipped for months. I don't know why Hasbro doesn't put these in Walmarts and Targets - I assume there's a ton of money being left on the table with a big, sturdy, and decent toy priced cheaply enough for birthday presents or stocking stuffers. Remember birthday parties? Those used to be a thing. Like toy runs, business trips, and other things I hope can be back to normal in 2021. But I'm not holding my breath.
--Adam Pawlus
Additional Images

Click here to see more Hasbro figures in Figure of the Day.
Click here to see more Transformers figures in Figure of the Day.

Want to buy this figure? Check Transformers availability at our sponsors:
Entertainment Earth