Decepticon Exhaust
WFC-GS11 - Shared Online Exclusive

Transformers Generations War for Cybertron Trilogy Selects Deluxe
Item No.: No. E8622
Manufacturer: Hasbro
Includes: Blaster
Action Feature: Transforms from Robot to Car
Retail: $19.99
Availability: July 2020
Other: Based on old Diaclone car and Masterpiece Edition toy, with new faction sigil

PREVIOUS
RSS
NEXT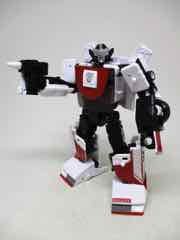 If ever there needed to be a name to perfectly sum up the emotional mood of the year, it's Decepticon Exhaust. Modeled loosely off an old race car which is itself modeled after a pack of smokes, this Wheeljack redeco/retool has been modified so it doesn't look like a pack of Marlboros anymore. While not nearly as ornate as Earthrise Wheeljack, Exhaust does have "BANDIT" and "EXHAUST" written on him as well as - I'm told - the word "Decepticon" in Japanese. It also has a 598 on the door - just like the original - but the classic Decepticon symbol was replaced with that of a mercenary faction.
Fun story - Hasbro actually has a nifty mini-storyline for this toy line that hasn't been shared with the general public. A little bit of it peeked out at Toy Fair 2020 in New York, where they specifically called out certain toys like Doubledealer as being part of this Mercenary faction. There's more to tell, but I am in no position to tell it. With the lack of green markings and blue windows he's not as colorful as his ancestor, and the head lacks the red markings too. He's also a little short on weapons - but the articulation is good, and he adds to the character roster in a meaningful way.
Click here to check availability at Entertainment Earth.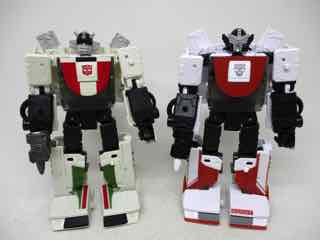 This new version of Exhaust is a nifty repaint for a character without a lot of obvious alternate repaints. (Maybe Cybertrown Downshift would have been cool.) The robot has a new head with a mask-like face, but loses the blue wings for white ones. It would have greatly benefited from additional gear, but as it is, it's OK. It's not a show character, and Hasbro seems to understand we like accessory packs now. Maybe we'll get a few more.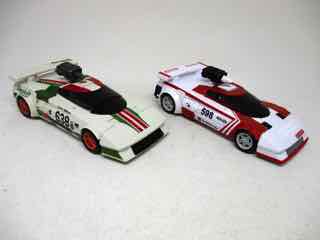 Transformation is a bit of a hassle thanks to the weird window bits that pop off easily - I don't think you'll be able to change him without knocking off a piece at least once. Other than this, it's a pretty great puzzle to play with. Robot arms become the rear bumper and most of the doors, the front of the car becomes the feet, and there are lots of moving parts to contort into a decent, nicely-sized toy car with white wheel covers.
The car mode itself is pretty simple. There are no 3mm pegs for C.O.M.B.A.T. blast effects, but you can cram some in the 5mm holes in the car's rear bumper. There's also a 5mm hole in the roof for gun storage. The wheels spin nicely, and other than that, it's a vehicle with no meaningful action features.
If for some reason you skipped Wheeljack - and if you had some cash to burn in this mostly miserable year, I assume you'd have bought it by now - this may be a more interesting substitute. Earthrise Wheeljack is good, but you can see some room for improvements. It seems unlikely we'll get many more Exhaust toys, but Hasbro has surprised us before. (I mean, we just got our third Dak Ralter.) The whites are whiter than Wheeljack and the reds are about just as red, so get whichever one floats your boat and is cheaper. I love Wheeljack's car mode, but that's me. I get a big kick out of a different Decepticon faction, so little changes like this are certainly of interest.
--Adam Pawlus
Additional Images

Click here to see more Hasbro figures in Figure of the Day.
Click here to see more Transformers figures in Figure of the Day.

Want to buy this figure? Check Transformers availability at our sponsors:
Entertainment Earth