Alternate Universe Optimus Prime
Amazon Exclusive

Transformers Generations War for Cybertron Trilogy Amazon Exclusive
Item No.: No. E7462
Manufacturer: Hasbro
Includes: Blaster, truck, diagnostic drone, shield
Action Feature: Transforms from Dead Robot to Truck
Retail: $49.99
Availability: July 2020
Other: There's a regular release, this dead release, Walmart's "Netflix" redeco, and goodness knows what else

PREVIOUS
RSS
NEXT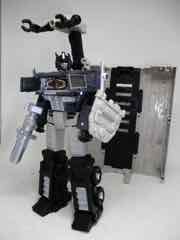 If you want one of Hasbro's best Transformers of the year but can't abide standard deco, perhaps you need Alternate Universe Optimus Prime. A "dead" redeco of Earthrise Leader Optimus Prime [FOTD #2,190] with a new head, Hasbro continues its tradition of selling you dead or dying things and repaints. In Star Wars selling dismembered figures or figures like Jango Fett, Tusken Raiders, and the like with heads you can pop off as part of the play pattern was nothing new. Hasbro even floated Darth Vader's funeral pyre at one point.
Hasbro has a story for its War for Cybertron line, some of which peeks out in the Netflix series, but we don't know the full tale of these toys and their journey through the cosmos. "Alternate Universe" is certainly an interesting euphemism given the copy on Amazon's page mentions the movie and our hero's dying in said movie, particularly given how there are many takes on Alternate Universe flavors of the Autobot commander.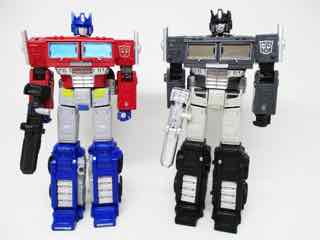 For every weird kid that wanted a "beaten to death" Optimus Prime, this desaturated figure is for you. The helmet is roughed up, with painted cracks on the face plate showing you someone who's seen better days. It's not a perfect match for the movie, but it's close - the proportions are a little different and it's missing the oft-skipped flip-up part of Optimus' opening chest. For anyone wondering what they can do to do another Generations Optimus, well, that feature seems like a good one. The interior looks marvelous, but doesn't match the movie - the silver and copper paint positively pops, giving the Matrix' resting place more life than you would expect for a corpse. It's impressive to look at against the grey plastic body.
Given that Optimus shows up as a full-body shot in the movie for less than a second before cutting to close-ups, it's a wonder Hasbro bothered. They didn't quite match the coloring in the movie, but it's o close (and goes by so fast) I can't imagine people are going to whine too much. The lower waist has a panel that's painted in the movie, but unpainted here. The hues generally match quite nicely, with the legs being darker than the arms, with the fists matching the lower legs, and so forth. This toy has silver-painted vents on the shins, which the movie didn't have - and I daresay it looks better for it. Movie Optimus has additional cracks and scuffs on the figure's body, and those would have been welcome on the toy. Sadly, they were not included.
Articulation is superb, with knees that bend more than 90-degrees and hips that fully swing forward. His hands have opening fingers, the ankles can tilt, and he can do things that a lot of figures can't - like sit. This is remarkable because Optimus doesn't need to do these things - he just needs to lay down dying on his trailer's repair bay.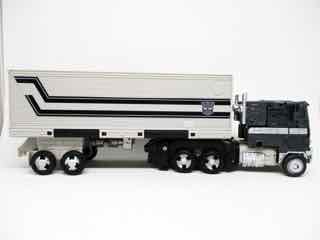 Transformation is a more complicated twist on the original toy, with lots of flip-out panels and unintuitive bits that need to be done in the right order or the parts won't fit. Don't forget the torso splits apart in a few places, or that there are panels upon panels tucked into the chest and, erm, mudflaps of the robot. There are also silver elements on the thighs that flip out a bit in truck mode, but you'll knock them back in easily and not miss them. Hasbro and Takara-Tomy put a lot more into this toy than was necessary.
The truck doesn't do much - you can roll it around, plug in the gun, or store some stuff in the container. Smaller Deluxe cars can fit inside, as can Legends-class toys from previous lines. It's worth noting that official photos of the trailer have purple stripes, while the final release is clearly black.
I would be remiss if I didn't mention the packaging. It's neat! It's brown cardboard that opens like Optimus' chest, with Hot Rod, Arcee, and Ultra Magnus reflected in the window. What's also interesting is the interior tray seems to be the same angled model used for Earthrise Optimus Prime - this is notable, because the Selects toys all have new and different squared-off insert trays.
Hasbro has done a lot of Black Optimus Prime figures - not to be confused with Nemesis Prime or Scourge. These would stand in for "Dead Optimus" quite nicely, but few have "dead" features on the head like a crunched-up helmet with a cracked face plate. For this reason, Alternate Universe Optimus Prime stands out as another in Hasbro's ongoing sub-collection of toys of dead characters. This is the kind of weirdness you would expect from BotCon or a convention item, but no, it was part of Amazon's "Prime Day" more or less. That's kind of fantastic. I hope it sells through and we get something as equally nutty in 2021.
--Adam Pawlus
Additional Images

Click here to see more Hasbro figures in Figure of the Day.

Click here to see more Transformers figures in Figure of the Day.

Want to buy this figure? Check Transformers availability at our sponsors:
Entertainment Earth