Starscream
WFC-E9

Transformers Generations War for Cybertron Earthrise Voyager
Item No.: Asst. E7121 No. E7162
Manufacturer: Hasbro
Includes: 2 cannons
Action Feature: Transforms from Robot to Jet
Retail: $29.99
Availability: February 2020
Other: Starscream again, again

PREVIOUS
RSS
NEXT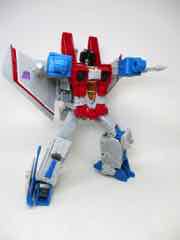 I've been in the toy business for years, and as franchises reach their 30th anniversary (and beyond) we do start to see certain things cycled over and over again, even in the most robust casts of characters. Even though we got a Cybertronian version of him (and six redeco figures) last year, Starscream is back with a completely new Voyager-class mold sharing no tooling from last year's Cybertronian Starscream [FOTD #2,081]. Long-time fans will think that this 2020 Earthrise edition is familiar, because it shares parts and pieces with the 2006 Classics Starscream as well as his various refreshes. It's almost the same transformation in many places, but it's bigger and shares no parts or pieces.
If you wanted Classics Starscream, only bigger, with more detail and more articulation, this is it. If that idea gives you hives, stay far away.
Despite being an all-new design, you'll find a lot of familiar design elements. The colors are basically the same as last year, but now there's no battle damage. The cannons plug in the arms, as always. There are tilting ankles, but for some reason, no swivel wrists. Counting generously Starscream has 25 points of articulation in Earthrise versus about 24 in Siege, most of which are in the limbs in both cases. Since Siege has wrists and a waist joint, I'd probably give that one the crown in terms of the most useful moving parts.
The design is incredibly similar to the Classics Seeker mold, except it's taller and dropped the rocket-firing null-ray cannons. The jet nose cone backpack has returned, the wings still hang off the ankles, and now the bigger wings have joints in them for better posing purposes. He has no problems holding weapons in his fists, or aiming his null-ray cannons. The only thing I find missing in the robot mode is a waist joint, but everything else moves well enough that it hasn't been a problem for me as of yet. The kibble mostly works, and the only knock I can give it is how it seems they borrowed an idea from 14 years ago in terms of the design. I'd have loved to see something new, but I can't deny the sculpting or deco turned out particularly well.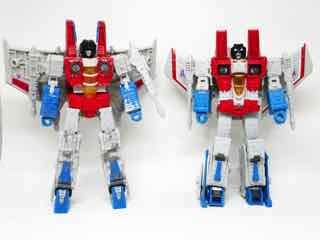 Transformations is very Classics Seeker - with a few twists. Fans of the 2006 mold will be surprised by how the legs open up and can collapse in on themselves now, and that the arms have a few more joints to tuck them away into the robot chest. The feet have more pieces, and the vast majority of the rest of it behaves like before. It was a solid design in Classics and it's a good, quick transformation now. Also, I'm happy they didn't bring back detachable fists.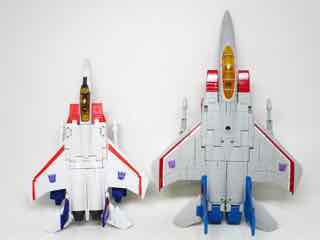 The jet is standard fare - it's a plane from the top, with a decent amount of undercarriage robot kibble on the bottom. This is probably the one big hurdle to get over in the future - while playing with this pretty good toy, I was left wondering what there was Hasbro and Takara-Tomy could do to really make a "next-level" Decepticon jet. Integrating all the parts into the jet with a minimum of kibble is pretty much it - from above, the Earthrise jet looks just like a G1 toy minus the firing rockets. The deco is closer to the 2009 Universe Starscream, and in all honesty it doesn't do much of anything. It just looks cool. That's good enough for me as jets go, but when you pay $30 I don't think it's unreasonable to expect an added twist or gimmick to make the inevitable army-building of the mold a bit more fun.
While it might not be obvious from the last few paragraphs, this is Hasbro's best "classic" Starscream yet - the only reason I'm not doing cartwheels and screaming at you to buy it is because Hasbro keeps releasing new ones every few years. If you don't have too many Starscreams (or any) go run out and get this one. I'm hoping Hasbro redoes all the major repaints (and follows it with the coneheads) so we can retire the "Classics" Seeker mold in our collections, but if you've got all of those and are happy you can probably give this one a pass for now. Until they repaint it as something you don't have, at which point you should cave in because it is a well-engineered mold.
--Adam Pawlus
Additional Images

Click here to see more Hasbro figures in Figure of the Day.
Click here to see more Transformers figures in Figure of the Day.

Want to buy this figure? Check Transformers availability at our sponsors:
Entertainment Earth