Quintesson
WFC-E22

Transformers Generations War for Cybertron Earthrise Voyager
Item No.: Asst. E7121 No. E7165
Manufacturer: Hasbro
Includes: Blaster, green chair throne, a cage inside the head
Action Feature: Transforms from 5-Faced Egg to Prison, faces spin
Retail: $29.99
Availability: September 2020
Other: First Official G1-Quintesson Judge Toy

PREVIOUS
RSS
NEXT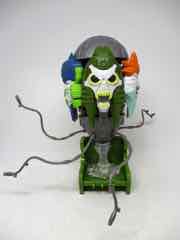 Given their appearances in the original movie and later cartoon episodes, it's amazing it took 34 years to get an official Quintesson Judge toy on the market. We had Alpha Quintesson during Energon and a Cyberverse one just this year, but not much else - the evil five-faced voyeurs were a heck of a weird addition to the canon, but a handy one as a part of the creation myth and the expanding tapestry of villainy. Also they're just plain weird, yet pretty closely match the movie counterpart.
Click here to check availability at Entertainment Earth.
What's particularly notable is that this figure doesn't neeed to transform - but it does. If Hasbro just slapped five faces on an egg, that would've have been fine. Had they given us 5 Air L.O.C.K. ramps with faces on one side that connected together, that would've been fine too. Instead, we get something that's sort of a throwback to 1990s micro play, which is nifty and unusual in 2020. The main reason to get this figure is because it exists - and it's been over three decades since we were introduced to them. There are precious few characters in 1980s toy commercial kidvid that didn't get a toy back in the day, so seeing something like this appear in plastic ticks a box on many a wishlist.
The figure is pretty simple - five faces, two of which require assembly, and a few of which have opening mouths sit on a big egg-shaped thing with tentacles and an energy beam that serves as a foot. You can connect this foot to the included chair base. It's pretty solid, but I should point out that assembling it is the single most frustrating experience I've had with a non-Masterpiece toy in years. Getting those faces to snap on is incredibly difficult, but on the bright side they don't seem to pop out once attached. The 5-faced quint mode doesn't do much beyond wave tentacles and rotate faces, but you can connect a blaster pistol (included0 to one of the tentacle arms if you like. This is a nice touch - but the catch is the 3mm pegs can only hold blasters with a 3mm hole, and that's a small number of blasters.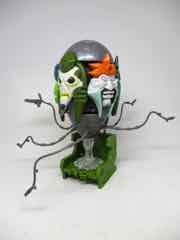 Transformations is all-new as there's no precedent for a Quintesson where you can pop off the cap of the egg, remove a cell, flip all 5 faces up, fold down some ramps, and pretend this is an alt mode you've seen before. It's creative and new, that's for sure, but unless you're building out a micro diorama I don't expect you will use it all that much. It's a pretty easy transformation to do, but you will likely need reference material because it's not obvious that it should look a specific way.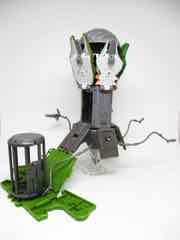 The base mode looks a lot like something from the early 1990s, when you could buy a turtle that unfolded into a sewer playset or an orca that becomes an undersea base. When properly configured, the base has a cell that can fit a Battle Master or Micro Master figure inside on a green base which can connect to other toys - or the inverted Quintesson. The cap goes back on top, and the tentacles go... where they want to go. I'd say leave it in the other mode.
While there's not much going on here - the toy's only paint is on the faces, and mostly it's being bought for a largely lightly articulated orb with faces - it's essential. Hasbro gave this toy a lot more play functionality the the TV show model, so at least you have some parts to fidget and play with rather than just buy a $30 football to plop on a shelf with other toys. It might be a little on the large side for a Quintesson, but at $30 you wouldn't want it any smaller. Unless Hasbro or Takara-Tomy take another crack at it, I assume this will be quite popular and fans may want to buy a few of them - or at least the PulseCon Pit of Judgement set for a second one. If they wind up on clearance, I'd buy a few - but as it is, I'd say one is well worth the asking price.
--Adam Pawlus
Additional Images

Click here to see more Hasbro figures in Figure of the Day.

Click here to see more Transformers figures in Figure of the Day.

Want to buy this figure? Check Transformers availability at our sponsors:
Entertainment Earth