Trixie and Surge
Collect all 36!

Junk Bots Series 1 2 Bots + 1 Energy Module
Item No.: No. 430-6842
Manufacturer: Hexbug
Includes: 30+ pieces, some extras
Action Feature: Light-up backpack and tubes lets you add LEDs to things
Retail: $9.99
Availability: July 2020
Other: Lots of parts and pieces, and options galore

PREVIOUS
RSS
NEXT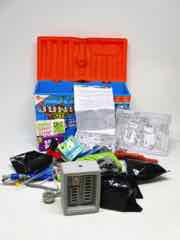 I saw some pictures of the Junk Bots from some friends and picked up a random 2-pack to see what I would get - and I got Trixie and Surge plus some extra parts. The robots are a decent size for the asking price, with one of the better "unboxing" experiences I've had. You don't get proper instructions - you get four plastic garbage bags, some random debris, and some cardboard boxes in a plastic dumpster that you can use to assemble the robots in the pictures, or build your own. It's clever - the figures also have optional mechanisms that may or may not function depending on what other electronic or motorized elements you may have.
These come in singles, 2-packs, 4-packs, and goodness knows what else. The idea of making something without instructions out of a garbage can is an incredibly good idea for a toy, and I wonder if kids of the future will be tracking these down or inspired to just make their own things. With so many small parts it wouldn't surprise me if complete specimens were in short supply down the road.
To open it, you rip off the plastic wrap and stretch the plastic chain over the dumpster - or pop the lock. I stretched it, it was much easier.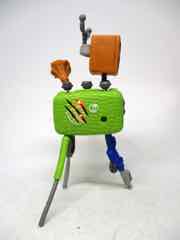 The first one I got together was Surge, which is made of - you guessed it - a surge protector, plus a safe and some other odds and ends. Once fully assembled, the robot has jointed arms, a jointed neck, rolling wheels, and a lot of personality. If you collect Glyos figures, it's a lot like that - every place where you can assemble pieces together is another point of articulation, and you can adjust it to your liking if you have enough parts and pieces. There is minimal paint on these figures, with Surge having a painted safe wheel, a little paint on a clear piece on his head, and one small part of his chest. This is what we saw on a lot of 1980s toys - molded in color, little paint, and maybe some stickers.
It feels somewhat substantial on its ow, with lots of household elements and some parts I can't quite identify. I mean, it's not like I keep robot arms in the garage. It rolls around somewhat poorly due to the back wheels being geared to some element that wasn't included in the box. If you roll it around on its own, the back wheels don't spin - so presumably the piece you want is in some other blind box. I don't love that. The front wheels roll fine, and the wheels pop off with surprisingly little force - odds are you'll bump them out by accident.
What really sparked my imagination - and is something I hope Hasbro and other toy companies rip off - is the light-up Energy Module. Hasbro was experimenting with this kind of "outsource the electronics" upsell toy when they did Force Link a few years ago, but this is a much simpler way of engaging it. A little block is included with 3 clear tubes - you can connect those tubes to 3 light ports on the back of the fuse box, or 2 places on the head. It is unfortunate that you can't light up all 5 clear elements at once, but it does give kids something to do and experiment with after it's built. I'd love to see something like this added to Transformers to take advantage of the clear light-up eye ports. In most rooms of my house, the eyes are just super dark - having a way to light the toys up that's optional and removable is brilliant.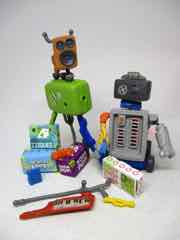 I am less excited by Trixie, which was a little less stable. This one has a suitcase with stickers on it and a few slash marks that can be lit up with the aforementioned power block. The three grey connection points on top are geared to the front leg, so spin it around and they all move from side to side. Two of the three legs require construction and are a little wobbly - this guy might tip over. It's big, and is more in line with the kinds of things a kid might build with limited supplies. Nothing on it stands out as being particularly great in this particular build, but if you do your own thing I bet you'll come up with something pretty nice.
I was hoping to get some of the ones with computer parts, but these weren't bad. The debris in the box is amusing, but what makes this set great is how it might influence kids to try to make bigger, better things over time. As a $10 toy kit it's about as fun as a typical low-end LEGO set, but the ability to actually build things around optional action features - like lights - reminds me of things like Zoids where you could also build a walking toy robot. I think this is a great idea, even if it is a little cartoonish in its execution. For most man-children buying these toys, one or two will probably be enough to scratch the itch of a thing you'll want to keep on your desk for a few months. I assume kids would get a kick out of it as a stocking stuffer or a small surprise, but the longevity of this particular toy will no doubt come from buying more and expanding your part horde. They're also about sized to 1:12 scale figures, so if you collect Marvel Legends or The Black Series, perhaps you might find unintended bonus uses for all this weird junk.
--Adam Pawlus
Additional Images

See more Hexbug figures in Figure of the Day:
Day 2,223: Hexbug Junk Bots 2 Bots + 1 Energy Module Trixie and Surge Action Figures

See more Junk Bots figures in Figure of the Day:
Day 2,223: Hexbug Junk Bots 2 Bots + 1 Energy Module Trixie and Surge Action Figures