Soundbarrier
WFC-E1

Transformers Generations War for Cybertron Earthrise Battle Masters
Item No.: Asst. E7124 No. E7146
Manufacturer: Hasbro
Includes: C.O.M.B.A.T. Effect
Action Feature: Transforms from Shield to Ramp to Robot
Retail: $5.99
Availability: February 2020
Other: Ramp up production

PREVIOUS
RSS
NEXT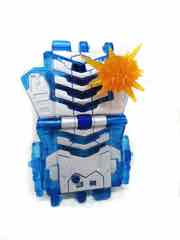 Before I got mine, I forgot Soundbarrier was coming out. The new format for ramps kicked off with Omega Supreme in Siege, thus making the new ones incompatible with the Titans Return ramps of just a few years ago. Why? I don't know. Hasbro does not play up its ramp A.I.R.L.O.C.K. system on its packaging or in its marketing really - I only saw it mentioned in an official copy description and asked "What is this?" The back of the packaging says "connect" but does not illustrate to what.
Click here to check availability at Entertainment Earth.
It's different. Unlike the hammers, blasters, and other gear you can get as a Battle Master, this is a shield, and shield are boring. "Transformation" is folding up the bottom half of it to get it out of the way of the articulated arms and legs. That's it. Were this a G1 toy, it would probably be the only moving part. Because it's 2020 and costs need to be justified, Hasbro did a good job painting it and adding a jointed chest peg to plug it in on other robots.
The robot just is - it fills a gap in a collection, literally and figuratively. He can stand. He doesn't really do anything. He's not a featured character as of yet, either, which is a pity. I love it when Hasbro makes new guys, but odds are we won't really love this figure until he appears in some story of obscure guys in a comic in 5 years.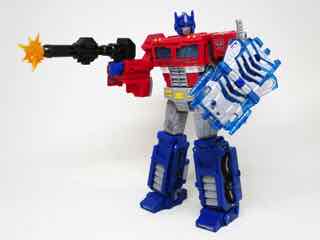 Transformation may require instructions only so you can see that it is indeed that simple - there's very little here. It's basically a ramp with a robot bolted to the back. If you can't remember this one after you see the differences between the modes, this may not be the toy line for you.
The ramp/shield is the same mode - it serves two purposes, which is somewhat clever. You can use it to hook Omega Supreme to Optimus Prime's tailgate. Why do you want to do this? I am unsure. You can, though. The shield at least enhances another robot figure, but it's just not much to look at. It has some nice colors and all, but with Hasbro's emphasis on so few slots for new production and half of the Earthrise Battle Masters thus far being rereleases, I find myself wishing we got something else. Like maybe just a pack of ramps.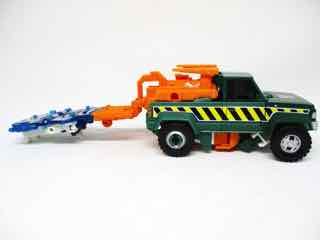 Unless this figure was a short run, I assume it may be forgotten down the road, but replicated to death. I imagine fans will be making their own ramps with 3-D printers later, and this figure will probably provide the basis for them. I will say Hasbro managed to be incredibly clever in giving a ramp that you'd normally throw away a name, a face, a personality, and added functionality. But it's not fun.
The toy fills a gap in a collection, literally and figuratively. You can buy it so you can have the set. You can put it between other, better toys to bridge a gap in your landscape. It isn't fun and it doesn't do anything. Its purpose is likely not obvious as the whole "base mode" of Earthrise is largely underplayed - Omega Supreme and Scorponok are not in stores, and very few of the toys have obvious playset capabilities. Grapple, Hoist, Optimus Prime, and Soundbarrier are the only ones with this unique connection point in the initial salvo. I'm glad to see Hasbro thinking about these things, and I hope they keep them going forward for future toys with ramps. The clear plastic is unlikely to survive the long haul with stress and cracking, but at least it's fun for now. Until it breaks and you cry, as that is the price of loving clear plastic toys.
--Adam Pawlus
Additional Images

Click here to see more Hasbro figures in Figure of the Day.
Click here to see more Transformers figures in Figure of the Day.

Want to buy this figure? Check Transformers availability at our sponsors:
Entertainment Earth