Autobot Chromia
New deco! We swear!

Transformers Generations War for Cybertron Trilogy Walmart Exclusive Netflix Deluxe
Item No.: Asst. E9489 No. E9503
Manufacturer: Hasbro
Includes: RT-5 Anti-thermo Blaster, SR Hushfuze, 2 EMP-Grenades, Teletraan-1 backdrop piece
Action Feature: Transforms from Robot to Car
Retail: $19.87
Availability: April 2020 (February 2020 at Toy Fair)
Other: Battle damage deco, C.O.M.B.A.T. effects sold separately

PREVIOUS
RSS
NEXT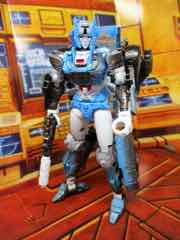 I assumed I wouldn't like Autobot Chromia in her Netflix edition. The white-boxed Walmart exclusive has a few minor tweaks, but I think they're better and improvements - unlike what we saw on Hound. If you're happy with the 2019 version, you may not need to upgrade, but if you missed it maybe you'll want to get this one.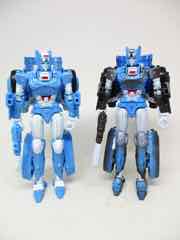 This new version of Chromia is still Chromia. The red crest on her forehead is now black, but other than that the robot is very similar to the first one. Whites are now a bit more grey, some blue parts are recolored in grey to indicate wear and battle damage, and the blues are just a little richer. I like it more. This one doesn't seem to have lost anything for its Netflix edition, but there was one thing I wish they changed - her eyes. The original release also had black peepers, and she just looks so lifeless. Other than that, this is a great redux of a perfectly fine mold, even if it's of a character that nobody was clamoring for once more.
One detail I neglected to notice on previous releases are her rear wheels. The wheel covers are painted, but they're only visible in robot mode - and they're on the back, so they're not very visible. Hasbro could've cut these and you'd never miss them, but they went ahead and painted them anyway. They did good work here.
The transformation - and indeed much of the engineering - are very similar to several existing toys. This exact mold was used for the previous Chromia and the retool of Nightbird. Prior to that, four very similar toys shared close engineering as combiner limbs - Moonracer, Novastar, Greenlight, and Lancer. (The War for Cybertron and Power of the Primes Combiner molds do not seem to share parts, though.) All deluxe Autobot women in the last few years are largely all the same basic body type and build, with cosmetic differences. At least Arcee is coming.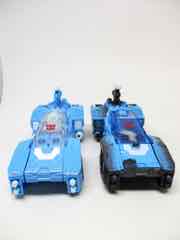 Transformation is nothing new, but the vehicle is pretty good. The bottom of the car is mostly grey, but you'll see a few places where the wear and tear looks like it happened on the robot mode first - particularly the robot arms at the back. There's a lot of weathering to appreciate, and the strange silver markings on the original have been replaced with a dark splotch. I think it's an improvement. There are also two big silver scuffs or cracks on the blue (formerly clear colorless) windshield - I think this looks better, too. The weapons are dark grey and pale blue now, and they stand out a bit more on the vehicle mode. Everything is just a little nicer here.
Of the first batch (I have since read there were plans of 2 waves) of these Autobots, Chromia is a pretty decent improvement. The accessories pop nicely, the scuffing and damage help bring out detail, and she's more than just blue. It works for me. If you don't have a Cybertronian Chromia car toy yet, of the two, I'd steer you to this one. You can probably also sell off that Teletraan piece on eBay if you opt to not keep it.
--Adam Pawlus
Additional Images

Click here to see more Hasbro figures in Figure of the Day.
Click here to see more Transformers figures in Figure of the Day.

Want to buy this figure? Check Transformers availability at our sponsors:
Entertainment Earth