Smokescreen
WFC-E20

Transformers Generations War for Cybertron Earthrise Deluxe
Item No.: Asst. E7120 No. E8206
Manufacturer: Hasbro
Includes: 2 shoulder blasters, 2 handheld blaster
Action Feature: Transforms from not a Nissan Fairlady-ish car to robot
Retail: $19.99
Availability: September 2020
Other: Retooled as Prowl, Bluestreak, and probably redecorated as Barricade

PREVIOUS
RSS
NEXT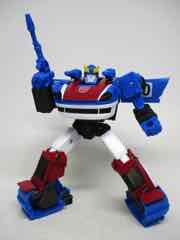 Before I got this new Smokescreen in my hands, I read some early reviews of Bluestreak that implied this new mold has some fragility issues if you transform it in the wrong order or aren't careful.
This is a decent upgrade and, oddly, it has a grey face rather than a silver one. This makes it look more like the cartoon than previous releases, but it looks like Bluestreak and Prowl didn't get the memo. So he's going to look weird. This matches the Masterpiece toy's second release.
Click here to check availability at Entertainment Earth.
It's Smokescreen! And he does a good job - but not a perfect job - replicating the toy's animation colors. It's cheery and bright, with that weird helmet chin you've no doubt come to know and love as well as the yellow crest. Animation face is a departure for most of the main Autobots, as we usually get them painted in silver. Everything else is pretty close to the original toy and animation, minus the rally number on the car's hood, or any color on the robot's feet and toes other than the red spoiler. Articulation is good, but the toy doesn't hold together perfectly - the arms can tab in to the torso, but the right arm on mine won't "lock" while the left one connects as intended. As such, moving the arms may result in things coming out of position. If yours does stay in position as it should, you're looking at about 24 meaningful points of articulation.
At about five inches tall, he looks like you'll get what you see on the box. He's not quite as spindly as some other releases, and some of the hollow limbs are more filled in - clearly Hasbro got the memo. The back of the lower legs are open thanks to the transformation, but the white thighs are closed off and the black forearms are mostly closed. He looks pretty great right out of the box, but I won't deny that a little extra paint could have gone a long way. Just last year Siege toys had copious, extraneous battle damage paint and this year it looks like a few items lost some deco on the way to the store. Smokescreen is remarkably close to his early renders save for two things - the windows and headlights are much darker and are almost opaque now, plus the shoulder cannons are blue rather than black. Other than that, he looks as advertised and like the prototypes we saw at New York Toy Fair 2020.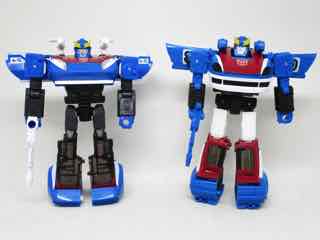 Transformation is a little weird - some pieces feel like they're locked, and it's a lot more complex than its Siege forerunner despite basically having the same design and same basic transformation. There are just more parts and they all move a little differently. I would advise you to follow the instructions before breaking anything. I found getting the slots from the car doors to align with the pegs on the forearms to be incredibly difficult.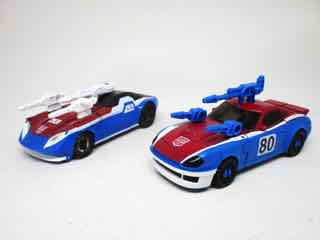 As a car, it's a car - and it looks pretty good. For some reason it says "80" instead of "38" on the car - perhaps a reference to a designer's year of birth, or just something to set it apart from other similar Smokescreens. I have no idea, but it looks nice. Due to how the colors are partitioned out it has a different flavor than the sci-fi sneaker Siege toy, with darker headlights that barely qualify as clear along with generous white and red paint over a blue chassis. From the front or sides, this car looks wonderful. But from the back, it's painfully plain. Given the $20 retail price, I was hoping they'd add a little color back there but it's not like Siege had any, either.
I like the more rounded car, with the ridged rear window, the spoiler, and the door handles. Almost everything about it looks nifty and charming, with the exception of the aforementioned undecorated rear section and the fairly ugly wheels. Siege wheels had the peg going in to the car, while Earthrise has the "mushroom" peg sticking out - and in blue, it really sticks out. A little paint would help, but the engineering being altered so that this is on the other side of the car would help a lot more. Even if you paint the peg, it's still a painted peg. Other than that, though, it's a gem. It's just a shame no aftermarket conversion set will likely be able to fix this without merely slapping a sticker over the whole thing, which I also don't like.
Since this toy shares zero tooling - but seemingly a lot of design engineering - with its forerunner, you may assume you should just skip it. I see it as looking different enough from the other one that I was interested, especially since the car modes feel different despite sharing the same Pantone colors. I'd pick it up, but as you can see, I did pick it up - if you're happy with all your Smokescreens you may not need this one, but I would argue that it may well be the best non-Masterpiece Smokescreen. I can see little ways how they could improve it down the road, but most of those could be done with paint. You'll probably have another crack at a new one in a few years, but if you can't wait, this one feels very much worth the $20. And yes, I'll buy the repaints too.
--Adam Pawlus
Additional Images

Click here to see more Hasbro figures in Figure of the Day.

Click here to see more Transformers figures in Figure of the Day.

Want to buy this figure? Check Transformers availability at our sponsors:
Entertainment Earth