Optimus Prime
WFC-E11

Transformers Generations War for Cybertron Earthrise Leader
Item No.: Asst. E7123 No. E7166
Manufacturer: Hasbro
Includes: Matrix of Leadership, blaster, container truck, removable repair drone, truck ramp/shield
Action Feature: Transforms from Truck to Robot
Retail: $49.99
Availability: February 2020
Other: Possibly the most G1 Optimus since G1

PREVIOUS
RSS
NEXT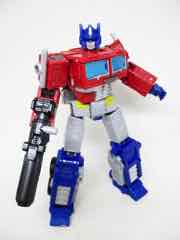 This is a good toy. I didn't have an Optimus Prime as a child, but in college I scraped up some cash and got one just before the reissues started to get made. Oops. Since then there has been no shortage of toys with his name and basic build, but other than literal reissues of the original few have tried to be the original 1984 toy. This one was even closer to the original before the final toy came out - yellow eyes were changed to blue at the eleventh hour, so what we have is a bit closer to the original cartoon than the original toy. It's not even that close to the original toy, because it drops the famous Roller drone and a bunch of accessories, and instead adds in a strange shield accessory and more articulation than one might expect from a transforming toy. Hasbro has long wanted Transformers to be seen as their very own wholly-owned "Legends" action figure line... and with this War for Cybertron trilogy, I'd argue they've made it.
I was very excited about the yellow eyes - but even without them, it's still a great action figure. If you grew up in or before the 1990s, you no doubt remember that "fully poseable" often meant that the arms and legs move and little else. Hasbro, with Takara-Tomy, made a 7-inch Optimus figure with rocker ankles, hips that fully swing forward, and knees that can bend about 135¡. This is, to say the least, unusual. Optimus' painted fists are also jointed, which is hardly the norm for a figure of this scale. They swivel too! The figure seems as if it may share a few leg parts with Siege Optimus Prime [FOTD #2,060] - itself a wholly remarkable mold - but not his transformation.
What's sort of stunning is that the figure is a surprisingly limber robot just as an action figure - it can't have the double-jointed everything of a Marvel Legends but you get things like a neck tilt and surprises like an opening chest with a removable - but not exactly graspable - Autobot Matrix of Leadership. It's not quite as fancy as the Masterpiece Convoy toys, but for fifty bones there's a lot to like here, with a tiny bit of room for improvement.
As the robot goes, I can't really fault it. It would be nice if it had Roller and if the pins in the wrists were more subtle, but they found a new way to do Optimus right with kibble that mostly stays out of the way. There are a few C.O.M.B.A.T. nipples for the fireblast pieces on his person, but it seems like there aren't as many this time - I like that. I also count at least 11 5mm ports to plug in various blasts or upgrades, plus the unexploited hexagonal stand port around where his rear end would be. The level of sculpted detail is excellent, with lots of little panels and lines all over the place without the excess of detailing and battle damage we saw with Siege last year. I can't call this perfect, because as Hasbro has shown us, there's always something they can do better the next time they're at bat. It's certainly good enough that you should get it.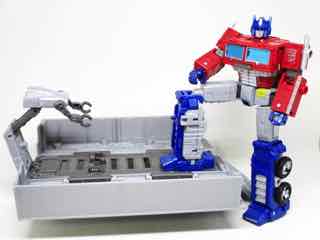 Transformation has a bit in common with most Optimus toys, as well as several new twists. The fists tuck in the forearms, which become the cab. The legs become the back part of the cab. There's also a bunch of flaps on his back which unfold to complete the truck mode.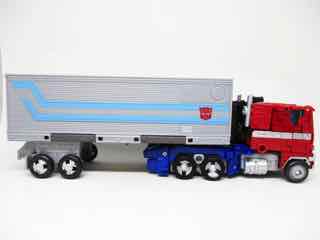 The truck is a truck - it rolls, and there's a container that can plug in either Siege or Earthrise Optimus' vehicle modes. It's great! I'm very happy to see it as we rarely get this element as an accessory, but it wouldn't be an understatement to call it lacking. The grey is a little dull, it's a tiny bit rubbery, and it seems like it will sag if left open over time. It can still be used as a battle base or repair bay, with the repair drone being fully removable and mountable to a figure's back - I like this, it's clever. The container's ramp also serves as shield, which is a nice perk. You can store a deluxe (or smaller) car inside as well, but it doesn't really do much. There's no spring-loaded car launcher, or firing rockets, or Roller. It's good enough - but not so good that fans won't ask for an upgraded Drone, or any sort of Roller, later.
This may well be my favorite "classic" Optimus Prime toy. It's not a bargain, but it ticks almost all the boxes as just feels right. With over two dozen points of articulation and the least arm kibble I've seen on an Optimus in a while, I struggle to imagine what Hasbro could do better other than make a literal recreation of the 1984 toy with this level of articulation, an even simpler transformation, and all those missing accessories. As a tribute to a classic that's probably close enough for a fan that just wants a good Optimus to remind them of 1984, this is the best option you've got. Sure, MP-10 is great, but this is cheaper and less frustrating.
I'm sure Hasbro could trick it out with a few more gizmos and a 1984 toy head, but it seems Hasbro is also very keen on reinventing "classic" Optimus every few years. We've had combiner Optimus, Headmaster Optimus, powers-up-with-trailer Optimus, and all sorts of gimmicks - this may well be our "ultimate" Optimus. You might see something better down the road, but I struggle to contemplate improvements outside a few more accessories and a deco tweak or two. If you've got $50 to kill and don't mind a smaller-than-we-got-in-2018 Leader, get this one.
--Adam Pawlus
Additional Images

Click here to see more Hasbro figures in Figure of the Day.
Click here to see more Transformers figures in Figure of the Day.

Want to buy this figure? Check Transformers availability at our sponsors:
Entertainment Earth