Autobot Grimlock
Small, basically the same as Alpha but different paint and less articulation

Transformers Authentics Bravo
Item No.: Asst. E0618 No. E4301
Manufacturer: Hasbro
Includes: T-Rex kibble backpack
Action Feature: Transforms from Robot to Tyrannosaurus Rex
Retail: $5.00-$6.75
Availability: Summer 2019
Other: Basically a big "Basic" or "Legends"

PREVIOUS
RSS
NEXT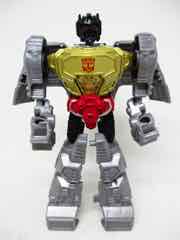 I shot and reviewed this one in 2019 - but never posted it! I was looking for my review of it online so I could grab pictures from it. Well, let's fix that now.
The fine line between "hobby" and "habit" was ignored for Grimlock, a toy I deliberately said I would not track down or buy - the assortments tended to only show up at Dollar General or Family Dollar, and those are sort of off my usual path. The $10 Bigger Grimlock [FOTD #1,979] was already fantastic for the price, so why buy the smaller one? Because I was at a Five Below and in the mood to buy something. It's not a good reason, but that's OK - this isn't a good toy. It's not a bad toy, but it's not going to impress anybody.
The 4 1/2-inch figure is about as tall as a "Scout" or a very small Deluxe. He has 9 points of articulation and 5mm-compatible fists, so he can use your ConstructBots or Siege weapons. The simple, hollow design has a nicely painted head and a bright gold chest with red waist, making it match the classic design for the character closely enough to be acceptable. Once given a weapon, he immediately feels like a legit toy - without it, it feels like the best cake topper you've bought this week.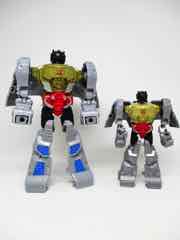 The Grimlock dinosaur mode has moving hips and knees - and that's it. The "arms" are more useless than on a real Rex, molded to the torso and unmoving. (The bigger toy can move.) The smaller Grimlock is also notable for a splash of gold around his collar, an added paint detail that really makes the figure stand out more than the larger counterpart.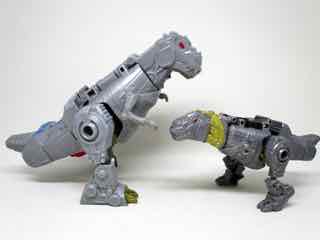 It's a cute little guy, but he doesn't do much and he's not imposing. For $5.00 (at Five Below) he's good - not amazing, this is how a junkie gets their fix. It's bigger and certainly sturdier than the recently released Core-class toys. The Alpha-class toy is significantly better, but you probably can't buy a better Grimlock for five bucks. The sculpted detail is decent and it holds together acceptably, so get it if you're so inclined. Don't waste gas on this one, but if you see him, he's one of the better small Authentics toys.
--Adam Pawlus
Additional Images

Click here to see more Hasbro figures in Figure of the Day.
Click here to see more Transformers figures in Figure of the Day.

Want to buy this figure? Check Transformers availability at our sponsors:
Entertainment Earth