Glyaxia Command Elite Glyan
Yellow/Blue Figure

Glyos Bagged Figures
Item No.: n/a
Manufacturer: Onell Design
Includes: 2 heads, 3-piece weapon, lots of articulation
Action Feature: Take apart, swap parts and pieces
Retail: $8.00
Availability: October 2011
Other: One of at least a dozen Glyans by now

PREVIOUS
RSS
NEXT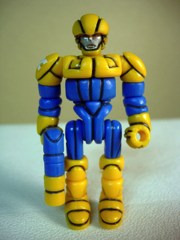 An early release of the Glyaxia Command Elite Glyan Action Figure (and most of the October 2011 drop) was sold at New York Comic Con 2011, and that's where I got mine. The yellow and blue design used on Pheyden and other figures was really striking but I missed out on those, so getting this Glyan-- complete with that swell, Atari-esque shoulder tampo-- was an irresistible purchase. I got his "reverse" figure too, because, well, I'm not made of stone.
The Glyans are construct of figure from Onell Design standing about 2 3/4-inches tall, and so far there's been quite the variety of figure repaints. At this point it's worth saying that it's expensive to collect them all, but it's still cheaper than most mass market lines and your purchases actually help a guy make a living. It's rare you see a toy line minus the corporation, so I can't help but enjoy a well-made figure from some guy and his friends for eight bucks. This batch came packaged in a clear, sealed plastic baggie and it seems the header cards and mini ziplock bags are being phased out or used only sparingly. So if you see it in a plain baggie, well, go ahead and assume it's mint in sealed packaging.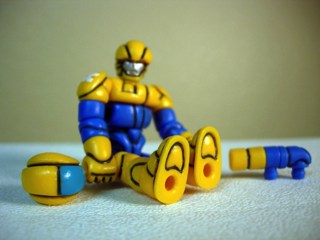 Made of 25 pieces (roughly), this figure is jointed at every seam. For those unfamiliar with Glyos, you can also pop him apart at every joint and swap with other compatible figures. If you wanted to make an entirely blue or yellow figure, that's possible-- but I like it as is. He has no problems standing, sitting, or g.shtmling his gun. In short, he's a good toy.
The detail is on par with some of the best of the 1980s and 1990s, and it retains the fun factor of a figure from that era. Since he can actually stand up, he's great to have hang out on your desk. Right now I'd say the only thing I find lacking from this line is a good, solid traditional vehicle but those things aren't cheap. (I don't really count The Rig given its figure-ness.) This was my favorite figure from this drop, so I give it a strong vote of approval-- but if you already decided you don't like Glyos, this won't change your mind. (I'd still suggest getting one and/or giving one to a friend. They're fun!)
--Adam Pawlus
Additional Images

Click here to see more Onell Design figures in Figure of the Day.
Click here to see more Glyos Compatible figures in Figure of the Day.