Hubcap
Supposedly Sorta G1Verse, Maybe

Transformers Hunt for the Decepticons Scout Figure Assortment
Item No.: Asst. 98438 No. 98439
Manufacturer: Hasbro
Includes: Nothing, actually
Action Feature: Transforms from robot to car
Retail: $7.99
Availability: August 2010
Other: Retro

PREVIOUS
RSS
NEXT

There's a weird, moving, and fine line between "Classic" and "Movie" Transformers toys. Depending on which marketing copy you listen to, Hubcap could be on either side of it. The packaging places him in the movie continuity, but Hasbro's own Q&As seem to indicate they intended him, Brimstone, Sea Spray, Tomahawk, and Terradive as being G1-adjacent. Who the heck knows? All I know is that this is one of Hasbro's more fun Transformers due to its simplicity.
Standing about 4-inches tall, this figure is roughly the same size as the various "basic" or "scout" toys over the years. In robot mode, he's more articulated than you might expect with ball elbows, great shoulders, and even ankle joints. Modeled after varying classic American automobiles, the robot's look doesn't really seem to hit any specific generation. It's easy to fit it within recent "classic" toys, as the face is too simple to really be a clear movie toy with all sorts of sharp angles and weird chunks hanging off it. He's nicely posed, and not at all a pain in the neck to set up on the shelf. I've never had a problem with him falling over, which is saying a lot.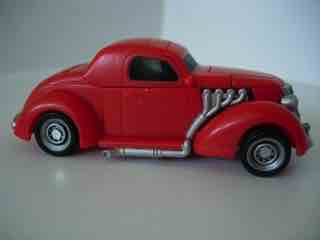 Transforming the figure to a car is pretty easy-- pull up the hood chest, and then cram everything into a little ball, basically. Going from car to robot takes seconds, and fidgeting the robot back into the vehicle isn't much of a challenge. I consider this high praise-- Hasbro seems to be pretty intent on making these toys increasingly complicated, and this one just works and works easily. You really can't complain about just how well it works.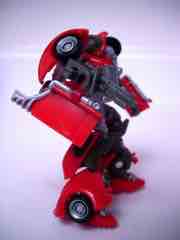 Just because Hasbro didn't give him a gun doesn't mean he can't use one-- the c-clamp weapons do fit on to the silvery edges of his door arms, if you dare. I say "if you dare" because silver paint historically comes off fairly easily, scraping, rubbing, or molting off over time. You probably don't want to agitate it to accelerate the process, but we posted an image just so you can see how it would look if you tried. (Don't try.) Other than that, he's just a cool, reddishey-orange friendly Autobot warrior with a black logo on his chest. This is one of the most fun new character molds to appear in this line, so be sure to get one.
Collectors may want to note (and be warned of) various knock-offs in various colors and in die-cast metal showing up in Asia. If you see something that looks like a strange unpackaged variation, odds are it's phony. At press time Hasbro still hasn't announced a repaint of this guy, although one was hinted at in previous comments from the Rhode Island-based toymaker.
--Adam Pawlus
Additional Images

Click here to see more Hasbro figures in Figure of the Day.

Click here to see more Transformers figures in Figure of the Day.

Want to buy this figure? Check Transformers availability at our sponsors:
Entertainment Earth