Esedeth Desert Assault Team
Sand/Ochre Brown Figure

Glyos Bagged Figures
Item No.: n/a
Manufacturer: Onell Design
Includes: 2 heads, 3-piece weapon, lots of articulation
Action Feature: Take apart, swap parts and pieces
Retail: $8.00
Availability: August 26, 2011 at 9:00 PM Eastern Time
Other: One of seven unique Glyans released that day

PREVIOUS
RSS
NEXT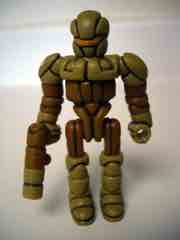 When I go to conventions, one of the stops I like to make is the Onell Design booth-- mostly because I'm a grumpy old fart and the guy who runs it, Matt Doughty, exists mostly to make sure whoever he meets is going to be pleasantly surprised. I went over to ask him a simple question and he not only answered it, but somehow I got the chance to bring home an Esedeth Desert Assault Team Glyan Action Figure home with me-- so I got one a little early, so if you're reading this wondering why I got my shipment early, I didn't. (But I did get this back in July, I held off because I wasn't sure of the final name of the piece.)
The Glyans are a new construct of figure from Onell, standing about 2 3/4-inches tall and including a weapon in its default configuration. A second Neo Sincroid head is included, so you can make a few different "troops" right off the bat with a single guy. The enclosed-helmet head can be rotated, and the design on the back works as an alternate helmet design. The other head looks vaguely human, which is unusual for the main Glyos line so far, complete with red eyes and dark brown skin. Seeing as the likes of the other figures have been very alien and very robotic in design, this one is a real departure. It feels like an actual person... whose head may be ripped off to suit your whims.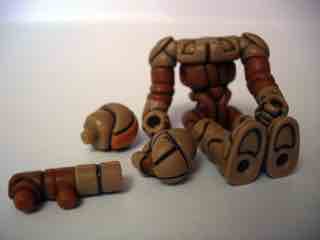 As always, you can swap his parts with other figures-- Gobons, Sarvos, Pheyden, and so on-- plus he can make use of some Outer Space Men weapons. (I suggest plugging the Xodiac blaster into his gun's barrel.) His hands accept Glyos plugs, much like the Buildman figure, which means you can do all sorts of wacky things if you're construction-minded.
Made of about 25 pieces including the spare head, the figure has a decent range of movement. Bending elbows are out of the question, but the arms are made of 4 rotating pieces which can be used to simulate that kind of movement. The arms can go from "straight" to "sort of bent" fairly easily, but it's not like you can easily get a 90-degree angle out of them unless you cannibalize the pieces used to make the gun accessory.
For those keeping track, seven Glyans hit in last week's release, with an additional awesome "Black Skull" and white versions released earlier. (They seem to be gone now.) So collecting them all will already prove difficult, if that's your bag. I suggest just grabbing whichever ones you can on the cheap, it's a fun little figure and I've been playing around with it for about a month. It reminds me a lot of the toys of the 1980s-- sort of like the original Battle Beasts except larger and with more moving parts (and no animal tie-ins), a real contrast to what you can get at Target these days. Of course, the Glyans aren't dirt cheap at $8 a whack, but given the low runs it's hard to deny that the price tag seems more or less worth it.
At this point, the only thing this kind of figure is lacking is a nice traditional space vehicle with a clear canopy-- so I'd say check out the Imaginext aisle for one you can repurpose, or just keep ordering stuff from Onell Design and ask for one on checkout. Who knows what might happen with enough requests?
--Adam Pawlus
Additional Images

Click here to see more Onell Design figures in Figure of the Day.
Click here to see more Glyos Compatible figures in Figure of the Day.