Space Case
Target Exclusive

Transformers Dark of the Moon Target Exclusive Deluxe Class Figure
Item No.: Asst. 32032 No. 33810
Manufacturer: Hasbro
Includes: Spear/trident, comic book
Action Feature: Turns into jet fighter
Retail: $11.99
Availability: July 2011
Other: Translucent, covered in glyphs

PREVIOUS
RSS
NEXT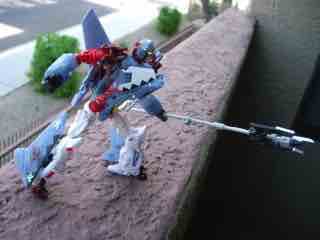 There aren't a lot of Generation 2 Transformers characters getting some sort of update in the main lines, however Hasbro elected to give Target this movieverse Space Case. Named after a Cyberjet toy from the 1990s, this heavily redecorated toy based on the Terradive mold manages to add in a new head, lots of Cybertronian glyphs, and a bizarre milky blue color reminiscent of the early GameBoy Advances sold about 10 years ago.
Packaged in a nicely decorated jet form, Space Case certainly isn't lacking in painted details. You want silvery Cybertronian glyphs that mean absolutely nothing to you? You got 'em. How about red sparkling energy designs bursting out of Decepticon emblems? We got those too. How about the same color scheme as an existing Space Case? Well, I guess it sort of vaguely looks like the Transformers Universe release if you squint a lot. But this is a unique update that feels like a new character design with minor ties to the original. There are plenty of colorful details, like a blindingly bright yellow canopy and some nice red striping, but other than that the jet is largely the translucent milky blue color. The exceptions are the wings in the rear and the clip to store his spear, as those are an opaque flavor of the same rough color of plastic.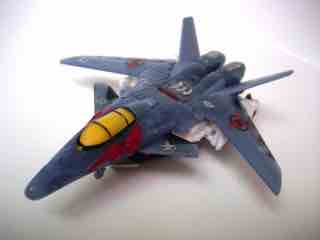 I'm more fond of the robot-- the transformation isn't too complex, but there are a lot of moving parts and some of them don't fit together perfectly well-- the wrists open to reveal the hands, and they don't fit quite perfectly, and the head popped off easily during transformation. (It's easily replaced, it's just a nuisance.) The toy is exceptionally well-articulated, and my sample actually fits together better than Terradive overall-- the shoulders peg into place, the wings fit in right, and he looks pretty neat. With just about 20 points of articulation thanks to tons of pins in the limbs, he should be pretty satisfying to the collector- and adult-class of collectors, but I have a feeling kids might find it frustrating if they're not prepared to be gentle and careful with this one.
His weapon is a spear which can expand out into a trident, just like Terradive's. The coloring is darker, so it looks slightly more menacing. He has no real problems holding it, but I tend to think this particular figure looks better with other weapons, like Energon accessories or things which resemble firearms. It's a perfectly acceptable weapon... but a different one would have added more to the toy. The head sculpt being different is a real nice touch, but it's just so close to feeling like a new character it's a shame Hasbro didn't toss in some token MechTech gun or something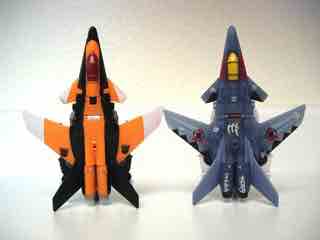 If that's not enough, you get a mini comic book, focusing on the translucent characters in the Target-exclusive assortment. So you get to see a picnic ruined by Space Case, while Arcee and Bumblebee investigate. Mini-comics are fairly uncommon in this toy line, so if you're really into the fiction you're going to have to buy some more toys this year. Target's Starscream and Ratchet exclusives also sport comic books.
I bought this toy because I thought Terradive was good enough to warrant buying again, with new colors and a new head. The white and red plastic on Space Case remind me a little of the original Beast Wars Optimus Primal in some respects, and I don't think I'd mind buying one or two more repaints of this mold. I wouldn't mind if Hasbro started picking more molds and treated them like "Seekers" in the sense that you have one main character, like Starscream, with a themed group of repainted thugs like Thundercracker, Skywarp, Acid Storm, and the rest as their own little army. Keep 'em coming... but please do be using the non-Holotech Zoids-inspired plastic next time. I'm worried it might be tough to keep the color pure over time.
--Adam Pawlus
Additional Images

Click here to see more Hasbro figures in Figure of the Day.
Click here to see more Transformers figures in Figure of the Day.

Want to buy this figure? Check Transformers availability at our sponsors:
Entertainment Earth